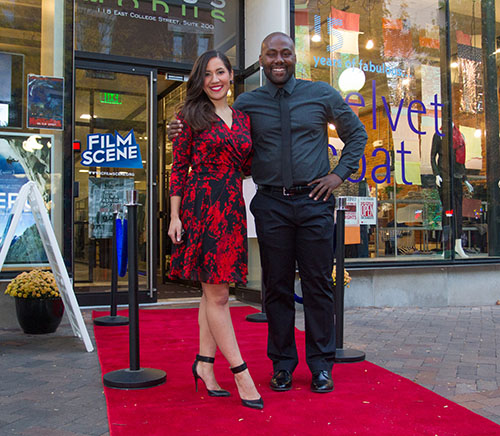 Iowa Fashion Project co-founders Simeon Talley and Amanda Lesmeister stand outside FilmScene before the Red and Black Launch Party, held on Oct. 17. / PHOTO Verve Photography.
By Katie Mills Giorgio
news@corridorbusiness.com
Iowa's fashion scene has officially stepped into the spotlight.
The Iowa Fashion Project hosted a Red and Black Launch Party on Oct. 17 at FilmScene in downtown Iowa City to announce the arrival of an ambitious initiative to turn some heads toward what's happening in the fashion industry here in the Hawkeye state.
Nearly 200 people donned a mixture of red and/or black attire to support and learn more about the project. The brainchild of Simeon Talley and Amanda Lesmeister — two creatives in the Corridor with a passion for fashion — the project has the goal of elevating the Iowa fashion scene and growing the community of those involved in fashion and design across Iowa.
"We believe what we are trying to build here is special to Iowa," Mr. Talley said. "And this is just the beginning. Our ultimate goal is to legitimately create a recognizable fashion community in Iowa and elevate all of the people that are creating and making in this space. We want to tell a different story than the one that is commonly told about fashion in Iowa."
Mr. Talley, who created a line of political t-shirts called Guns x Butter, said the idea for the Iowa Fashion Project came together at EntreFEST in May.
"Through the process of creating my own line of t-shirts and launching that, I was able to connect with other people who were in similar situations. I wanted to just use EntreFEST as a way to expose people to my brand but it became this bigger thing. It just clicked and through a series of conversations this idea got bigger. We realized we were onto something."
The Iowa Fashion Project is a continuation of the work that brought together people for the successful Work Hard/Play Hard fashion show at EntreFEST which attracted more than 400 attendees.
"This wasn't just a fashion show," Mr. Talley said. "It was the beginning of a movement to elevate fashion and style and design throughout the entire state. We want to do a better job of connecting people. Someone creating in isolation could give up. But if they are part of a community to have the same struggles, trials and success as they do, that is how you build community and grow fashion in Iowa. That's really what we are after with everything that we do."
Supporters came from around the Corridor, and from as far away as the Des Moines area, to show their enthusiasm for the project.
The evening included a presentation of the organization's new logo, designed by graffiti street artist Rock Tai, and a fashion show featuring local designers — the runway forming as the crowd parted. Those who had modeling aspirations were invited to strut their stuff down the impromptu runway. Cedar Rapids DJ Kevin Bassett mixed the beats for the event.
Ms. Lesmeister said she and other organizers were excited to start a conversation in the fashion community.
"We want to bring a voice to creatives and designers. We are posing the questions: What if we can elevate fashion in Iowa? What if we can connect all the talent here, the designers, the stylists, the boutiques and the manufacturers?"
Local fashion industry connections at the event included GentlemenCare, BLU Collar Fashion, Ellison, Guns x Butter, Peplum & Paisley, The Boutique, Velvet Coat, Almvghty, Thompson & Co. Salon Parlor and Prism Collective, to name a few.
Andre Wright, owner of BLU Collar Fashion, shared his enthusiasm at the event.
"I think this is exciting in the fact that the community got together for this and for us to take a stance and say this is happening in Iowa when people think things like that don't happen here in Iowa," he said.
Mr. Wright was also encouraged by the evening's attendance.
"Being able to get all these people in a room to support something that we are so passionate about as designers, that makes it special and more eventful and makes people want to be a part of what's going on. Together, we can make this bigger than we could even imagine."
"This is a movement," he added, echoing Mr. Talley's comments. "And the more people we can get to support us and be a part of it is great. It might not happen right now, it might not happen tomorrow but it's going to happen."
Velvet Coat owner Michelle Galvin, who had racks of clothing on display at the event, was pleased at the community's reception.
"I think it's a really exciting time in fashion," she said. "I've been doing this a long time. And the trend I really see is connection… I think there is a large segment of the population that is looking for connection. They want to know who is designing [what they wear] and what the collection means to them. It hasn't always been this way. It's a wonderful opportunity for these designers to do what they do."
Mr. Talley was also happy with the event's turnout.
"You never know when you do these things if people are going to show up and support you," he said. "But with everything that we are doing at this event we are recognizing that not only are people showing up but there is a demand for this type of programming and we are just going to keep doing it."
As the Iowa Fashion Project continues to broaden its network, Mr. Talley said they are going to keep dreaming big on future plans.
"We are going out and finding people," he said. "We are aggressively and proactively going out there and saying 'hey, we are doing this, join us, here's what we can offer you with this statewide effort. What we are doing in Iowa City, we hope and plan to in Cedar Rapids and Des Moines and all over the state."
Mr. Talley said people can expect to see an online platform for those connected to the fashion industry, a fashion show in mid-December and a fashion festival next May.
See more images from the Red and Black Party in the CBJ's Digital Edition.