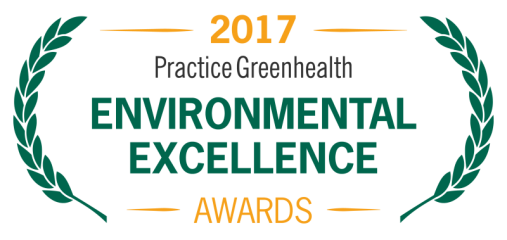 In recognition for achievement and innovation in health care sustainability, Iowa City VA Health Care System received the Top 25 Environmental Excellence Award from Practice Greenhealth, an organization dedicated to environmental sustainability in health care. The award is one of the Environmental Excellence Awards given each year to honor environmental achievements in the health care sector.
As a new addition to Practice Greenhealth's Top 25 award winners, the Iowa City VA Health Care System excelled in various efforts, ranging from energy and water conservation to reducing and recycling solid wastes. For example, the facility's medical waste stream was reduced by 24 percent from 2012-2016, and the facility's overall recycling rate in 2016 was 32 percent. Further, with a goal to reduce water consumption by 36 percent by 2025, water reduction is a must for all VA facilities. As a result, low-flow faucets, shower heads, urinals and toilets have been installed wherever feasible.
"The Iowa City VA Health Care System is committed to sustainable practices in our day-to-day operations and our planning for the future," Heath Streck, associate director for operations, stated in a press release. "It's an honor to be recognized for our commitment to the health and safety of our patients, staff, environment and community."
The award was presented May 18 at the conclusion of Practice Greenhealth's CleanMed Conference & Exhibition in Minneapolis.