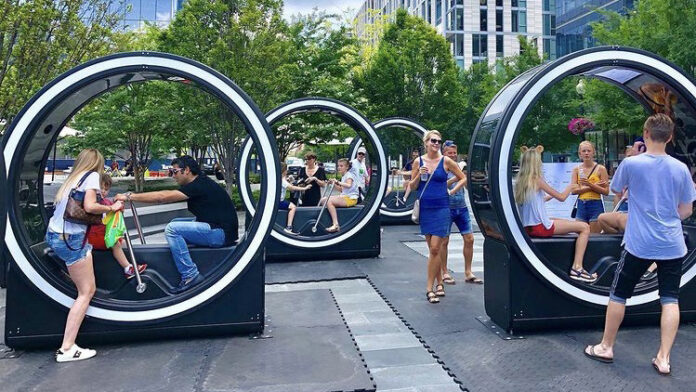 The Iowa City Downtown District in partnership with the City of Iowa City and Think Iowa City is bringing the international participatory public art installation Loop to Iowa City's pedestrian mall beginning Friday.
The installation, which has traveled the world the last four years, will unveil new visuals and sounds for the first time in the United States at the Iowa City installation. Twelve giant zoetropes will be located throughout the pedestrian mall inviting visitors to interact and play.
The traveling installation was first displayed as part of the Luminothérapie at the Place des Festivals in the Quartier des Spectacles in Montreal in 2016.
"The Iowa City Downtown District for many years has been focusing efforts on supporting and advancing culture and placemaking experiences throughout the downtown area. After 2020's impact on visitation and events, we knew that this summer would be a perfect opportunity to bring in a fully immersive experience that normally could only be enjoyed in large cities," said Director of Creative Services Betsy Potter in a news release.
The inspiration for this installation is the zoetrope, a toy from the 19th century, that produces the illusion of motion by displaying a series of drawings or photographs in progressive phases. The Loop takes that concept and creates animated fairy-tale loops using visuals that celebrate literature.
In order to activate these cylinders, visitors must pump the lever to get the cylinder to spin. Once the cylinder is spinning, it will light up and play musical movies, where the speed of images and music is based on how fast the lever is moved. The visuals pair 12 illustrators who were inspired by great Québécois literary works and the experience is complemented by a new soundtrack for each zoetrope, inspired by the theme of the animation.
This free installation is open to the public Friday through Aug. 10. Visitors can share their experiences on Instagram, Facebook and Twitter.