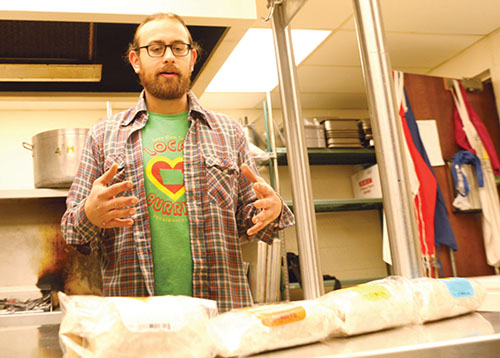 Kyle Sieck, owner of Iowa City-based Local Burrito, discusses his company's growth since relocating its food production to the University of Iowa Hillel House kitchen, which is one of two kitchens listed by the nonprofit IC Kitchen Connect for use by local entrepreneurs.
By Chase Castle
chase@corridorbusiness.com
Avoiding waste is key to running a successful organization, and a nascent nonprofit in Iowa City is helping the community use its untapped resources to cook up something great.
IC Kitchen Connect launched about a year ago with assistance from UI Partners, a program in the University of Iowa's Office of Research and Economic Development. With a list of organizations in Iowa City that have kitchen space to spare, IC Kitchen Connect hopes to help other nonprofits, schools and potentially even businesses rent out their facilities during off-hours. The kitchens would ideally be used by entrepreneurs, like caterers and other small business owners, who need a commercial kitchen but can't afford their own.
So far, only two kitchens are listed on the site: one affiliated with the Crisis Center of Johnson County and the other with the Hillel House at the University of Iowa. At the Hillel House, for example, Chef David Burt, founder of Four Square Meals and former chef of The Red Avocado in Iowa City, spends about two to three days each week preparing meals. Ordered meals are then packaged and picked up on-site by customers on Tuesdays.
It isn't clear how many users of the Hillel House kitchen discovered it through IC Kitchen Connect, as the site only links users with kitchens, but doesn't facilitate rental arrangements. But for Jason Grimm and the other co-founders of IC Kitchen Connect, being a passive party in the arrangement is OK.
"We're kind of just being the matchmaker," Mr. Grimm said. "And once we get them to know each other, we let them take it from there."
In addition to co-founding IC Kitchen Connect with Jesse Singerman and Jessica Burtt Fogarty, Mr. Grimm is the food system planner with Iowa Valley Resource Conservation & Development. Based in Amana, the nonprofit serves a six-county region in the Corridor, working with governments, schools, food producers and others to expand local economies and enhance food quality.
In 2014, Mr. Grimm and his colleagues traveled the region, meeting with farmers and marketing products for the Iowa Valley Food Co-Op, which Mr. Grimm and Ms. Singerman founded in 2011. During that time, the group repeatedly heard from wholesale buyers and entrepreneurs who were interested in expanding their sales, but unable to navigate state and local food regulations.
"So we thought it would be really important to back up and really do some research to figure out what are the needs and what are the resources that these entrepreneurs were looking for," Mr. Grimm said.
After seeing other operations with shared kitchens, the group eventually encountered Detroit Kitchen Connect, which pairs users with kitchen owners in Michigan. In addition to providing a kitchen directory, the site offers information on food-safety certification and acquiring a business license.
"Since the rules and regulations are different from state to state, we thought it was needed to create something for Iowa, specifically for our region," Mr. Grimm said. "We're really just creating a template that could be used by any other organization to rent out their kitchens as well."
The group is working to add more kitchens soon, including one at NewBo City Market operated by Kirkwood Community College, which currently offers cooking classes to the public. Dubuque, too, may soon have a space listed on IC Kitchen Connect, he said.
Jerry Sorokin is the executive director of the University of Iowa Louis Shulman Hillel Foundation. For several years, various UI student groups and sometimes university staff have used the kitchen to support fundraisers or help cater events. The Hillel House, located on the northwest corner of Market and Dubuque streets, also hosts Shabbat prayer services and community outreach initiatives for students.
"In my view, this is the kind of thing where we want our facility to be available to the general community as much as possible," Mr. Sorokin said, noting that students are still given priority access to the kitchen, and that all users must adhere to kosher preparation standards. "We really want it to get used, because for a facility like that to site idle six days a week during the school week and seven days a week in the summer is a shame."
Rates are considered on a case-by-case basis. For one day's use, however, users are typically charged less than $100 – too little for the foundation to profit, but enough to recoup some of the expenses incurred.
"We're not making money on this," Mr. Sorokin. "It's really just a way for us to make sure we're making money on our utility costs and costs for soap and paper towels and whatever else they're consuming."
Also using the Hillel House kitchen is Kyle Sieck, owner of Local Burrito, which sells breakfast burritos at the Iowa City Farmers Market and through his food truck. His products also reach New Pioneer Co-Op and other Midwest stores through That Iowa Girl, a food distributor based in Clarion.
Mr. Sieck started using the Hillel House kitchen in 2012, one year after opening and hitting space limitations at home.
"It's been a really great place and really allowed me to grow my business," Mr. Sieck said.