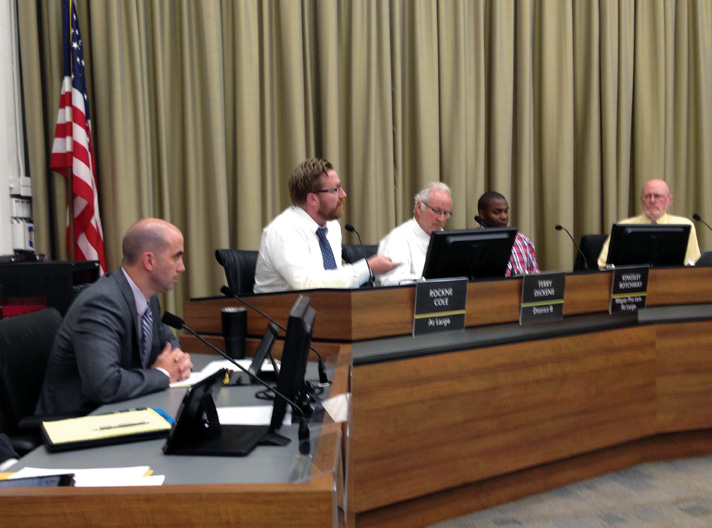 Members of the Iowa City Council and staff offer feedback on several affordable housing initiatives during the council's Sept. 20 meeting. Those initiatives will likely be implemented next year.  PHOTO/CHASE CASTLE
By Chase Castle
chase@corridorbusiness.com
Elected officials in Iowa City last week said its coming affordable housing initiatives must be geographically diverse, and called on neighboring municipalities to help grow the area's housing stock.
Building off plans proposed by city staff in June, the council met Sept. 20 to discuss potential strategies, which included putting property tax revenue toward affordable housing and supporting developments through the use of tax increment financing.
City Council member Susan Mims said she supported having funds earmarked for affordable housing, but opposed a recurring $1 million appropriation sought by the city's Housing and Community Development Commission (HCDC), which reviews city policies regarding job services and low-income housing.
She said the council should be allowed to annually adjust that amount as costs related to collective bargaining and other contracts change. A recurring line item of $1 million would account for nearly 2 percent of the city's annual $60 million in revenue, which includes about $31.7 million in anticipated property taxes this year.
"I think that's a really dangerous precedent to set for virtually any budget item," Ms. Mims said. "I'm not comfortable with that."
City funds put toward affordable housing are presently allocated on an ad hoc basis, City Administrator Geoff Fruin said. In the current fiscal year, for example, the city appropriated about $600,000 to support low-income housing in the Towncrest area, located in the city's southeast district near South First and Muscatine avenues.
Federal funding for affordable housing in the city totals around $800,000 annually, including Community Development Block Grant (CDBG) grants, which are also applied to small business services and public improvement projects.
The city already has $1 million budgeted in its affordable housing fund for the current fiscal year, which was generated through the sale of the former St. Patrick's parish hall, located on the southwest corner of Court and Linn streets.
"So we're really talking about budgeting for the next fiscal year, which doesn't start until July," Mr. Fruin told the council.
City officials mostly voiced support for the annual funding distribution process proposed by the commission. The HCDC recommended allocating half the city's yearly affordable housing money to the Johnson County Housing Trust Fund, a nonprofit whose board of directors allocates funding from both public and private sources.
About 25 percent of the funding would be earmarked for land acquisition under the commission's plan, and 20 percent would go toward low-income housing tax credit support or supplemental aid. The remainder would be reserved for "emergent" situations, such as the large-scale displacement of about 200 households from Rose Oaks Apartments earlier this year.
The council also suggested it would remain open to additional freestanding, single-family homes in the city, and avoid codifying anything dedicated exclusively to multi-family housing.
"That raises questions about scale, in my mind, and I would resist the idea of having concentrated, low-income, multi-family projects in a particular area," Mayor Jim Throgmorton said.
Tracy Hightshoe, neighborhood services coordinator for the city, said the commission supports utilizing a scattered-site housing model. She also said that when the next round of CDBG grant applications begins in December, the city will have its Affordable Housing Location Model in place. Adopted in 2011, the model was implemented largely to reduce the concentration of poverty in school attendance zones that already have higher levels of low-income families.
Several council members questioned whether the city should require funding from its municipal fund to only support projects inside the city limits.
Ms. Mims said affordable housing has repeatedly been identified as regional issue. Council member Kingsley Botchway echoed that sentiment, and said flexibility over where funds are spent could serve as an "olive branch" to help solicit support from other municipalities.
Council member Rockne Cole agreed.
"Someone needs to step forward and put their money where their mouth is to the other communities and say, 'Look, we are going to invest in this issue as a region,'" Mr. Cole said, adding that if communities don't reciprocate financially, Iowa City could resume investing internally.
Mr. Fruin suggested that in the fund's first year supported projects should be targeted inside the city limits. City officials may revise the policy utilized by the housing trust fund board if and when interest in a regional project arises.
City staff said they plan to review last week's directives from the council before seeking out specific proposals to offer for official consideration. Staff plan to formalize their recommendations by the end of 2017.