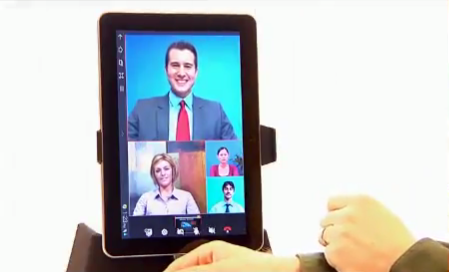 The Connectivity platform in operation, taken from a video on the company's website.
By Adam Moore
adam@corridorbusiness.com
The tech-based global translation company iConnect is preparing to scale up in a big way.
The Cedar Rapids-based provider is looking to triple its stable of on-call interpreters by the end of next year, to about 3,000, according to President and CEO Tom Kielty, who gave a Sept. 12 presentation to Cedar Rapids' Downtown Rotary club.
iConnect, marketed under the name 'Connectivity,' provides on-demand video translation services to clients in 52 countries and across 200 languages through its web-based interface. It has recently begun serving larger and more specialized corporate and institutional clients, Mr. Kielty said, requiring the company to build capacity on the human side of the business.
"We're now supporting companies that are fairly sizable, and they're all over the world," he said. "You want to make certain that you have enough depth and breadth of interpreters with the right types of skills on a 24/7 basis."
The expansion marks the latest step in the three-year-old company's campaign to further dominate the estimated $13 billion interpretation market, which has traditionally involved scheduling and sending interpreters to on-site locations, or having them translate via the telephone without crucial visual cues.
The Connectivity platform instead uses web video to allow interpreters to see expressions and translate conversations occurring anywhere with an internet connection. A key advantage of the company's technology – what Mr. Kielty described as the company's "secret sauce" – is its ability to analyze network connections and adjust for weak spots, eliminating drop-outs and other digital disruptions.
"Nobody is really quite sure how to deliver quality, facilitated communication [over the phone], because you don't have context of any kind," Mr. Kielty said. "It's cheap and the market hates it. We're looking to disrupt that."
The company's approach has been appealing to many clients because of its versatility, and relatively low cost. It is completely software-based, meaning that it can work with just about any kind of hardware, from a smartphone with a 3G or 4G connection, to a computer or a laptop with Wi-Fi. It also has the ability to bring in files and visuals for discussion, from PowerPoint slides to medical scans, and can be customized to leverage an organization's existing tech investments and workflows.
Connectivity offers its services on both a per-use and a subscription basis, with the average scheduled call costing about $1.65 a minute, and on-demand calls costing closer to $1.80 a minute, Mr. Kielty said. That compares to an average, base cost of $2.59 per minute for telephone interpretation, and $4.33 for on-site work, according to Connectivity's website. And that doesn't take into consideration the positive sales impact using a customer's native language can have.
"Coming up, I was always taught that the language of business is English – I have learned that is absolutely not true," Mr. Kielty said. "The goodwill that comes from speaking a customer's language has radical uplifts on revenue."
Mr. Kielty said that the expansion will likely draw translation talent from existing on-site providers, but declined to discuss specifics regarding iConnect's plans for paying for the expansion. He acknowledged that the company is in the "tail end" of what he called an A2 financing round.
The startup in 2014 completed an A round of capitalization almost entirely from Iowa investors, including the Cedar Rapids-based Iowa Seed Fund II, managed by Curt Nelson.
iConnect will also soon go through a branding exercise, Mr. Kielty said, which should help clarify its position within the many sectors it serves, and may even include the launch of other naming conventions.
The company officially launched in January 2013 after Mr. Kielty, a 20-year veteran of Wall Street financial companies, acquired the tech assets of URrelay, a Cedar Rapids company that provided video relay services for the deaf and hearing impaired. iConnect moved into URrelay's former location at 3117 First Ave. SE in early 2014.
The company currently employs about 16 people at its headquarters in Cedar Rapids, including customer service positions and a "handful" of language specialists.