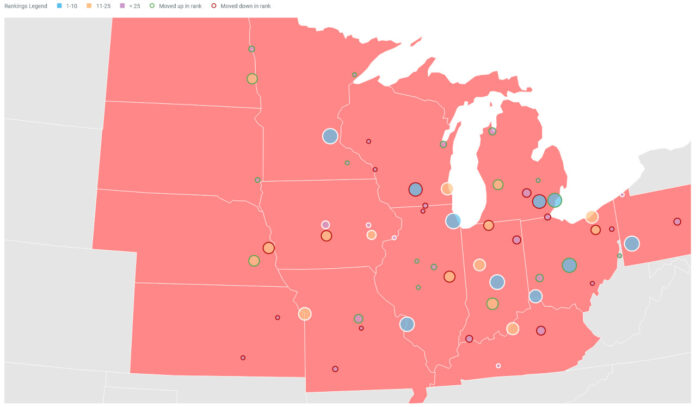 Iowa City is ranked 25th in the Midwest, and Cedar Rapids is ranked 42nd, on a new report on the region's top startup cities from venture capital firm M25.
The top five cities in M25's list this year are unchanged from 2020's rankings: Chicago, Minneapolis, Pittsburgh, Indianapolis and St. Louis stand as the top Midwest cities again this year. Des Moines is ranked 20th.
In the same survey last year, Des Moines was ranked 18th, Iowa City 27th and Cedar Rapids 42nd.
M25 compiled its rankings based on three factors: Startup activity (active startups, startup formation growth, number of exits, and large outcomes), access to resources (how much local startups have raised from VCs, the number of local investors, incubators/accelerators, universities, government support, and access to quality talent), and business climate (cost of living, labor costs, business tax friendliness).
Venture funding is up across the country, and the Midwest is no exception. The amount of venture capital invested in the region has nearly doubled over the last 12 months compared to the same period last year, climbing from $10.1 billion in '19-'20, to $19.8 billion in '20-'21, according to M25.
For more on M25's report, click here.