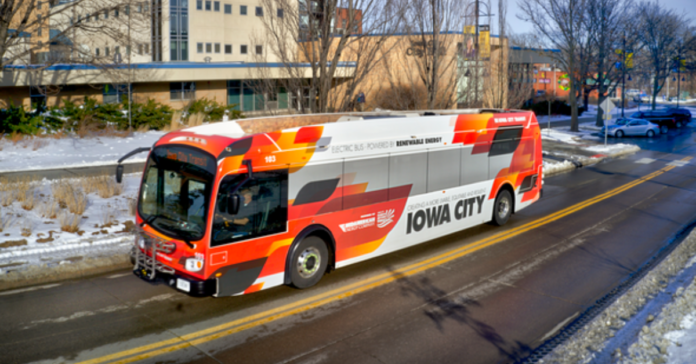 The U.S. Department of Transportation's Federal Transit Administration (FTA) has announced 130 awards totaling nearly $1.7 billion from President Biden's Bipartisan Infrastructure Law for transit projects in 46 states and territories.
As part of the transit investment, Iowa City will receive nearly $23.3 million to buy four electric buses to replace older diesel vehicles that have exceeded their useful life and to replace its operations and maintenance facility, originally constructed in the 1980s. The project is expected to improve transit system conditions and service reliability and reduce greenhouse gas emissions.
Overall, the funding invests in more than 1,700 American-built buses that will be manufactured with American parts and labor. Nearly half of these buses will be zero-emission models.  Many of the grant recipients have pledged to buy standardized buses and vans and avoid customization, which will result in faster delivery and lower costs.
"Every day, over 60,000 buses in communities of all sizes take millions of Americans to work, school, and everywhere else they need to go," said U.S. Transportation Secretary Pete Buttigieg. "Today's announcement means more clean buses, less pollution, more jobs in manufacturing and maintenance, and better commutes for families across the country."
This investment is the second bus grant package funded by Mr. Biden's Bipartisan Infrastructure Law, which has invested more than $3.3 billion in American transit buses and the infrastructure that supports them.
The projects announced are supported by FTA's Grants for Buses and Bus Facilities and Low- and No-Emission (Low-No) Vehicle programs. The Buses and Bus Facilities program provides federal funding for transit agencies to buy and rehabilitate buses and vans and build and modernize bus facilities. The Bipartisan Infrastructure Law provides nearly $2 billion through FY 2026 for the program. For FY 2023, approximately $473 million for grants was available under this program.
In response to the Notice of Funding Opportunity, the FTA received 475 eligible project proposals totaling approximately $8.7 billion in requests.
To see the complete list of recipients, visit here.