In today's intensively competitive and increasingly mobile job market, companies are searching for meaningful ways to keep their best employees — and attract new ones. Yet when was the last time your company was inspired to evolve its benefits program?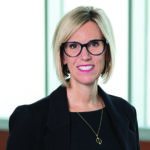 Unfortunately, ping-pong tables and happy hours don't offer the same allure they held just a few years ago. Today's employees are looking for value-added benefits that simplify their lives. That's why it's more essential than ever to be creative, yet resourceful, when developing your benefits package. 
Finding inspiration — and  appreciation — for a new benefit 
You never know where inspiration will come from. For the product development team at Delta Dental of Iowa, our latest benefits package evolved right in our hallways. Three years ago, our employees were offered ARAG® Legal Insurance with Identity Theft Protection as a benefit. This coverage offers access to affordable legal help, with network attorney fees that are 100% paid in full for most covered legal matters. Legal insurance is not a commonly offered benefit unless you work for a large company. 
In the first year legal insurance was offered, Delta Dental employees paid 100% of the premium. About 20% of Delta Dental employees added ARAG Legal Insurance with Identity Theft Protection to their benefits package. Word quickly spread among our employees, conveying the value of legal insurance. For example, our communications director utilized the benefit to update her will as she prepared to get married. She also set up trust accounts for her new spouse and their blended family. The guided process encouraged a conversation with her new spouse about medical directives — and gave them an intangible, yet extremely valuable benefit: peace of mind. 
After two years, Delta Dental has added ARAG Legal Insurance with Identity Theft Protection as a 100% fully paid benefit bundled with our dental and DeltaVision® coverage. Employees experience less stress when addressing legal matters because they don't worry about the expense of paying attorney fees. 
As participation in ARAG Legal Insurance with Identity Theft Protection grew as a benefit for Delta Dental employees, our product team took notice. Would other small- to midsize companies be interested in this type of coverage? Our data told us that when offered as a bundle with Delta Dental and DeltaVision coverage to small businesses, ARAG Legal Insurance with Identity Theft Protection was a benefit that would help employees, and employers who needed to offer a more inspired — and versatile — benefits package. 
Legal insurance: meeting employees' diverse needs
You might be thinking, "Hey, I'm not someone who needs an attorney." Yet there are a wide variety of reasons why you might consult with an attorney, with some of the most common needs that include creating wills, assisting with a divorce, the sale or purchase of a home, and setting up a trust. You can work on your legal matter with a network attorney in person, via email or virtually. The plan also provides access to a telephone attorney for quick legal questions, as well as Identity Theft Protection, financial counseling and education, tax services and immigration assistance.
Today, we are offering the Delta Bundle that includes dental, vision and legal to small business customers.
What inspired changes is your company making to your benefits programs?
If you'd like to find out more about this option, reach out to your agent or contact April at (515) 261-5598 or aschmaltz@deltadentalia.com.
April Schmaltz is Senior Vice President, Sales and Marketing, of Delta Dental of Iowa.