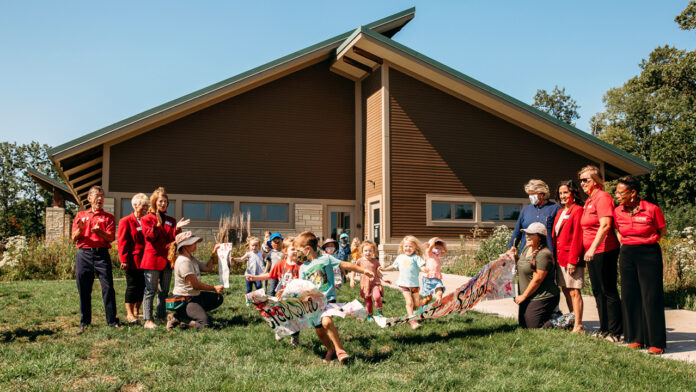 The new nature-based preschool at the Indian Creek Nature Center (ICNC), the Creekside Forest School (CFS), is now open for students, with a ribbon-cutting ceremony Thursday celebrating the program's official launch.
CFS preschoolers "cut the ribbon" by running through a banner they had decorated with mud and other natural materials. A reception and tours of the school's building and classroom followed the ceremony.
"We are so excited to get our new preschool up and running — it's a dream come true, not only in terms of furthering our vision to create Champions of Nature, but also for families in Eastern Iowa looking for an alternative preschool program that puts nature at the center of their child's learning," said ICNC director of education Kelli Kennon-Lane.
CFS, a nature-based, independent preschool for three- and four-year-old children at ICNC, is one of very few of its kind in our region, and the first in Eastern Iowa, according to a news release.
Children enrolled in CFS will spend 30-70% of their school day outdoors, learning in the context of nature. The preschool team — lead teacher Nicole Upchurch, assistant teacher Morgan Bryant and preschool specialist Betsy Bostian — will facilitate inquiry-based learning through play and hands-on discovery. The curriculum is based on children's interests and rooted in the seasonal happenings of the natural world.
In addition to kindergarten readiness, CFS also teaches positive peer play behaviors and critical "learning to learn" skills that increase success in future school experiences. Children's emotional and social development is prioritized equally with academics.
"The response to Creekside Forest School has been incredibly positive," Ms. Kennon-Lane said. "We knew there was a growing need for childcare and early education, but we had not anticipated the number of applications we've received."
CFS is accepting applications for enrollment for mid-year openings in 2021, as well as 2022 and beyond. Families are invited to apply year-round with no strings attached — an application indicates interest and secures a student's place in line as spots become available.
ICNC officials say interest has also grown for volunteer and funding opportunities, including a donor-funded scholarship program for children and families who statistically have the least access to nature-based early childhood education. More information about how to get involved,
frequently asked questions, and the application for enrollment can be found at indiancreeknaturecenter.org