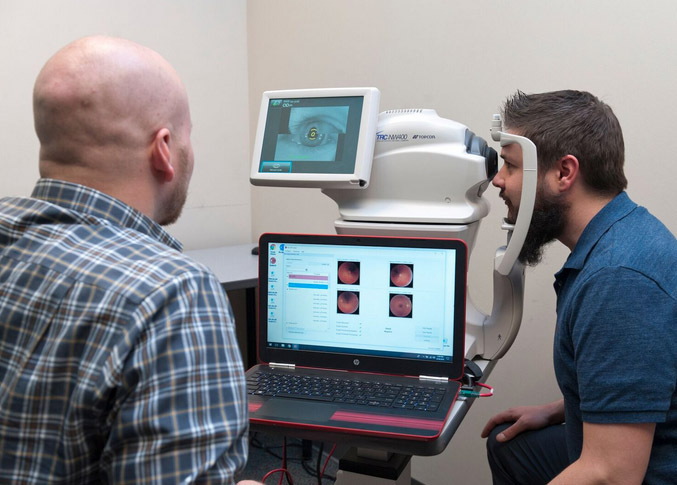 A patient experiences a screening by IDx's AI-driven diagnostic system, IDx-DR, in an undated photo. The system is the first of its kind to be cleared by the FDA and is already in use within the UI Health Care system. PHOTO IDx
By Katharine Carlon
katharine@corridorbusiness.com
Being the first to crack the medical artificial intelligence (AI) code has paid off in a big way for Coralville-based IDx, which last week secured $33 million in funding from four strategic investors in one of the largest venture capital deals in Iowa history.
The University of Iowa spinout that de­veloped the first – and so far, the only – autonomous AI diagnostic system cleared by the Food and Drug Administration an­nounced the investment Sept. 26. It comes just months after its first product, the IDx-DR diagnostic system, was adopted for use by UI Health Care, marking the first time U.S. patients have received a medical di­agnosis from an autonomous AI system.
IDx-DR automates the detection of dia­betic retinopathy, which causes blindness in about 30,000 Americans a year, en­abling health care providers who are not normally involved in eye care to interpret results with minimal training.
"I think it shows a lot of confidence in what we're doing here in Iowa, which is very exciting," said IDx President Dr. Mi­chael Abràmoff, adding that the flood of venture capital money was a credit to the company's strong team, close ties with the university and the Cor­ridor's robust biotech eco­system.
But per­haps the main reason for the flurry of invest­ment interest, he said, was IDx's ability to both gain FDA approval for IDx-DR after an expedited "breakthrough device" review and quickly implement it in a real-world setting. In addition to UIHC, IDx-DR is set to go live within sev­eral other health care systems this year.
"People have been hearing about us locally, but after the FDA approval, every­one heard," Dr. Abràmoff said. "We were a bit stealth, under the radar you might say, because we didn't want to give too much away to our competitors. I think people were surprised it was us [to be first to win FDA approval]. People were tweeting that it should have been Google."
Since its founding in 2010, IDx had been funded by about $22 million in private angel investment dollars. But following news of its FDA approval in April, Dr. Abràmoff said IDx was approached by more than 50 would-be investors, giving the company the ability to pick and choose its partners.
"Since raising money didn't seem to be a problem, we took the opportunity to make strategic links," he said, adding that the company prioritized investors with links to potential customers, hospital supply chains and other resources that could speed IDx-DR to market, as well as assist in the development of new AI-based products. "Looking at that led us to these investors. It was sort of a contest."
The $33 million round was led by San Francisco-based 8VC, which was founded in 2015 by serial entrepreneur Joe Lonsdale and four other partners in 2015, and has invested heavily in biotech firms in recent months. Other participants include Optum Ventures, a fund launched by Minnesota-based UnitedHealth Group last year to invest in digital care, consumer care and health analytics; Alpha Edison a Los Angeles VC firm focused on technology-driven innovation; and Heritage Provider Network, a managed care organization based in Southern California.
The deal stands as one of the largest startup funding rounds in the state's history. According to a list of Iowa companies that have received venture capital funds maintained by Square One DSM and NewBoCo, only eight have raised more than $8 million. Of those, Cedar Rapids-based Involta appears to have raised the most, taking in $63.8 million over four venture rounds, including $50 million of equity financing in a 2014 investment led by M/C Partners of Boston.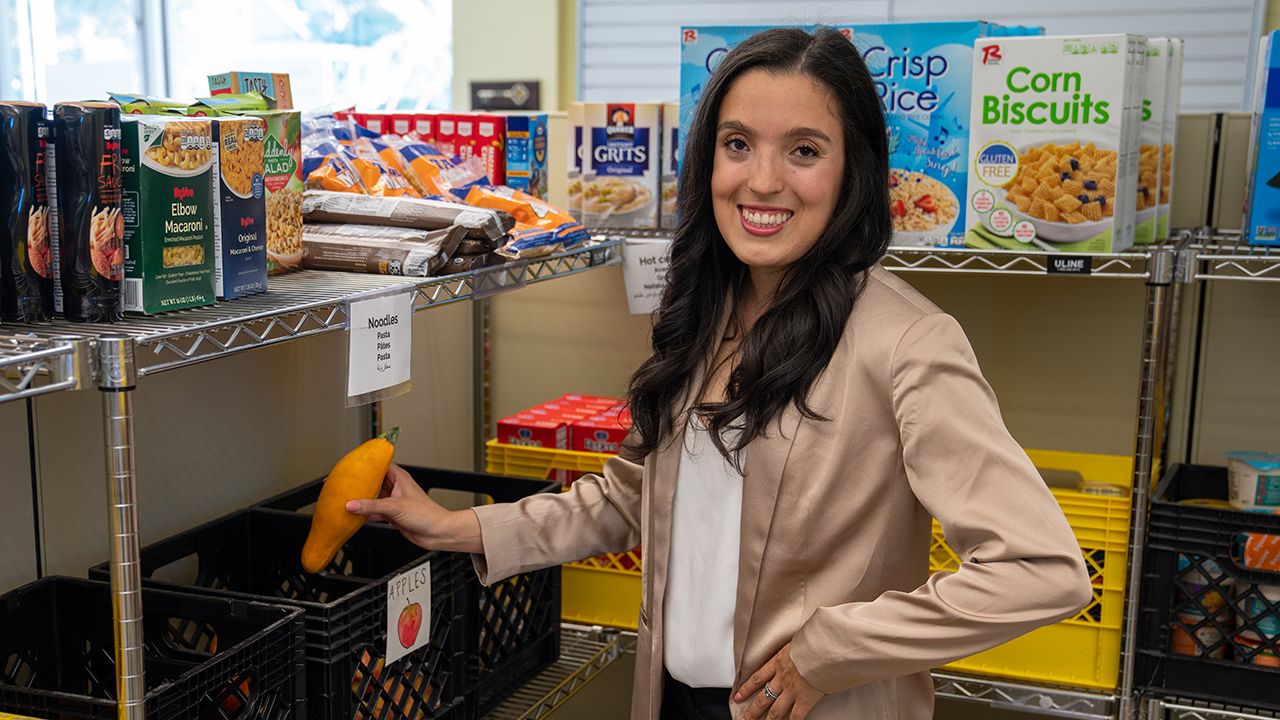 IDx executives said the money will be used to hasten market adoption of IDx-DR and to develop new technologies automating the detection of conditions ranging from macular degeneration to Alzheimer's and cardiovascular disease. A sizable portion of the funds will also go to sales and marketing.
"We have a unique opportunity now as the market leader and several years to achieve high penetration," Dr. Abràmoff said. "We're not just developing technology – our priority is to get to patients and make their lives better, in addition to developing a pipeline of products accelerated and [in front of] the FDA."
In statements, investors said IDx's real-world clinical implementation and FDA clearance set it apart in the hot but hype-fueled AI space.
"Some of the biggest companies in the world are trying to implement AI in health care, but IDx is leading the way in real-world execution," said Drew Oetting, a founding partner at 8VC. "The company leveraged Iowa's ophthalmology expertise to develop a clinically-inspired AI – not a black box. This innovative, biomarker-based approach has separated IDx from the hype, allowing them to become the first to introduce autonomous AI-based technologies to health care."
"The health care industry needs to accelerate its adoption of AI to reduce costs and drive efficiencies," said Sarah London, senior principal at Optum Ventures. "We are confident that IDx will transform health care by increasing patient access to early disease detection, which is why we look forward to helping build a bridge between IDx and the physicians and patients who would benefit from adopting this system."
Despite a banner Series A round, Dr. Abràmoff said he hopes this round will be the last, floating the idea of a possible IPO sometime in the future "if market conditions allow."
"When we started it was just me, then the angels and the team and we showed that the technology was credible and achievable," he said. "Now the next step is smart money, seasoned investors who have to make returns seeing the huge potential, and that's the exciting part about it. This means a lot to our future success."