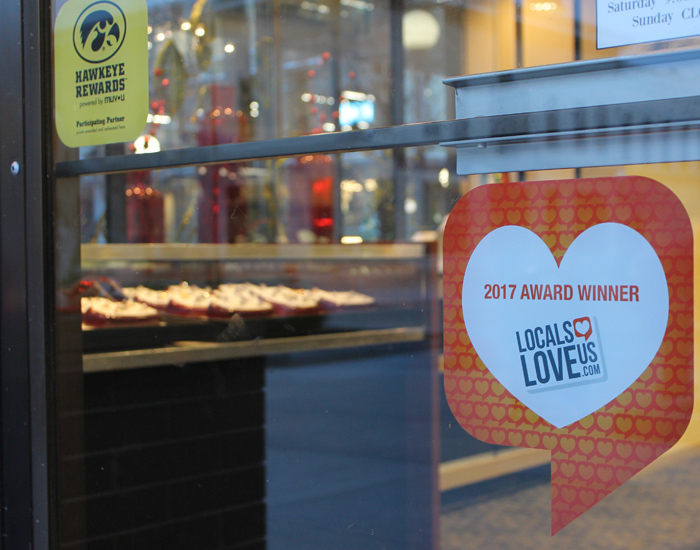 A Locals Love Us window decal, shown on the door of Herteen and Stocker Jewelers in downtown Iowa City.  PHOTO CHASE CASTLE
By Nicholas Yanez
news@corridorbusiness.com
Locals Love Us, a web service promising to help introduce shoppers to the best local businesses, is gearing up for a big entrance of its own later this spring.
The consumer-driven voting site launched in Iowa City last September. It allows people in a community to nominate their favorite businesses across more than 200 categories, after which site users are invited to vote. The votes are counted and released in print and online, with the 'winning' businesses from each category given the opportunity to advertise on the platform and use the Locals Love Us logo in their marketing efforts. Local nonprofits selected by users can also win a $1,000 'marketing scholarship' with the site.
"The locals get free online and print guides to the best places in town and those places get new customers," said local franchise owner Ryan Bell. "We call it 'sharing the love.'"
In May, Mr. Bell plans to direct-mail 20,000 copies of the local rankings to homes and businesses, and distribute 30,000 more to waiting rooms, hotels and restaurants in the area, helping to spread the word about the site and increase voting for future rankings. The current rankings are available at localsloveus.com.
The service, founded in 2004 in Sioux Falls, South Dakota, has since spread to eight other cities, including the Quad Cities; Fargo, North Dakota; Lafayette and Shreveport-Bossier, Louisiana; and Longview, Tyler and Waco, Texas.
The platform's arrival in Iowa City reflects the area's "strong local business environment," said Mr. Bell, who relocated to the Corridor after helping to launch the Quad Cities franchise three and a half years ago, and the Shreveport and Waco franchises before that.
"Iowa City is a great community for this, because it's a really tight-knit business community," he said. "The more locally owned gems there are in the community, the better."
About 1,500 people cast ballots in Iowa City's inaugural voting round, held over five weeks in September and early October, Mr. Bell said. Among the winners were local business icons such as A&A Pagliai's Pizza, Prairie Lights Books and Herteen and Stocker Jewelers, many of which regularly appear on the area's "best of" lists (including the Corridor Business Journal's own Best of the Corridor competition).
Locals Love Us differs from publications and online review services like Yelp because of the meta-analysis it offers both users and businesses, Mr. Bell said. Winning businesses – typically the top three or five in a category, depending on how many were nominated – are given access to a summary detailing voters by zip code, age, gender, income range and education level. Site users can see a basic breakdown of who voted for a business by age and gender.
Cedar Rapids has been eyed as a future expansion opportunity for Locals Love Us, according to the company's website and Mr. Bell, although no entrepreneurs have applied yet to manage the territory. Mr. Bell says he's busy enough with his current territory, and is looking forward to making Iowa City a "long-term home" for he and his family. A former financial executive with Cambridge Investment Research in Fairfield, he said he always viewed the city as "an attractive home during the eight years I spent as an Iowan."
The company currently counts two employees in the Iowa City area, including designer Erica Wergin.
Locals Love Us joins a growing field of digital marketing services in the Corridor, although each one aims to help retailers and service businesses in different ways. North Liberty-based BlendCard launched in 2014, and allows users to redeem deals and earn rewards across multiple businesses; it now hosts deals and coupons for businesses in 22 Iowa communities.
JumpOnIt Mobile Deals, a Davenport-based startup dedicated to connecting local businesses with customers through text-delivered coupons, launched in Iowa City in September and Cedar Rapids and Des Moines in October. The company has plans to launch in 17 new markets in 2017.
Adam Moore contributed to this report.