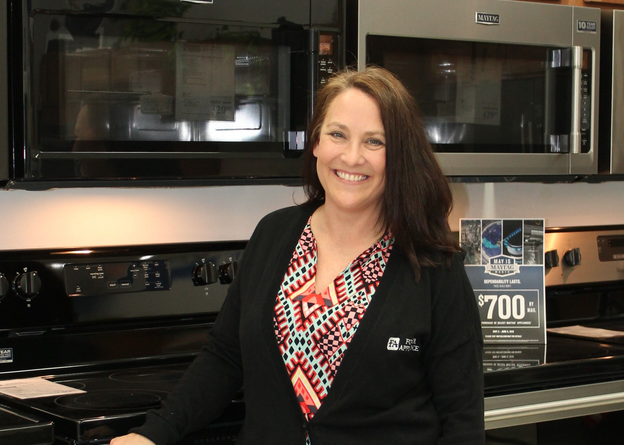 Jenny Novick, who took over Foster Appliance in Iowa City this February, has already stepped up the store's marketing and social media efforts, and would like to expand down the road. PHOTO KATHARINE CARLON
By Katharine Carlon
katharine@corridorbusiness.com
Jenny Novick spent years pondering the question an early manager once asked her: Do you have drive or are you driven?
It took a while to understand the difference, says Ms. Novick, who worked her way up from technical writer to director of operations at Cedar Rapids-based Highway Equipment Co. while raising two children and earning a part-time MBA from the University of Iowa's Tippie College of Business. But that lingering question answered itself when she walked away from a safe 20-year career and launched herself into the unknown, taking over the helm of 68-year-old Foster Appliance in Iowa City this February.
"I realized later in life that I was driven, that it was almost like I didn't have control over it," said Ms. Novick, who began feeling the urge to set her own destiny after finishing her MBA program with a 4.0 last year. "I came to the realization that I'm ready to be the one driving and take control of my life, as opposed to trying to show other people that I could be successful."
Always up for tackling new challenges, Ms. Novick didn't limit herself when she began working with brokers in hopes of finding a solid, financially sound business to buy and lead. She considered several possibilities, including a septic service business, but when Foster – opened by Pat Foster in 1950 and operated by Toby Hyde after 2005 – came on the market, it ticked every box, financial and otherwise.
"It was a small business, something I could wrap my hands around," Ms. Novick recalled. "It'd been around for a long time. And it offered longevity – people need appliances. Yeah, there's competition, but what industry doesn't have that?"
The deal was sealed when Ms. Novick stopped into the shop at 1920 S. Gilbert St. in Iowa City to casually and covertly check out the operations before signing on the dotted line, and was blown away by the staff's positivity and friendliness.
"That was huge," she said – as was Mr. Hyde's commitment to stay on for several months to help her learn the appliance business. All 11 store employees, including Mr. Hyde's daughter, Jamie Sloan, have remained on staff and are effusive about the changes Ms. Novick has made already, including a revamped website and social media strategy, a humorous new TV advertising campaign and a participatory management style that allows employees to play to their strengths.
"It's been a seamless transition," said sales associate Mitch Dostal, adding that while the store's new owner is adamant about maintaining Foster's seven-decade reputation for service, the tweaks she's made so far have been a kind of exercise in "new school versus old school."
"You get into a routine, so just having someone come in with a fresh set of eyes makes a big difference," agreed Ms. Sloan. "Dad was very hands on, where Jenny came in and just let everybody do their job. We only did radio ads before … now the TV spot has only been running for a week and we're already getting a big reaction."
"There's nothing wrong with doing things the same way for 15 years, but the market is changing," she continued. "We don't ever want to lose our name or our reputation, but we do have to stay in the mix with the big box stores and not get lost."
Ms. Novick credits a supportive staff for helping her through the initial months of the job, which were often filled with tedious paperwork for contracts and financing. With that behind her, she's digging into day-to-day operations and looking forward into ways of increasing sales  by forging relationships with construction property management groups in the short term, for instance, and via expansion in the long term.
"I definitely want to grow. I have a huge loan," she said, laughing.
One short-term goal is to begin offering the high-end Jenn Air product line. The store already carries Amana, Crosley, KitchenAid, Maytag and Whirlpool appliances, but does not meet Jenn Air requirements for floor display space, which could require an on-site expansion or even a move into a larger facility down the road. Further out, Ms. Novick envisions additional locations if the surrounding market can sustain it.
Ms. Novick counts her mother as her deepest influence, describing her as "my own personal cheerleader, who taught me it was OK to fall down, just brush yourself off and try again." Facebook COO Sheryl Sandberg is another, with her belief that success is more like a jungle gym than a ladder resonating deeply.
"If you always think of it as a ladder, there's always a person in front of you and you have to either push that person out of the way or go down," Ms. Novick said. "On a jungle gym, you can go all over the place … you can make your own path versus having somebody choose for you, or feeling like, 'this is the direction I'm going, I need to keep going that way.'"
"I feel like my career has been kind of like that, because I was a technical writer, a project manager, a facilities manager, and now it's kind of gone all over the place. And that's more fun because you're always learning and challenging yourself."