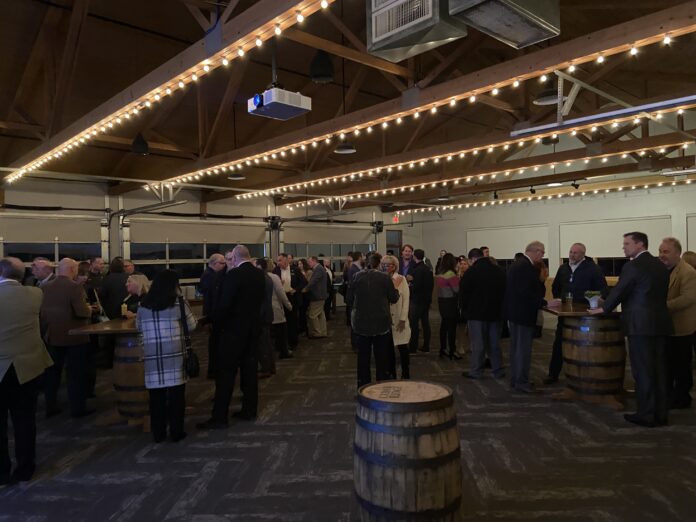 The Iowa City Area Business Partnership (ICAB) and Cedar Rapids Metro Economic Alliance hosted the 2022 Legislative Launch at Cedar Ridge Winery & Distillery on Dec. 13 to discuss the Corridor's biggest challenges heading into the new year.
The night of networking that included prominent government officials and area business representatives, centered around hearing the struggles businesses face on a daily basis. Attracting and retaining a strong workforce continues to be a top priority for 2022.
"As we lobby at the legislative level … your stories can make a big difference," Doug Neumann, executive director of the Cedar Rapids Metro Economic Alliance, told the audience. "Our unified voice, as a Corridor and business community, can make a lot of difference.
ICAB President Kim Casko highlighted successful policy in 2021 in her opening remarks, touching on the progress Iowa has made. She mentioned legislative wins in the child care industry, increased funding to the Housing Trust Fund and to Workforce Housing Tax Credits, and the passage of the federal infrastructure bill as major wins for the state.
Both organizations are recommending state lawmakers focus on six key areas moving forward:
These six areas are accompanied by more than 50 specific policy recommendations that can be enacted at a federal or state policy level.
The list of policies was developed with the input of 2,000 of the organizations' members, partners and community stakeholders.
"Our region's success — and our state's success — are heavily dependent upon our ability
to compete in the global economy," said Jennifer Banta, ICAB vice president, in a statement. "Iowa lawmakers need to make bold moves in 2022 to ensure we can attract people and businesses to the state. Our livelihood depends upon it."