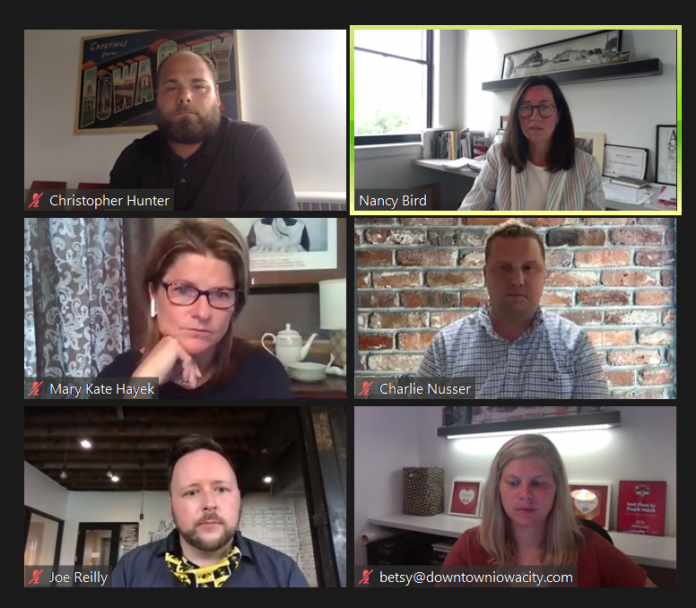 Iowa City Downtown District leaders discussed the social, economic and health changes disrupting downtown businesses during the organization's virtual 2020 State of Downtown event on June 30.
By Katharine Carlon
katharine@corridorbusiness.com
Even as they celebrated a long list of community improvements, some of the most successful events on record and strong fundraising, Downtown Iowa City leaders acknowledged it has been a tumultuous year for local businesses reeling from the aftershocks of the COVID-19 pandemic and Black Lives Matter protests.
"This is an incredibly important year because we know that people's livelihoods are on the line," said Iowa City Downtown District (ICDD) Executive Director Nancy Bird at the organization's annual State of Downtown event June 30.
At the event – held online instead of The Chauncey's Spare Me bowling alley – leaders vowed to find new ways to promote diversity, equity and inclusion, while supporting local businesses struggling to stay open during an unprecedented health and economic crisis.
"We're very conscious … that it's important for doors to stay open and business to happen in some other alternative way," Ms. Bird said. "We're operating under, 'Let's see what we can do together and say yes, we'll just try it.'"
Ms. Bird said the ICDD was proud of its work to help lead businesses through the pandemic, including hosting a series of informational webinars, facilitating money-saving bulk ordering of post-pandemic necessities like hand sanitizer, and rethinking the downtown area to provide restaurateurs with additional outdoor seating. ICDD also launched a successful Support Downtown Businesses gift card campaign, which spurred more than $205,000 in local spending.
But the organization does not intend to stop there. ICDD has launched a new fund that could be used to fuel post-coronavirus innovations like the recent closing of a block-long stretch of N. Linn Street to create outdoor café seating for area restaurants, remove regulatory obstacles to attracting downtown tenants, and deliver direct grants to impacted businesses. Ms. Bird said ICDD will also "double down" on arts and culture to differentiate the downtown area from other urban cores.
In 2019, according to Director of Operations Betsy Potter, ICDD was responsible for $42,600 in spending for "arts-driven placemaking," including four new murals, a new "cool shade structure" in Black Hawk Mini Park on the Pedestrian Mall and a GreenState Credit Union-sponsored initiative that saw local artists reimagine public benches.
Ms. Bird also announced a revamp of the Iowa City Better Bridges Program, in partnership with the city of Iowa City, to support the business and nonprofit community with implicit bias, cultural intelligence, and other training to support inclusive environments. She said ICDD would also be reviewing its own programs, initiatives, campaigns and outreach to ensure it is welcoming the Black, Indigenous, People of Color (BIPOC) community.
"People of color, as business owners and patrons, are underrepresented in our downtown," said outgoing ICDD President Mary Kate Pilcher Hayek. "The downtown district embraces this revolution as it remains committed to finding ways to make our downtown more racially and culturally diverse."
Nighttime Mayor Joe Reilly said he has been having informal conversations with local bar and restaurant owners, encouraging them to analyze their business' "racial equality toolkit."
"What are your hiring practices? What is your promotion pathway look like? What barriers exists?" he said of the questions coming up in conversation. "We'd like to really have them do a self-audit and maybe [there are] things that they were blind to or unaware of,"
"This is a significant moment in time, and we have a lot of work to do in the future," Ms. Bird said.