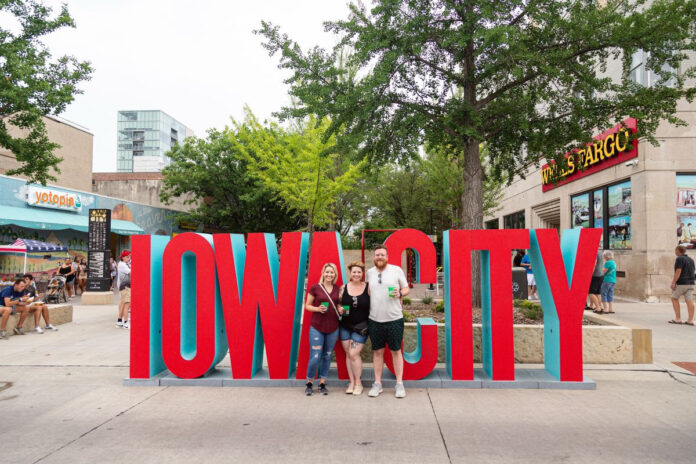 The Iowa City Downtown District (ICDD) announced this week in its 10 Year Anniversary Mission Report that the organization has stewarded downtown Iowa City through incredible change and growth, including a 79% rise in property valuation, addition of over 430 hotel rooms, and a peak annual visitation (in 2022) with 7.5 million visits.
One of the more significant findings in the report is the growth in "loyalty," or the number of times the same visitor returns when other choices are available. Using a high bar for loyalty that doesn't reflect visiting fans to Kinnick Stadium or the University of Iowa campus, the downtown maintains roughly 6 million visits that are directly attributable to the diverse offering of retail stores, restaurants, bars, galleries, theaters, entertainment venues, museums and other unique offerings not typical of cities of this size.  Another indication of a high loyalty factor is the average length of a visitor's stay, which the report indicates is more than three hours.
ICDD Executive Director Nancy Bird stated that these results are due to a shared commitment of the Iowa City area community, 
"The investment these property owners and businesses put into the SSMID and partnership with the city and university has made all the difference and we were fortunate to have exercised the muscle of shared collaboration well before the pandemic hit to allow us to bounce back to where we are now.  We are in a really great place." 
The report highlights other community-wide economic returns that have resulted from the work of the ICDD, including charitable donations of $281,465 to Iowa City area nonprofits, clubs and service groups; almost $400,000 infused into the local arts economy and artist payments; over $145,000 in direct downtown business grants; and the sales of over $778,000 in gift cards to be spent in participating downtown businesses since its inception in 2014.
"The Downtown Dish"
The ICDD recently celebrated its 10th anniversary at a May 19 event at the Chauncey Swan Park with local leaders, businesses, cultural leaders and community members.  At the celebration event, a video was released that shared the downtown's "change" story through the lens of the past beloved AM KXIC radio show, "The Downtown Dish." 
Bill Nusser, retired owner of Hands Jewelers, and Catherine Champion, owner of Catherine's Boutique, hosted a series of downtown stakeholders that positioned the area for change and demonstrated the complexity, the rewards, and the fun in the organization's work.  
Retired University of Iowa Finance Director Doug True states in the video the critical role of the downtown in the health of the city and university: "It became critical that the university get involved." 
The video highlights impact stories of the business owners, how decisions were made along the path, the birth of the Block Party and artist perspectives of downtown mural development.