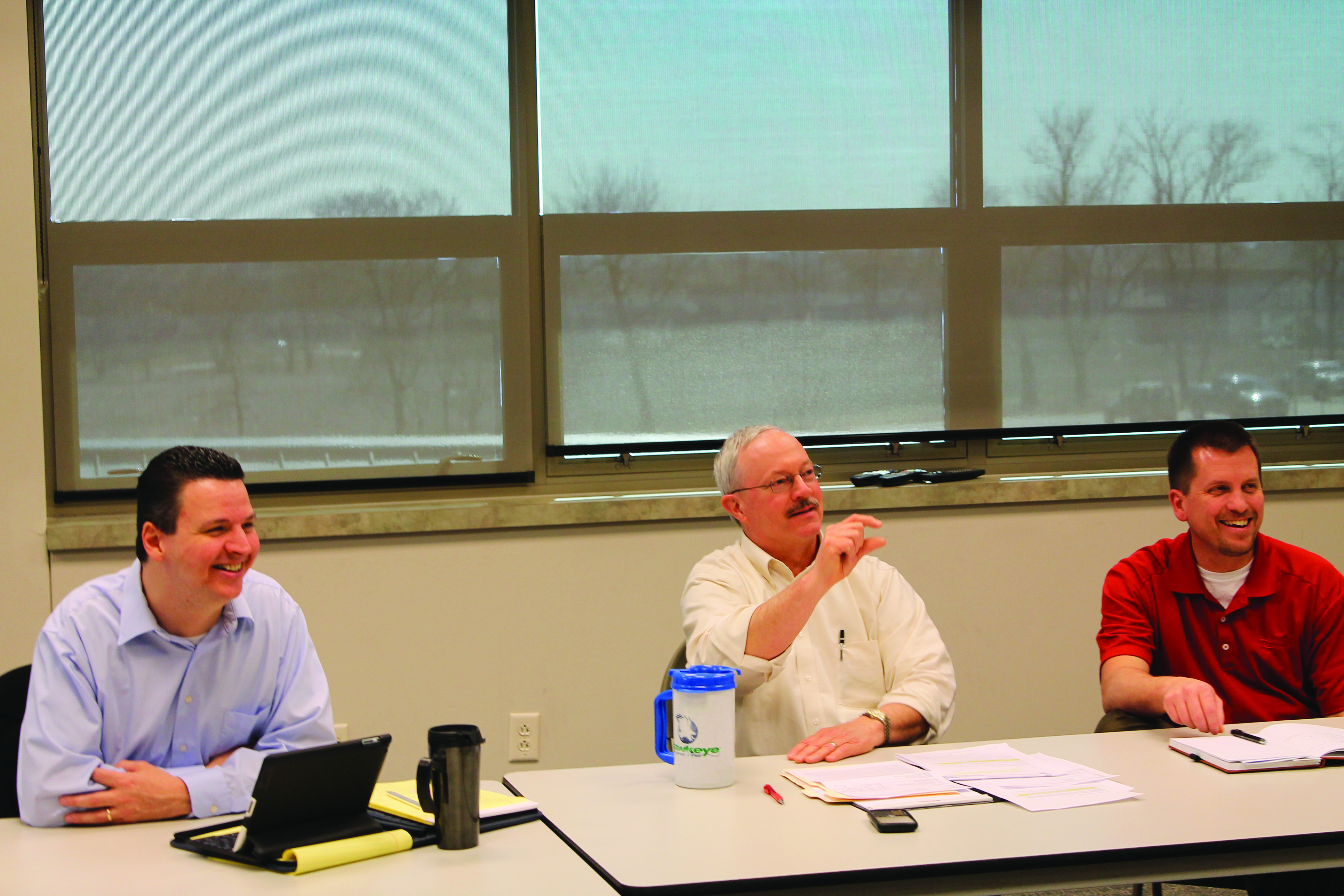 Work includes improving culture at South Slope
By Pat Shaver
NORTH LIBERTY—Patrick Lyons has discovered his passion.
Mr. Lyons last year started his consulting company, Culture By Design, where he works with businesses to analyze, plan and execute how to improve the internal culture.
"There is a giant list of things I'm not good at. But this is one of the things I am actually good at," he said jokingly.
One of his clients is South Slope Cooperative Communications, an Internet, telephone, television and wireless phone service provider based in North Liberty.
"The company was run a certain way for a long time. The new leader really wants to change things," Mr. Lyons said.
Justyn Miller started as South Slope's CEO in May 2011 and saw a need for change within the company.
"Our industry changes rapidly. We want to make sure that South Slope continues to be a member-driven organization, and make sure the members receive the service they have come to expect," Mr. Miller said.
Mr. Lyons meets with and surveys employees and then helps lead the management team into changing and enhancing the culture.
"Happy employees work harder. But a happy employee isn't the end goal. This is a bottom-line based initiative," Mr. Lyons said. "I believe it starts with the leadership."
The goal of Culture By Design is to transform low-performing organizations into high-achieving ones, maximize employee engagement, increase profitability and reduce cost.
"We think that culture change was something we had to do. It wasn't a choice," said Dan Swick, South Slope's human resources and compliance manager. "We needed to change because of the changes in our industry and the competition. We're not a phone company anymore, we're a communications provider."
Bringing Mr. Lyons on board has helped improve the employee and customer experience, Mr. Miller said.
"Happy and engaged employees deliver better service and Patrick is helping us understand and implement that," said Meredith King, South Slope's marketing director.
When there is a tense or uncomfortable culture in the workplace, it leads to disengaged employees, which results in poor performance, Mr. Lyons said.
"When bad things happen to us, we're stuck. That happens in business, too," he said. "People stop looking forward until their issue is resolved."
When people are under the stress of profits, unhappy customers and deadlines, disagreements are fairly common in the workplace.
"It happens all the time. Any where that you have people, there's miscommunication and misunderstanding. You have conflict. It's not necessarily a bad thing, it's about how we deal with it," Mr. Lyons said.
Part of his role is to find ways to improve employee communication and reduce disagreements within a company.
"The company spends the money on product development but when it comes to business culture, so often we leave it up to chance," he said. "I think I have made every mistake myself. Even the best people will fail in a bad environment."
In a negative environment there's almost no one who is blameless, he said.
"Do you want justice or do you want a great place to work?" Mr. Lyons said. "Let's just admit that we all behaved badly."
Mr. Lyons sees the potential for Corridor businesses to be recognized on national lists of the best companies to work for.
"I want the Corridor to be known as a great place to work and I want Iowa to be known as a great state to work," he said.
Workplace culture is becoming more important and widely talked about, Mr. Lyons said. That could be driven by "Generation Y" and "millenials" entering careers.
"Today's workforce just won't put up with crappy places to work," he said.
Originally from New Jersey, Mr. Lyons has worked in human resources positions there and in California before being transferred to the Corridor.
"I decided to do it on my own so I could do more of it," he said. "There were other parts of my previous jobs that I didn't really like."