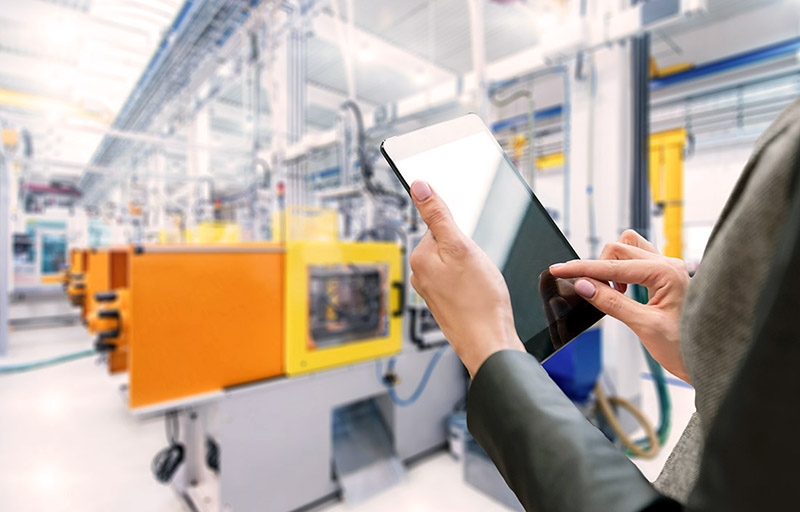 By Dave DeWitte
dave@corridorbusiness.com
Whether you call it machine to machine or connected manufacturing, its adoption will be a critical differentiator between the sectors winners and losers over the next several years.
That's the message from manufacturing expert John Brandt of the MPI Group, who described the growing profitability gap between manufacturers leveraging the Internet of Things (IoT) and those who aren't during his keynote speech at the 2018 CBJ Manufacturing Conference, held Sept. 28 in Cedar Rapids.
The IoT is a network of physical objects with embedded intelligence such as sensors, software or controls that allow them to collect data, communicate and react to data. Its development has allowed for the rise of machine to machine (M2M) manufacturing, where operational and business data is analyzed in the cloud, and used to continuously improve visibility, efficiency and control.
About 36 percent of executives surveyed by Mr. Brandt's group have already deployed IoT technologies in their manufacturing processes.
"The opportunity right now happens in a very short period of time," Mr. Brandt told the event's more than 220 attendees. "There is enormous opportunity to make money and make your lives better, and make your customers' lives better."
Far-ranging applications for IoT in connected manufacturing described by Mr. Brandt underscored his arguments that early adopters are outpacing their peers in profitability. Examples include:
• Agricultural equipment manufacturer AGCO, which makes customized tractors, equips its factory workers with Google Glass 2.0 systems for eyeglasses that provide augmented reality screens showing them which parts and tools to use, and how to install custom components. The internet-connected system not only saves large amounts of time, but also decreases training time from 10 days to three, Mr. Brandt said.
• Siemens AG has used IoT to develop a virtually autonomous factory with some 1,000 controllers built in. Every part that goes through the manufacturing process has a tag on it that instructs the connected manufacturing equipment what to do in sequence. Traceability is built into the system so that plant operators can determine where each part is in the assembly process.
• Rockwell Automation is creating networked manufacturing systems with IoT technology that can record the "per-widget" energy consumption of a manufacturing process, so that energy costs can be recorded as a variable cost on the bill of goods instead of as overhead cost. The data enables production teams to focus on more energy-efficient manufacturing locations and even times of day when energy costs are lowest.
The term "Internet of Things" was coined in 1999, but adoption of IoT technology didn't gain momentum until about five years ago, when the cost of technology, includ­ing internet bandwidth, cloud computing and sensors, became economical enough to make it widely accessible, Mr. Brandt said. Since then, adoption has occurred at an astonishing pace, opening a new "digi­tal divide" among manufacturers.
In studies by his firm, Mr. Brandt said 66 percent of companies surveyed two years ago had no or little company-wide understanding of IoT. Today, 68 percent now report understanding the technology and how to apply it.
The trend is playing out at companies like Van Meter Inc. in Cedar Rapids, which distributes electrical and automation equipment.
Van Meter sees the divide opening up potentially even faster than Mr. Brandt de­scribed, Vice President of Marketing Kar­men Wilhelm said following his remarks.
"We're helping a lot of customers with what we call 'connected enterprise,'" Ms. Wilhelm said. She said customers need to "take it step by step, and do it as a journey – the key is to get started and modernize their operation."
Mr. Brandt recommends manufactur­ers start by identifying unmet customer needs. Some good first steps are explor­ing what IoT applications other indus­tries are using that could be brought into their own industry, asking customers what kind of data-enabled needs they'd like to see met, or asking in-house IT staff what they'd like to see happen using IoT.
It's a good idea to start small, with a single, relatively simple project, Mr. Brandt said.
"Usually start with a machine, line or process that pays for itself and provides some savings to use for the next project," Mr. Brandt said. "The plan has to be itera­tive, because it's the wild west right now."
Another opportunity available to man­ufacturers is producing IoT-enabled prod­ucts, said Mr. Brandt, who emphasized the many creative ways the technology can be leveraged in product development.
A craft beer brewer sold his brewery after discovering a way to leverage IoT to tackle beer waste and introducing SteadyServ, an app that alerts bartenders when the weight of a keg shows it is nearly empty.
An IoT-enabled bicycle lock called Bit­lock has helped revolutionize the bicycle rental industry by allowing users to un­lock it with a smartphone app. The big ad­vantage, Mr. Brandt said, is that the same app can also identify the bicycle's loca­tion, enabling users to leave them securely at scattered locations for the next person.
Profit margins on IoT-enabled products are lagging behind the broader category of products, Mr. Brandt acknowledged, and some IoT manufacturers are still tweaking their products to make them more functional and easier to use. But 80 percent of the manufacturers that Mr. Brandt's firm categorizes as leaders in IoT adoption have seen their productivity rise more than 5 percent because of it in the past year, compared to just 21 percent of other manufacturers.
While much of Mr. Brandt's research has focused on IoT advancements in manufacturing, he also discussed several other technologies that will reshape manufacturing in the years ahead.
Artificial intelligence, blockchain and additive manufacturing all have strong potential to advance the field, he said. The heavy equipment manufacturer Caterpillar, for instance, has stated that it wants to use additive manufacturing technologies such as 3-D printing to create replacement parts on-demand, eliminating the need to keep them stored on site.
"We're about to see that on steroids over the next 10 or 15 years," Mr. Brandt said.
For businesses seeking advice on where to go with new technologies, he recommended contacting their local manufacturing outreach service such as CIRAS at Iowa State University.
Local sources of IoT technology expertise at the conference included Van Meter, RSM US LLP and ESCO Group.
"We live in exciting times for manufacturing," Mr. Brandt said. "It's going to be exciting, but also terrifying."