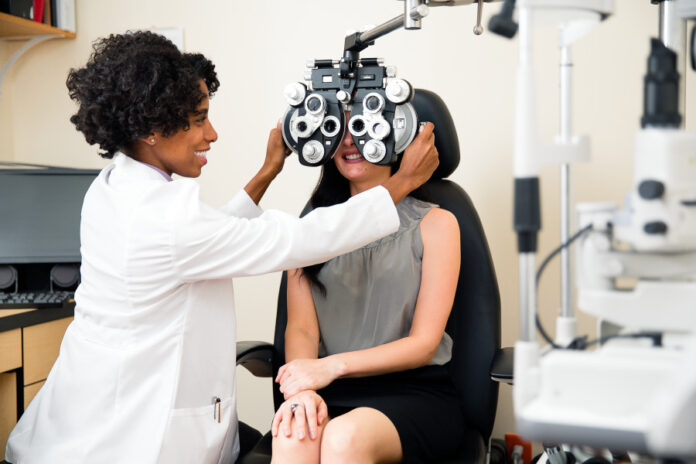 As the saying goes, "If we only knew then what we know now." Looking back, it's amazing to see the rate of change that happened in our industries in 2020. In one year, many companies made more changes to processes and delivery of services than they may have made in the previous five or 10 years.
That being said, what changes to our practices will we keep as we move forward in 2021 and beyond? It's true that as vaccinations increase and we carefully resume activities as recommended by the Centers for Disease Control and Prevention (CDC), we might expect everything will return to "normal" or whatever our routines looked like pre-COVID-19.
Delta Dental of Iowa and DeltaVision believe that some changes relating to our dental and vision health are worth keeping. Here are a few practices we predict will remain high priorities going forward.
In-office precautions– For now, optometrists and dentists and their staff will likely keep most of the precautions in place that were recommended by their respective national associations and the CDC upon reopening in mid-2020. While dental and vision offices followed stringent infection and safety protocols prior to COVID-19, many of these extra precautions such as wearing face shields during some procedures, requiring patients to answer questions about their recent health and maintaining social distance will likely be the norm in offices for the foreseeable future. Many offices increased outside airflow and invested in HEPA filtration systems to keep the particles and air moving through the building. Ask your dental and vision providers for their COVID-19 procedures before your next appointment so you are prepared for the changes.
Telehealth– The medical, dental and behavioral health communities and insurance industries quickly shifted to allow for more widespread use of telehealth when COVID-19 hit. Platforms were secured, teams and customers were trained, and processes were adapted. While most dental visits and optometric exams are in-person, there are certain scenarios where a televisit can be very useful. Telehealth may be an option if you have an emergent or urgent condition. These virtual visits can also be used to decrease travel time for pre- or postoperative visits. Check with your provider and insurance carrier to see if telehealth is possible for you and your family.
COVID-19 has impacted our dental and vision health – While the full impact of a COVID-19 infection will not be known for a while, we do know some of the short-term incidental impacts of COVID-19 lockdowns. For example, dentists are reporting increased teeth grinding by children and adults, possibly due to the stress of homeschooling, lack of activities with friends and family, work from home and the unknowns of a pandemic. Meanwhile, optometrists are warning patients about the impact of dramatically increased screen time due to the same circumstances. Ask your dentist and optometrist about ways to reduce the impacts of stress on your mouth, jaws and teeth and how to relieve screen strain on your eyes.
Maintaining your appointment schedule– Not even a pandemic can alter the fact that scheduling and maintaining regular dental and eye appointments are highly recommended. These preventive appointments are an important part of your overall health as many symptoms of chronic diseases can be identified by regular exams. Many people may have skipped regular preventive health appointments during the last year. If so, it's time to check your dental and vision insurance and call your optometrist and dentist office today to schedule your exams. Dentists can spot cavities, receding or swollen gums, early signs of oral cancers or cardiac disease, worn enamel or structural issues with your teeth. Eye doctors can see not only vision changes or eye diseases; they can also spot symptoms of high cholesterol, diabetes, Lyme disease and vitamin deficiencies.
Employees want and utilize dental and vision insurance– In a time of low unemployment – 3.7% in Iowa according to Iowa Workforce Development – employers should encourage employees to utilize their dental and vision benefits and maintain regular preventive exams. Studies show that preventive visits avoid time away from work due to emergencies. Also, dental and vision insurance is typically in the top five of the benefits employees value most from their employers.
Moving forward, we'll all make adjustments to how we live with COVID-19 as a new part of our reality. One thing we can do to stay as healthy as possible is to maintain our preventive health care schedules and continue to follow COVID-19 precautions as recommended. Stay in touch with your dentist, optometrist and insurance providers to keep up with new opportunities and changes in your health care.
For more information on dental and vision insurance, visit www.deltadentalia.com.
Dr. Chad Overman is director of vision benefits of DeltaVision
Dr. Jeffrey Chaffin is chief dental officer of Delta Dental of Iowa