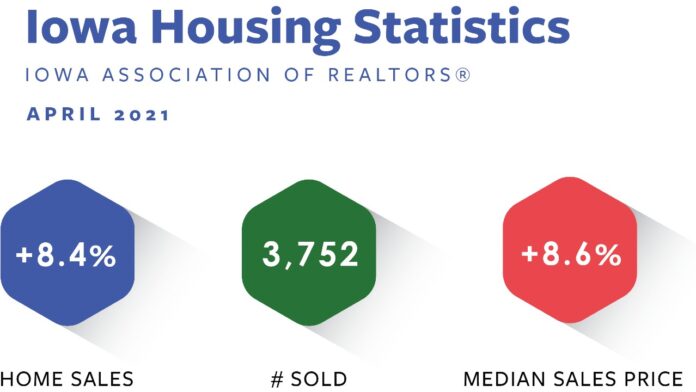 Iowa real estate activity remained fast-paced last month, eclipsing April 2020 in most categories according to the latest Housing Trends report from the Iowa Association of REALTORS (IAR).
The statewide median sales price rose 8.6% over April 2020, while total sales jumped a similar 8.4%.
Just over 3,750 homes sold in April 2021 with new properties coming on the market jumping 29.2% higher than new listings in April 2020. A total of 5,697 properties came on the market in April.
The median sales price for April 2021 came in at $190,000 compared to $174,930 in April of last year.
"April numbers continue to show how fast the market is moving right now," said IAR President Jen Burkamper in a release. "Single-family detached homes sold on average in 46 days. That is the fastest pace in the last nine years for single-family detached homes. We continue to see multiple offer situations driving sales prices above the asking price."
The number of homes available for sale continues to be low in many price ranges. The IAR reported the state's inventory was 31.2% lower than in April 2020, with only 9,161 homes on the market statewide.
Overall, Iowa homes spent about 50 days on the market, selling 25% faster than in April last year.
Sales were not quite as brisk in the Cedar Rapids and Iowa City metro markets, mainly due to a severe shortage of inventory.
In the Cedar Rapids area, closed sales of single-family homes were down 17.6% over April 2020, but just 158 homes were on the market –  almost 63% fewer than this time last year. Cedar Rapids homes spent an average of 23 days on the market, almost 48% less than last year, and sold for a median price of $200,000, up 14.3% over April 2020.
Home sales rose in the Iowa City market, but by just 6.1%, lower than the statewide average. The area had 441 homes for sale, a 39.7% decrease over April 2020. Iowa City homes spent 54 days on the market, an 11.9% decline from a year ago, and sold for a median price of $280,000, up 8.2% over last year at this time.
"Many are predicting the buyer demand to remain strong through the spring and summer," Ms. Burkamper said. "We are hopeful to see more homes available for buyers as building continues in many areas of Iowa and potential sellers take advantage of the strong demand."