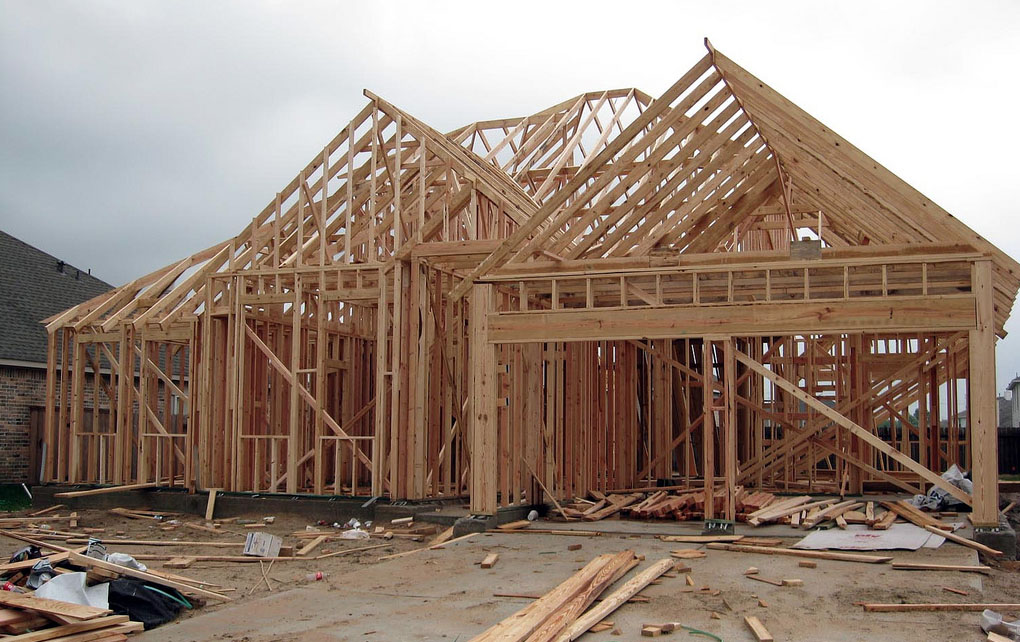 By Dave DeWitte
dave@corridorbusiness.com
Record lumber prices are adding pressure to new home affordability in the Corridor even as builders see strong demand continuing in 2018 with mortgage interest rates remaining low.
Over the course of the past year, prices for softwood lumber, used primarily in framing, went up 15 percent, while OSB sheeting was up 30 percent at one point, according to the National Association of Home Builders. The average price of a new home sold at the end of 2017 nationwide was $335,000.
Jim McGrew, president of Cedar Rapids-based Suburban Lumber, said he's seen no slowing of lumber demand, and that holding off on purchases in hopes of a reversal may not be such a good strategy. Industry pricing forecasts have not been encouraging.
"As far as we're concerned, it's at an all-time high and going higher," Mr. McGrew said, "so we're assuming it's going to continue going up next year."
The price increases were coming so rapidly in 2017 that it was possible for customers or even suppliers to get caught in a price pinch.
"The challenging thing for us and for builders is we quote a product today and when it [the house] actually gets built 60 days from now, it's a higher price," Mr. McGrew said. "We need a quick turnaround time on decisions."
Cascade Manufacturing Co. makes roof and floor trusses to the buyers' specifications. President Mike Farr is now recommending that builders get project pricing locked in advance.
"What they [builders] can do is look at getting the projects locked in on a quarter-to-quarter basis," said Mr. Farr, who is also 2018 president of the Greater Cedar Rapids Housing and Building Association. "We had one customer who locked in [roof trusses for] 16 hog buildings, because that's how many they expected to build in the quarter."
Des Moines-based Jerry's Homes builds primarily single-family homes in the Corridor. Vice President of Operations Drew Retz says rising lumber prices "devastates affordability," but mainly for younger, first-time buyers.
"Your younger people, your newer buyer, they just can't afford it," he said. Instead of buying a single-family home, he said first-time buyers are increasingly turning to less expensive condominiums, including duplexes, fourplexes and various townhome configurations that have a lower cost per square foot.
Jerry's Homes has found its niche in the middle market for single-family homes, with its most popular models offering three bedrooms, two bathrooms, a three-stall garage and upgraded finishes such as granite kitchen countertops. That market is holding up to rising costs.
"I cannot say [lumber pricing] has significantly slowed down demand, but we can anticipate it will if it continues," Mr. Retz said.
If there was one event that received most of the blame for the price increase, it was the imposition of tariffs on softwood lumber imported from Canada imposed by the Commerce Department in April. A U.S. trade panel determined that Canada was unfairly subsidizing its lumber industry, and imposed tariffs ranging from 3-24 percent.
Tariffs alone were responsible for nearly 7 percent of the increases, driving up the price of a new home by an average of $1,360 nationwide, according to the National Association of Home Builders.
Mr. McGrew believes tariffs are receiving more of the blame than is necessary, however. He noted the tariffs were not the first the U.S. has imposed on Canadian softwood, even though they had lapsed in the years preceding the new ones.
The 2017 lumber price boom was more a case of demand rising faster than supply, Mr. McGrew said. Demand came not just from a strong building economy, but a strong rebuilding economy. Three hurricanes in 2017 were among the five most costly on record in the United States, according to the National Hurricane Center, with hurricanes Harvey, Irma and Maria accounting for a estimated $265 billion in damage.
Wildfires in the western United States also damaged or destroyed many homes, and lumber supplies were restricted by reduced milling capacity after wildfires in British Columbia forced the closure of some large mills.
A painful reality for homebuilders is that lumber costs aren't their biggest problem.
"The biggest issue we face is workforce development and finding bodies and people," Mr. Farr said. "It's driving the rates higher. Labor's costing more, and that's a bigger increase than materials."
He noted that Cascade Manufacturing has responded to the challenging labor market by automating any process it can to keep costs low.
"We've put a lot of automation into our process in the last two years," Mr. Farr said. "Work setting up a truss that took 25 minutes now takes 20 seconds."
G.T. Karr of Sueppel's Siding and Remodeling in Iowa City says the rising material costs haven't hurt business, although they've made it more of a challenge to balance the equation on projects.
"Materials and labor prices are up, but trying to balance it so we still have a margin to be profitable is the challenge," Mr. Karr said.
Better planning is the best way to manage both rising material costs and the limited availability of subcontractors, according to Mr. Karr. He coordinates projects more carefully so that projects don't come to a standstill when an electrician or plumber can't get to them immediately.
The prospect of continued cost increases may dampen hopes of new home ownership for those buyers with more limited means, but builders say that for most buyers, the personal and financial benefits of home ownership still outweigh the costs.
"One thing I like to tell people is the best time to buy a home is always now," Mr. Retz said. "With new construction, our costs never go down. If the cost of lumber goes down, the decrease is usually overcome by other commodities and labor costs."