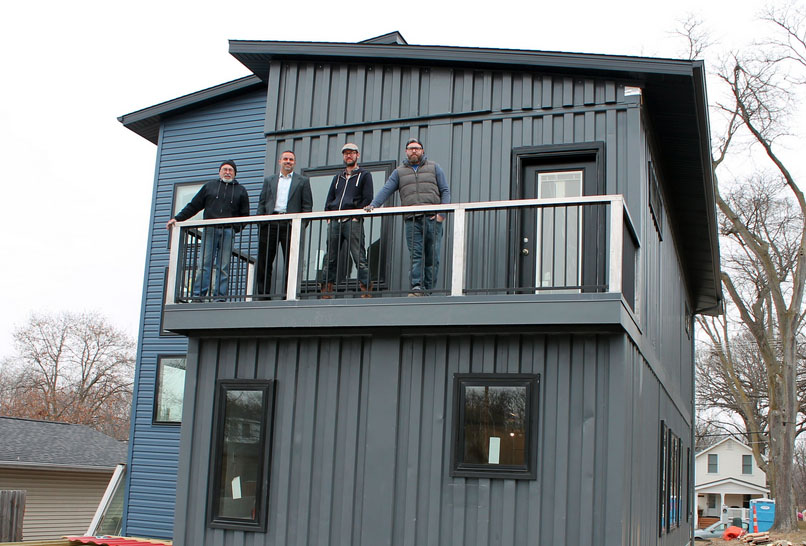 Cargohab partners (l-r) Fred Zehr, John Armon, Justin Zehr and Casey Cornwell look down on the back yard of their first cargo container house in Cedar Rapids, which will hit the market this spring. PHOTO DAVE DEWITTE
By Dave DeWitte
dave@corridorbusiness.com
CEDAR RAPIDS—The first cargo container house in Cedar Rapids is about to hit the market with a strong statement about sustainability and smart design.
Cargohab, a startup formed by five Cedar Rapids friends, is putting the finishing touches on its "proof of concept" container house at 527 30th St. Drive SE. Despite its recycled origins, the gray-and-black two-story house explores the limits of comfort and industrial style with enough room for a modern family.
At the heart of the house are four K-Line America shipping containers, each a rectangular hulk weighing thousands of pounds and providing 360 square feet of space. They are the most unusual element of the one-of-a-kind house and the reason the construction site gets so much attention.
John Armon, one of the Cargohab partners who lives a few blocks away, has at times seen a dozen cars an hour drive by the house for a look. When the rusty 45-by-8-foot containers arrived on site last summer and workers began grinding away the rust or cutting metal, they would sometimes find themselves being videorecorded by strangers who'd just dropped by.
For those who've been waiting for the tiny house movement to come to Cedar Rapids, the house could be a disappointment. With nearly 3,000 square feet of usable space, there's nothing tiny about it.
"Originally, we wanted to do low-cost container housing," said partner Casey Cornwell, a veteran home builder. "But with the guidelines the city proposed, it kind of changed."
The project likely wouldn't have penciled out as a tiny house, so it pivoted into a "house of the future" concept with four bedrooms, four baths, two decks, a two-car garage and smarthome technology. The key concept driving the project was to use salvaged shipping containers in a house with sustainable, low-impact design.
Mr. Cornwell had not built with cargo containers before. The main difference, he said, is the amount of time spent putting torch to metal. Although it is possible to build entirely with cargo containers, a critical design decision early on was to go with a hybrid cargo container/frame-built structure.
"These things are super durable, but their strength is in this very simple shell design," Mr. Cornwell said. Cutting away a certain amount of metal from the shell is necessary for things like windows and doors, he noted, but carving out more openings in the floors and ceilings for things like staircases, bathroom pipes and drains can weaken them and is best avoided.
The solution was to build a wood-frame section housing a staircase and bathrooms on all three floors as well as the garage. That left the main cargo container side to house an open kitchen-dining-living room on the main floor, bedrooms on the second floor, and a family room and bedrooms in the basement level.
The home's approach to energy management earned it a spot on an episode of the Alliant Energy-sponsored TV show, Power House. Because the steel in the shipping container walls are not insulated, the inside was sprayed with a layer of closed-cell foam before new interior walls were built.
"This is tighter than a regular house," Mr. Cornwell said.
Partly to reduce the need for ventilation shafts and more holes in the containers, a ductless zoned heating system was installed using seven individual electric-powered Mitsubishi Mini-Split heating and cooling units, paired with one outdoor heat transfer unit.
A 2.4-kilowatt solar power system installed on the roof is able to provide about half of the home's power consumption on average and should keep electric costs low for decades.
The house was pre-wired for Wi-Fi with the anticipation that the buyer would use an interactive voice response system like the Amazon Echo to control appliances, lighting and other features. A central vacuum cleaning system was also installed to make cleaning easier.
Despite the plethora of conveniences, the Cargohab team wanted the house to reflect its cargo container roots. They left steel container supports with a rust patina exposed downstairs and covered a breakfast bar wall with a cut-out section of a cargo container's hull.
Dark gray European cabinets and stainless steel countertops and appliances were chosen for their industrial look, and some salvaged industrial auger head shields were repurposed to create distinctive light fixtures.
Shipping pallets were stripped down for wood to make a distinctive ceiling for the downstairs space. After being cleaned and planed, the varied wood species give the ceiling a multi-colored effect, which contrasts with the warm maple flooring.
Port of origin
The idea for building a cargo container house in Cedar Rapids originally came up in conversations between Mr. Armon, neighbors Fred and Joann Zehr and their adult son, Justin Zehr. Mr. and Ms. Zehr are Rockwell Collins retirees; Justin, a kitchen manager.
"We were chatting about it, and it just got a little more real each time we talked," Mr. Armon said. "Then this property opened up down the street."
The 30th Street Drive neighborhood, where the house is nearing completion, seemed to be one of the best places to put a container house in Cedar Rapids. It includes an eclectic collection of newer and older homes, ranging from simple owner-built homes to one designed by Frank Lloyd Wright.
It's also a neighborhood of steep wooded hillsides, a quiet park and a gently flowing section of Indian Creek, one of the area's larger streams, with a creekside trail. Those considerations made the builders realize that the most likely buyer for the house would be a family that appreciated the outdoor lifestyle, Fred Zehr explained. That factored into design elements such as an attractive deck and patio with a large water feature, upper decks at the front and rear of the house, and large windows facing in all directions.
The design even includes a bathroom off the garage with a shower stall suitable for washing the dog after a romp in the nearby creek.
Since a container house has not yet been sold in Cedar Rapids, the Cargohab partners have no equivalent properties to help in pricing their first home. They're expecting to market it somewhere in a range between $300,000-$400,000.
It may not be a tiny house, but it will have plenty of room and comforts for housing a full-size family and all their belongings. And if walls could talk, these would have many stories to tell.
"These containers have been around the world," Fred Zehr said.