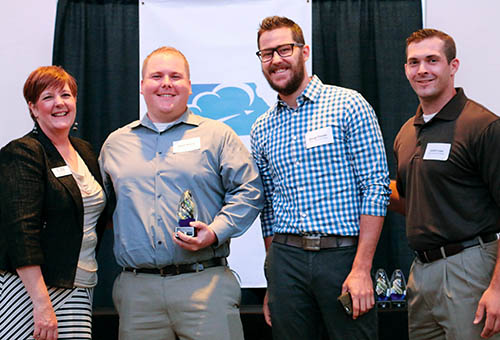 By Dave DeWitte
When Alec Whitters, Adam Keune and Ben O'Connor launched Higher Learning Technologies just over three years ago, they didn't wait to see what kind of workplace culture developed.
Creating a fun and engaging workplace culture "was our goal from day one," Mr. Keune said after the company received overall first-place honors June 16 in the Corridor Business Journal's 2015 Coolest Places to Work competition, sponsored by Skywalk Group, the Eastern Iowa Airport and Iowa Women Lead Change (IWLC).
Higher Learning Technologies creates study apps to prepare students for high-stakes exams, including dental boards, the MCAT for admission to medical college and the NCLEX licensing exam for nurses.
The three co-founders began their quest to create a special culture by looking at leading companies for inspiration. That led to an early educational journey out west.
"We went out to Las Vegas with our friend and mentor Dave Gould, who was able to give us a tour of Zappos' headquarters," said Mr. Keune, HLT's chief business development officer and a fan of Zappos CEO Tony Hsieh's approach to corporate culture. Mr. Gould is the University of Iowa's first Obermann Center Public Scholar.
The Higher Learning Technologies founders were amazed by what they found at the e-retailer.
"We couldn't have a giant two-story slide [like one at Zappos], but what we could do was create a great family and team environment," Mr. Keune said.
An important distinction made early in the company's cultural efforts was that it needed to focus on what was important to the employees, not the owners. With that in mind, the founders created a culture committee and promptly turned it over to employees in order to find out what they thought would make the company a better place to work, and to bring those ideas to life.
The result is an engaged and vibrant office culture that supports the company's rapid growth. Higher Learning Technologies has grown in less than three years to the equivalent of 50 full-time employees, and expects to reach the 1 million-download mark for its 15 study apps next month.
Mr. Whitters is president and CEO of Higher Learning Technologies. He defines autonomy, mastery and purpose as the three attributes the company tries to foster in its workforce.
"Everyone gets a lane, but they can do what they want in that lane," Mr. Whitters said in an interview. Team members are encouraged to grow in their roles and take on responsibility, he said, all while keeping the final purpose of their efforts clearly in focus.
Often, that purpose is embodied in customers who've expressed profound thanks for the boost HLT's apps gave them to pass the exams they needed to reach the next stage in their education or career. Some of the most-moving comments come from clients who hurdled an exam with help from HLT after failing it repeatedly.
Director of Customer Success Justin Leas is co-leader of the culture committee.
"We really try to help people find their best home here," Mr. Leas said. The committee frequently rotates members, he said, and always includes at least one remote employee who doesn't share the Coralville office.
The committee's efforts began with things like free pizza on Wednesday night as a time to connect with co-workers, and has moved on to more elaborate and meaningful initiatives including an employee book club, volunteering at Ronald McDonald House and tailgating at University of Iowa home games.
The company also offers some unusual benefits, which reflect on the confidence placed in employees to use them wisely. They include unlimited paid time-off, flex time and $20 per month to spend on apps.
As a startup, Higher Learning Technologies can't match the compensation some of its highly talented staff could find at larger companies, but Mr. Keune believes the company can overcome that by emphasizing intrinsic motivations – essentially tapping into positive energy created when someone is doing something they feel good about, for a company they believe in.
Mr. Keune says Mr. Whitters often reflects on his desire to make the time employees spend at Higher Learning Technologies the best years of their life. That includes things like building social connections.
"I ask all the time, 'Do you have a best friend at work?'" Mr. Whitters said.
Higher Learning Technologies' office does its very best to make that possible. Employees who need to recharge for a minute can find a massage chair, an inversion table and an electronic basketball game in a relaxation room. There's also a beverage station with beer and other drinks for later in the day.
When the company recently moved into the University of Iowa's BioVentures Center, employees voluntarily turned out to paint and decorate their space. The office has an eclectic mixture of artwork and decor, ranging from a giant wall poster of a mythic sorcerer from the movie "Ghostbusters II" in the lobby to more conventional motivational posters.
Most of HLT's employees are 35 or under in age. The company hires carefully for fit within the culture.
"The question is, how do we get people to go to sleep thinking about the company?" Mr. Whitters said. "If they go to sleep thinking about it, they're passionate about it."
In addition to winning the overall category in the CBJ's Coolest Places to Work competition, Higher Learning Technologies also won the Medium Companies category for employers with 21-99 employees.
In order to qualify for the Coolest Places to Work awards, a company had to nominate itself or be nominated. Skywalk Group, a Cedar Rapids-based professional services firm, then sent questionnaires to employees and management of each nominee. Those companies with a survey participation rate of at least 60 percent were then given scores based on an analysis of the questionnaires and ranked into three size categories: Small (20 or fewer employees), Medium (21-84 employees) and Large (85 or more employees).
About 300 business leaders attended the Coolest Places to Work awards breakfast hosted by the CBJ at the DoubleTree by Hilton Cedar Rapids Convention Complex.
CORRECTION: June 23, 2015
A previous edition of this story understated the employment and age of Higher Learning Technologies. HLT is three years old and employs 50 full-time equivalent positions. In the same story, we misidentified the CEO of Zappos, who is Tony Hsieh. This story has been updated to reflect those changes.