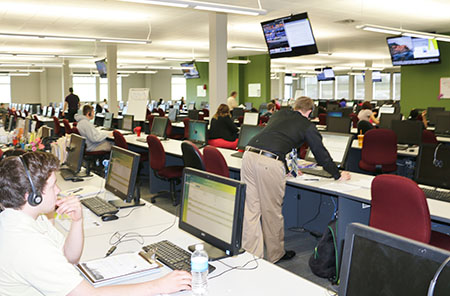 By Dave DeWitte
dave@corridorbusiness.com
There's a new president, a new headquarters building and a newly merged organization at Ruffalo Noel Levitz in Cedar Rapids, all of which are aligned to meet a growing challenge in its primary market.
Ruffalo Noel Levitz was formed in the August 2014 merger of two prominent Corridor companies that serve the higher education market: Cedar Rapids-based RuffaloCODY and Iowa City-based Noel Levitz.
Universities and colleges served by Ruffalo Noel Levitz face unprecedented challenges in raising funds and recruiting students, according to company leaders.
The kind of specialized services Ruffalo Noel Levitz provides to higher education, such as enrollment and fundraising services, "have become much more important," according to Executive Chairman Al Ruffalo, who spoke with the CBJ after a May 28 ribbon-cutting at the company's headquarters at 1025 Kirkwood Parkway SW.
Tight fiscal constraints at the state and federal level are making it more necessary than ever for colleges and universities to raise outside funds for a variety of projects. At the same time, the number of U.S. high school graduates has stopped rising, leaving universities and colleges to compete for a declining pool of students bound for college.
The number of high school graduates is expected to decline by 2 percent by 2022-23, according to a February report issued by the National Center for Education Statistics. The number of students completing public high school is projected to rise 1 percent, but the number completing private high school is expected to decline by 27 percent.
In the Midwest and Northeast, the decline in high school graduates is expected to be more pronounced than the national average because of demographic trends.
Ruffalo Noel Levitz uses a data-driven approach to identify prospective students and donors. Its enrollment management services profile the student populations of its clients, and works with them to decide if they want to keep trying to recruit the same mix of students, or go after a different demographic.
"We do some regression analysis [of the student body]," Mr. Ruffalo said. "Where are they from, what's their socioeconomic status? We sculpt a list they would use to recruit. We turn over warm leads."
The challenge isn't just finding enough students to fill each year's freshman class, Mr. Ruffalo said. "They need to get the right student – the student who's going to stay for four years."
Mounting momentum
Ruffalo Noel Levitz continues to grow in its mission to help its clients meet those challenges. The merged company moved into its new building about a year ago, and in March announced its new president and CEO, Stephen J. Meyer.
Mr. Meyer brings a fresh perspective to a company that has turned to the world of higher education for many of its past leaders. He comes from the Corporate Executive Board, a publicly traded provider of information services and cloud-based talent assessment services heavily relied on by Fortune 1000 companies.
With his understanding of technology and how it can be used to deliver services, Mr. Ruffalo said Mr. Meyer "has a really good vision, looking out three to five years to what Ruffalo Noel Levitz should look like."
The company will be exploring ways to use technology to provide additional products and services to its clients, Mr. Ruffalo said.
Mr. Meyer told local leaders at the May 28 ceremony that the merger between RuffaloCODY and Noel Levitz "wasn't really about scale, but about impact." He described higher education as one of the most empowering forces in our society, but said it is under duress.
The newly combined company serves over 1,800 institutions, Mr. Meyer said, including 59 of the 68 teams in the 2015 NCAA men's basketball tournament. He said the company reaches more than 1 million students who receive financial aid, more than 300,000 students in enrollment services, and more than 900,000 donors on behalf of clients.
The chief benefit of the highly efficient building is "enabling outstanding service and impact to deliver our services to customers around the country and around the world," Mr. Meyer said in an interview. The new building does that by putting more employees who had been at two separate locations together under one roof, and providing them with space where they can communicate and work more effectively.
Nationally Ruffalo Noel Levitz employs more than 800 full-time and 4,000 part-time staff. Of those staff members, 250 full-time and 300 part-time staff work in the new Cedar Rapids headquarters.
The employees at the facility include scriptwriters and data teams. They support many employees who are located at remote locations near university and college clients across the country, and at other Ruffalo Noel Levitz call centers.
About 90 percent of the part-time employees at the Cedar Rapids headquarters are Kirkwood Community College students, according to Mr. Ruffalo.
The new headquarters is the company's second building in the Kirkwood area; its previous building, constructed 11 years ago at 65 Kirkwood North Road, was deeded over to the college as part of the purchase of its existing building.
The Ruffalo Noel Levitz building is the first structure in a new development on property purchased from Kirkwood Community College by Frantz Community Investors of Cedar Rapids. Another 38 acres is ready for development.
The city of Cedar Rapids provided a package of incentives for the Ruffalo Noel Levitz project. Mayor Ron Corbett said the Ruffalo Noel Levitz is important not only because of the 200-plus jobs, tax base and ripple effect it has on the economy, but the important contributions the company has made to the community over its 24-year history.
Although the city has focused recently on redeveloping the flood-affected areas near downtown, "We want growth in all parts of Cedar Rapids," Mr. Corbett said.
Baxter Construction constructed the building, which received Alliant Energy's 2014 Excellence in Energy Efficiency Award.
Ruffalo Noel Levitz has another major Corridor office at 2350 Oakdale Blvd. in Coralville. The company decided to delay the ribbon-cutting on its new Cedar Rapids headquarters for about a year in order to complete the integration of the merger and its rebranding as Ruffalo Noel Levitz, Mr. Meyer explained.