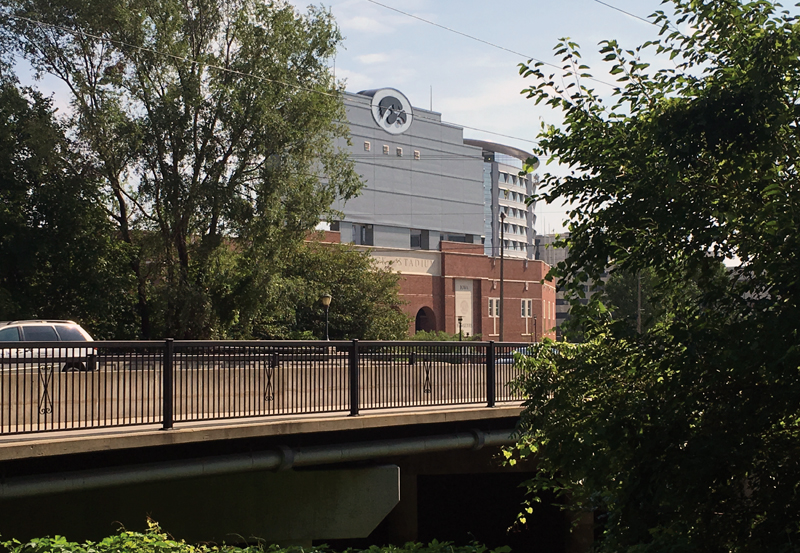 A view of Kinnick Stadium from a nearby residential area. Rent Like a Champion, a home rental service, is expanding into the Iowa City area.  PHOTO/BECKY LYONS
By Nicholas Yanes
news@corridorbusiness.com
Rent Like A Champion, a web service designed to connect collegiate sports fans with rental homes, is rolling into Hawkeye Nation.
The business was founded in 2006 – two years before Airbnb – by Jordan Curnes, Drew Mitchell and Derrick Shenk to serve the Norte Dame community. It now offers weekend rentals in more than 20 well-known college towns across the country, including South Bend, Indiana; Oxford, Mississippi; Tallahassee, Florida; Athens, Georgia and Clemson, South Carolina.
The service works by first recruiting homeowners to list their properties on Rent Like A Champion's website. From there, users interested in finding a rental during a sporting event can look for properties that match their needs and price range, and reserve it via credit card. The company handles the rest of the process, collecting the rent up front and holding a security deposit to pay for damage. It takes a cut of the rent and charges a fee to renters to pay for the service.
The service is similar in approach to Airbnb, which continues to gain popularity among travelers, but focuses on locations near major sporting and academic venues.
Iowa City is a perfect example of what Rent Like A Champion looks for, according to CEO Mike Doyle, as it has a "great university, iconic college town and a football program that brings alumni back to town." He added that it fits into the company's target market of smaller college towns that need its services on a less-frequent basis.
"Big cities are equipped with the hotel infrastructure to host major events, but not every smaller city is prepared to welcome 70,000 visitors to town seven times every fall," he noted.
The Chicago-based company began expanding into the Corridor earlier this summer, and has already secured 15 homeowners for listings on the service, despite lacking a local employee. It's a number that the company hopes to grow as the fall approaches, with Mr. Doyle noting that potential rental properties don't need to be located across the street from the stadium.
"Homeowners in surrounding cities can certainly list their homes, although we do typically recommend that they be within a 20-mile radius of campus," Mr. Doyle said.
The company has garnered some big wins since beginning its expansion to other college towns in 2010, including an appearance on ABC's "Shark Tank" in 2015. While there, Mr. Doyle and Mr. Mitchell secured a $200,000 investment from tech investors Mark Cuban and Chris Sacca for 10 percent equity in the company. The TV spot introduced millions of viewers to Rent Like A Champion's services, while their new investors' tech connections have benefitted the company's standing in the industry.
Rent Like A Champion generated $2.3 million in rental payments in 2014 and was on track to book $4 million rental proceeds in 2015, Mr. Doyle said in an interview with the Chicago Tribune last fall.
But despite its continued expansion and success, there remain some persistent obstacles that Rent Like A Champion works to overcome. An immediate concern is that many people don't feel comfortable having complete strangers in their homes. It is a concern that the business has responded to by emphasizing its insurance policies – all rentals are insured up to $1 million through the company, Mr. Doyle told the Tribune – and beefing up its customer service approach.
"We make sure that we go above and beyond for both our hosts and guests," Mr. Doyle said. "We'll handpick specific homes for our guests to review, we walk our hosts through the process of preparing their homes, and are always available via chat, email or phone call."
Two other concerns surrounding Rent Like A Champion's business model are the increasing of congestion in residential areas like those surrounding Kinnick Stadium, and the possibility of conflict with local rental regulations. On the topic of congestion from increased visitors, Mr. Doyle offered that "there's no avoiding this congestion, and I think that's part of what makes these weekends so special."
"People from all over the state … are coming together in these towns, all for the same reason," he added. "We strive to make the logistics a little easier for our renters, as renting a home makes the commute to campus easier, preparing food a whole lot simpler, and just generally eliminates a lot of the stress from what should be a busy, but fun weekend."
As for concern about homeowners and renters following local regulations, Mr. Doyle said that companies like his can only "encourage all hosts to know and adhere to their local regulations," and noted that Rent Like A Champion works with every one of its local communities to "make it as easy as possible" to ensure compliance.
Stan Laverman, Iowa City's senior housing inspector, said that the city regulates services such as Rent Like A Champion and Airbnb as bed and breakfasts. While city officials focus on making sure each space is safe for use, it does have to be in an owner-occupied property. As such, individuals who rent a house and then sublease a room would be in violation of Iowa City's ordinances.
Interested renters or hosts in the Iowa City area can learn more about the company at https://rentlikeachampion.com/iowa-city-ia.