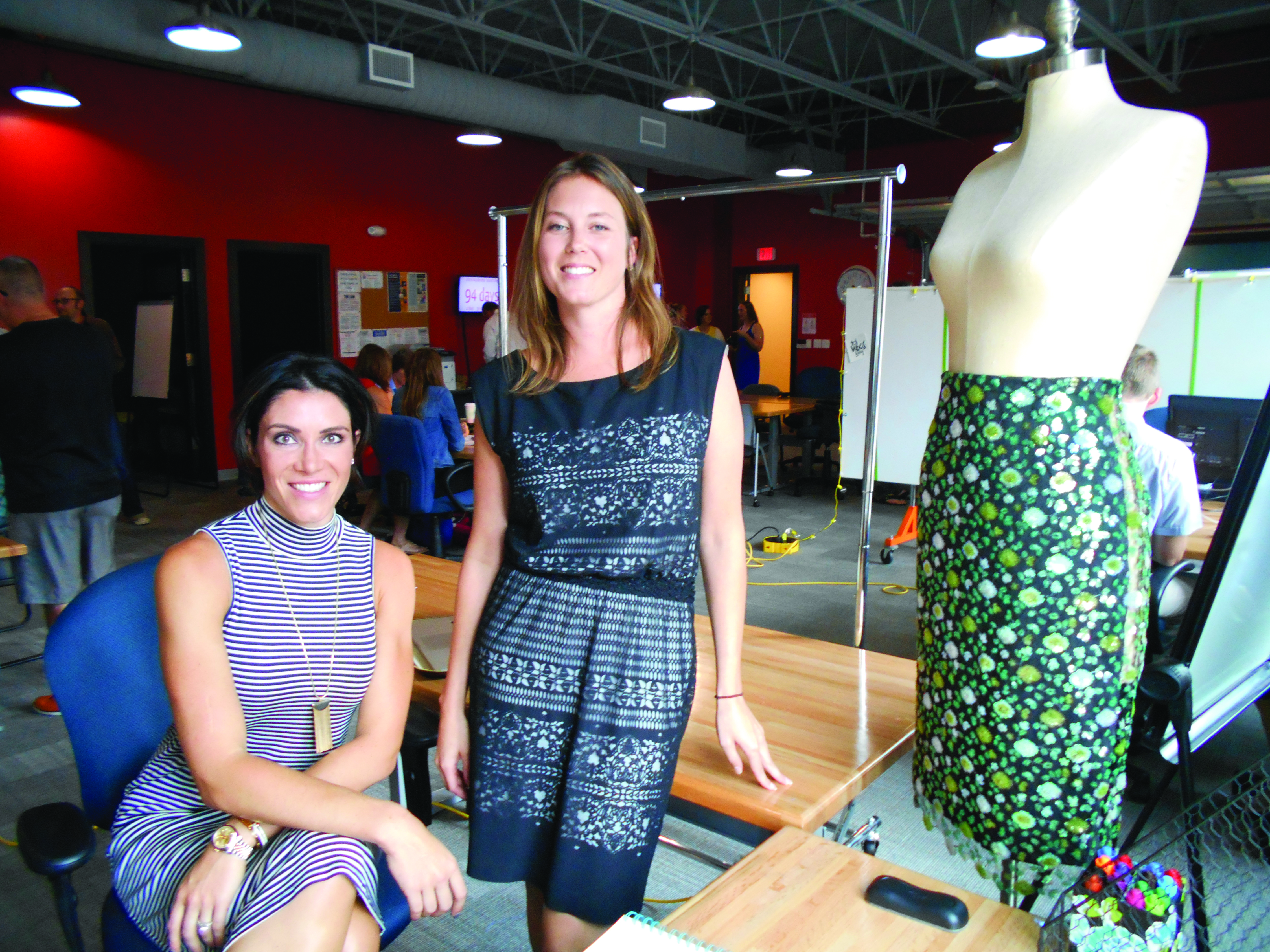 Meegan Hofmeister (left) and Emily Carlson of Cedar Rapids-based Written Apparel, shown at the Iowa Startup Accelerator's preview event on Aug. 1. Their startup is aiming to produce homegrown, high-end fashions for women. PHOTO/ADAM MOORE
By Adam Moore
adam@corridorbusiness.com
The Iowa Startup Accelerator is staying close to home this fall.
The accelerator based in Cedar Rapids' NewBo district on Aug. 1 introduced its third cohort, which is both smaller and much more local than in years past. The seven teams in this year's group are all based in Iowa, with six of them from the Corridor.
That's a drop from the nine in last year's cohort, and the 10 startups in 2014. It's also a shift from the ISA's geographic representation, with teams previously arriving from cities like Boston, New York and Los Angeles, and as far away as Israel and Australia.
The geographic focus was inadvertent but welcomed, according to ISA Managing Director David Tominsky, who described their goal of finding the best startups on the market, and being "excited to realize those startups were right here in our own state." The small cohort size, however, was a conscious decision – one intended to keep the program focused, and its success rate high.
"With the accelerator we're running here, I like to think it's proving that we've got the best interests of the entrepreneurs in mind," Mr. Tominsky said, comparing it to other accelerators that may admit dozens of teams at a time. "We're looking at smart investments, of course, but the ability for us to have less teams to focus on, to go deeper, is going to lead to a higher probability of success."
Organizers certainly could have gone bigger with the cohort if they had wanted. The ISA received more than 200 applications from around the world at its May deadline, and accepted 37 teams for a June 'pre-accelerator' program designed to help better vet the applicants. Seven teams were selected for this fall's program, which will take them on an intensive, 94-day journey toward a minimum viable product and market traction.
That path will likely be easier for some teams than others. Several of this year's startups have already been in development for years, and have roots within the Corridor's burgeoning startup scene. Most of the founders have presented at 1 Million Cups, and half have participated in University of Iowa's Venture School program, including one that completed the Venture School Student Accelerator this summer.
Others are newer to the startup world. AMP'd Cycles co-founder and CEO Kyle Gatzmeyer is transitioning from a long career as a Navy pilot to an entrepreneur looking to improve bicycle safety through innovations such as automated crash detection and emergency notification. And while he'll be able to fall back on a host of knowledge from co-founder and investor Bruce Lehrman, who founded and now leads data company Involta, there are still plenty of questions to be answered.
"Right now, quite honestly, we're still in the idea stage," Mr. Gatzmeyer said. "So we've got to get to prototype and show some proof of concept, and that's really where we want to get at the end of this 94 days."
The emphasis at the ISA is giving teams, both fledging or experienced, the tools and resources they'll need to create a product that resonates with the market. With the exception of this year's corporate innovation team, Quick Score, which hails from the ISA's parent nonprofit, NewBoCo, each team has received a $20,000 investment from the accelerator in exchange for 6 percent equity.
Teams will also have access to a large network of more than 150 local mentors, many of which have direct experience in tech development and starting businesses. They will be frequent visitors to the accelerator, dropping in to 'pitch' the teams on their services and insights, and offering feedback on Friday 'demo days,' during which teams will showcase the progress they've made during the week.
"With startup accelerators, it's normally two years down the road, maybe one or two teams survive – that's just how business goes," said Molly Monk, a graduate of Simpson College and the ISA's new program manager. "I'm hoping that we can give the teams the skills they need to be better than that average."
The ISA is already faring well against those odds, according to its own data. As of the start of 2016, 18 of the 19 teams that have participated in the program since its launch in 2014 are still active, and have raised nearly $2.7 million in funding.
This year's cohort will close Nov. 3, when teams will formally present their business progress to the community during the ISA's Launch Day event. Tickets to the event at the Paramount Theatre are free and open to the public, and can be reserved at http://isalaunchday2016.eventbrite.com.
Meet the 2016 Iowa Startup Accelerator teams:
AssetRover
Team: Jeri Frank (CEO), Uriel Barillas (CTO), Bill Kearney (CFO)
Home Location: Cedar Rapids, IA
Idea: AssetRover provides new real estate investors with a guided path and intuitive tools that solve the complexities of investing.
Industry: Financial Tech
Girls With Ideas
Team: Allison Poss (CEO), Britney Tracy (COO), Angie Magazino (Chief Curriculum Officer), Abbie Schneider (Director of Organizational Development)
Home Location: Iowa City, IA
Idea: Leadership development program for young females.
Industry: Education
Hang
Team: Dalton Viggers (CEO), Mike Pruszinske (CFO), Austin Benson (CTO), Austin Dorenkamp (CTO)
Home Location: Des Moines, IA
Idea: Hang is a mobile app that increases awareness of gatherings, hangouts, and local events to help users be more present in their lives and communities.
Industry: Social, community engagement
Streamweaver
Team: Keevin O'Rourke (CEO), Wes Merrill (COO)
Home Location: Iowa City, IA
Idea: Influencer marketing platform for e-sports and gaming.
Industry: Gaming, eSports
Written Apparel
Team: Emily Carlson (CEO), Meegan Hofmeister (VP, Sales & Research and Development)
Home Location: Cedar Rapids, IA
Idea: Homegrown, high-end fashion for women.
Industry: Fashion, manufacturing
Quick Score (Corporate Innovation team)
Team: Tim McDougall, Jay Cooper, Keith Dahlby, Jessica Bertling
Home Location: Cedar Rapids, IA
Idea: This team will work on a prototype built for a beta customer by NewBoCo's internal development staff designed for rapid scoring of educational assessments. The team will focus on whether there is a market for the product beyond the beta customer.
Industry: Education