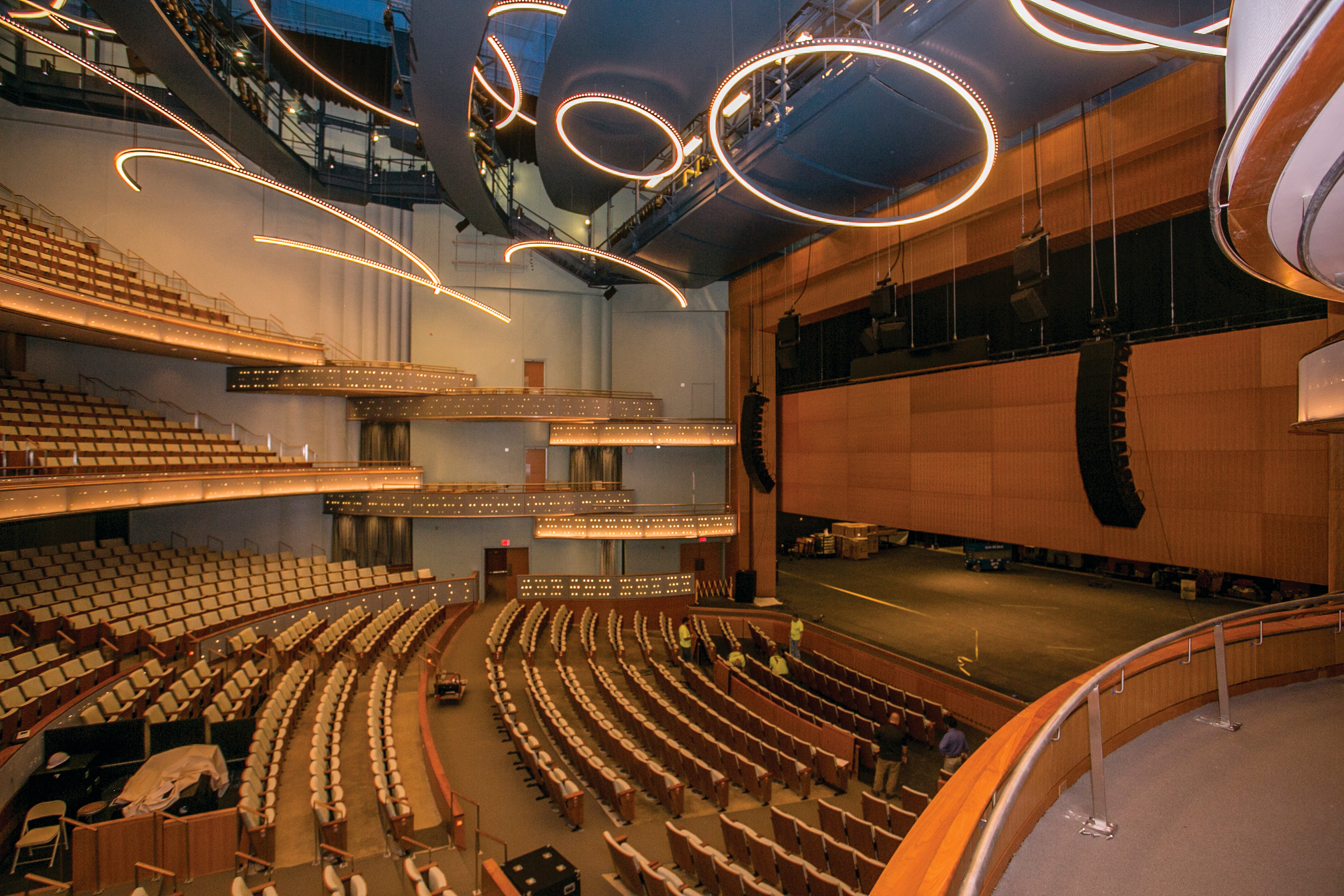 By Chase Castle
chase@corridorbusiness.com
When Hancher Auditorium officially re-opens in Iowa City on Friday, the venue's second act should mobilize actors on and off stage.
Originally built in 1972, the first Hancher Auditorium served as the premiere arts venue for the University of Iowa until extensive flooding in 2008 led to the building's closure and demolition five years later. The natural disaster affected more than 2.5 million square feet of building space, or roughly one-sixth of the UI campus facilities. A total of 20 buildings were shuddered, with total damages reaching an estimated $743 million.
"It was really tough seeing those padlocks on Hancher," Executive Director Chuck Swanson said. "All of a sudden, to be locked out of a place that we cared about so deeply as a staff, it was tough. It was really, really hard on all of us."
This year, the university will nearly complete a campus-wide comeback, with the grand opening of the newly-rebuilt Hancher scheduled for Sept. 9 and the new venue's first marquee acts opening later this month. A new school of music building and a new visual arts building also opened this year, while a new museum of art is tentatively scheduled to open in 2019.
Hancher's re-opening follows nearly a decade of university staff efforts to maintain the venue's relationship with the local and national arts community, dating back to August 2008, roughly a month after the flooding subsided.
With a campaign titled "Can't Contain Us!" rallying supporters the following season, staff managed to maintain 17 previously scheduled events by renting out other local venues such as Carver-Hawkeye Arena, the Englert Theatre, the auditoriums at City and West High Schools, the Congregational United Church of Christ and others.
"At that time, we didn't realize that we'd be doing this for the next seven years," Mr. Swanson said.
Despite initial impressions that the original facility could be restored, the damage eventually prompted the building's demolition in 2013. That same year, construction work managed by Minneapolis-based Mortenson Construction began, building out designs conceived by Pelli Clarke Pelli Architects and OPN Architects.
The new 188,000-square-foot building features an 1,800-seat theater, replete with front-of-house and back-of-house support spaces, a rehearsal room and administrative offices. Hancher will also house UI School of Music program space, including a scene shop, costume shop, recording studio and performing arts production offices.
The facility will also have a modernized backstage area, with two more loading docks than its predecessor. When the original Hancher opened, Broadway productions typically traveled with no more than two to three trucks to haul equipment, Mr. Swanson said. Since then, that number has increased to a dozen or more.
That change may seem insignificant to all but production staff, but those additions could help Hancher retain or even draw bigger acts. According to Mr. Swanson, the reputations performance venues gain within fine arts circles are often determined by their backstage areas.
"And we're going to have, I'm hoping, one of the best reputations ever," he said. "So all of that has to happen before the magic can happen on stage. It's critical."
The total cost of project was approximately $176 million, including design, construction, equipment and furnishing costs.
Though difficult to quantify the impact the venue's return will have on the Iowa City area, Mr. Swanson said the impact starts with performers, educators and other visitors in town for short- or long-term stays. When a group like Chicago's Joffrey Ballet visits, for example, the ensemble travels with several dozen members capable of making a modest dent in downtown spending.
"That's going to end up being a big group of people who have to eat, love to shop, and that's just the company themselves," Mr. Swanson said.
Patrons, meanwhile, have historically traveled from a 100-mile radius, providing an additional influx of local spending. With an upcoming season includes three Broadway shows – the Book of Mormon, The Sound of Music and Mamma Mía! – in addition to high profile acts such as Yo-Yo Ma and comedians Steve Martin and Martin Short, Mr. Swanson anticipates a busy season.
Josh Schamberger, president of the Iowa City / Coralville Area Convention & Visitors Bureau, also expects the venue's return to bring both tangible and intangible benefits.
Although the bureau to date hasn't tracked the economic impact of Hancher specifically, he said the venue, along with the UI's Kinnick Stadium, qualify as community "attractors," which are unique from tourist attractions which serve as destinations for visitors' spending, whereas attractors bring those people in the community, he said.
"And Hancher and Kinnick are what I call big attractors," Mr. Schamberger said. "It's a huge thing to see that returning to this community, and they've done a very good job in the years since the flood."