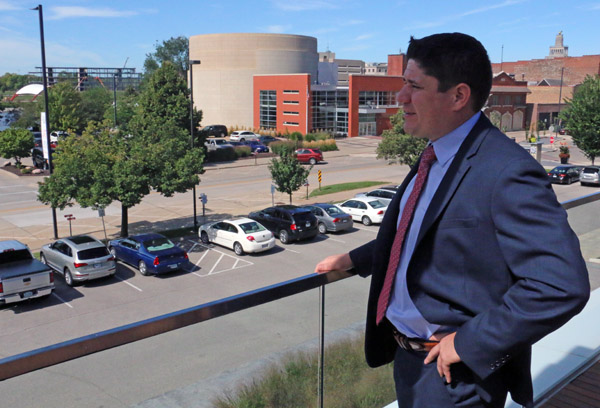 Financial planner Anthony Reynolds surveys the view from the balcony of TrueNorth's headquarters in downtown Cedar Rapids. Mr. Reynolds still serves as a first lieutenant in the Iowa National Guard.  PHOTO/CHASE CASTLE
By Chase Castle
chase@corridorbusiness.com
Financial planning is a far cry from Anthony Reynolds' duties as a member of the Iowa National Guard stationed abroad, but lessons on problem solving and self-discipline continue to serve him back home.
Working with clients at TrueNorth Wealth Management, Mr. Reynolds largely focuses on planning for retirement and setting financial goals for families.
"How do you complete that transition from working to retirement to living the dream," he said. "We've lived it a lot with other clients, so it's easy for us to see the direct path to it. That's the bulk of my duties."
Not long ago, however, his duties were quite different.
Ahead of his senior year in 2001, Mr. Reynolds and his family moved from Cassville, Wisconsin, to Dubuque, where he graduated from Hempstead High School. Lured by the promise of education finance assistance, he decided to enlist in the Iowa National Guard after graduating in 2002.
"Being from a single mother of four, college looked a little far-off, financially," Mr. Reynolds recalled. "So this was a way to go to school and do service at the same time."
Mr. Reynolds enlisted and completed his basic training in 2002. Following a roughly nine-month peacekeeping mission in Egypt, he returned to the states in 2004, where he finished two semesters at Kirkwood Commmunity College before being activated for duty in Iraq.
In the fall of 2005, Mr. Reynolds started a 22-month deployment that also fulfilled his six-year commitment with the Guard. Upon returning home, he decided to focus on school – something that proved harder than expected, but not for the usual reasons.
"I missed the camaraderie, I missed the leadership opportunities," Mr. Reynolds said. "I missed being a part of something bigger than one's self. And also, I enjoyed the structure and discipline that it instilled in me."
Pining for something greater, Mr. Reynolds decided to join the ROTC at the University of Iowa, which put him on track to become an officer while allowing him to complete his undergraduate degree on an accelerated, 18-month timeline.
University settings are a stark contrast to military life abroad, but the constant self-discipline required by the latter continued to apply to life as a student. Mr. Reynolds also built a highly regimented schedule, which he crafted with course times that complimented his natural energy levels, he said. Perhaps more importantly, he decided to pursue studies in fields he was passionate about.
"I was fortunate to have that break after college to say, 'OK, I want to do finance and marketing,'" Mr. Reynolds said. "Being able to reflect back on a place where you don't want to go back to, it gives you a little more motivation to continue with just one more class, just one more exam. That's the mentality that I brought to school, and you know, I got a job."
Soon after graduating from the University of Iowa in 2010 with a degree in business administration in finance, Mr. Reynolds accepted a job with Berthel Fisher in Cedar Rapids, where he worked for just shy of two years before taking a position with his current employer.
Mr. Reynolds continues to serve on the Iowa National Guard as a first lieutenant, and said his work as a financial adviser employs plenty of lessons from military life. Chief among them is a problem-solving methodology with broad applications to risk management, he said.
"In risk management, safety is paramount," Mr. Reynolds said. "You do it every day. You get in your car, check mirrors … you're applying risk management principles habitually. We just take it to the next level."
Arguably just as valuable but significantly harder to reproduce is the camaraderie of a military unit, he said. Intense foreign environments with extended travel and constant surprises often unite a group by necessity. In the workplace, achieving that same level of cohesion is difficult.
"It's the bond [and] the esprit de corps in a unit that is very, very hard to replicate in a civilian environment," Mr. Reynolds said. "There's definitely camaraderie here, but as I mentioned previously, that cohesion is what I missed getting back. It's something you can't really put words [to], so it's hard to bring back over to the civilian side."
While it may be impossible to fully bridge the disconnect between the private and military sectors, Mr. Reynolds said the Employer Support of the Guard and Reserve can be a helpful resource. Started in 1972, the Department of Defense program aims to help employers understand their workers' commitments and resolve potential conflicts, which can arise from Guard members' training one weekend a month and two full weeks a year.
Mr. Reynolds said his own employer has been very accommodating, but managers elsewhere may want to consider the training program's value for the company and its workers.
"They're evolving as leaders every time they go to drill," he said. "They come back as a better person every single month."