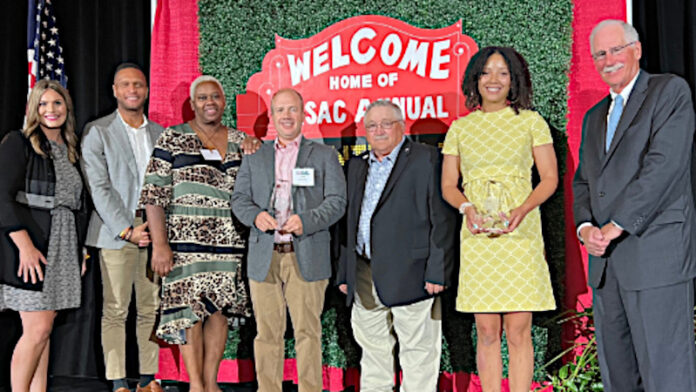 Grow Solar Linn + Johnson Counties received the 2022 Iowa State Association of Counties (ISAC) Excellence in Action Award during a ceremony Aug. 23 at the ISAC Annual Conference in Des Moines.
The Excellence in Action Award Program is a competitive awards program that seeks to identify and recognize innovative county government employees, programs, and projects.
Grow Solar Linn + Johnson Counties is a collaborative project among the two counties, as well as local cities, organizations, businesses, other stakeholders, and residents, that helps educate the public about solar energy and makes adding clean energy arrays more affordable to homeowners through group buys.
The group was formed on the premise that efficiency, cost savings, and broader awareness could be found by building a partnership. The educational and group buy efforts have resulted in nearly 450 individuals from both rural and urban areas participating in Solar Power Hour learning opportunities and using a locally-based installer.
Under the Grow Solar Linn + Johnson Counties program, 64 property owners have added a total of 557 kW of solar power, demonstrating the benefits of coordination and collaboration across county lines to address community needs. ISAC recognized that success with their Excellence in Action award.
The Midwest Renewable Energy Association helped administer the program at no cost to the counties and other program partners. The installer was Eagle Point Solar.
Other partners for the program are the City of Cedar Rapids, the City of Iowa City, Green Iowa AmeriCorps–Cedar Rapids/Matthew 25, Green Iowa AmeriCorp–Iowa City, Johnson Clean Energy District, Johnson County Conservation, Linn Clean Energy District, Linn County Public Health, and The Nature Conservancy in Iowa.
Linn County has participated in the Grow Solar group buy program since 2017, when the county partnered with the City of Cedar Rapids to help local property owners add solar power to their properties at a discounted cost.