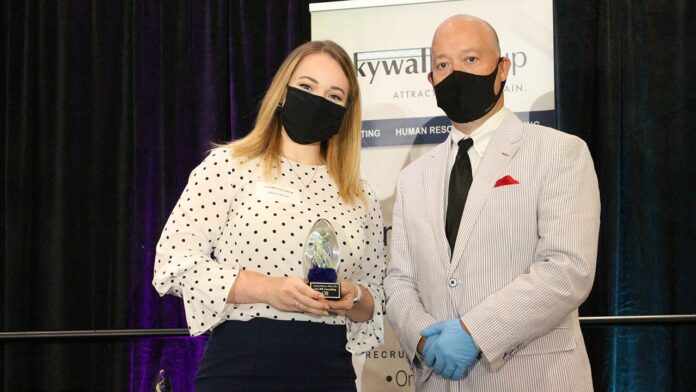 #1 Small Company
Gro HR Consulting
Cedar Rapids | grohrconsulting.com | 1st time on list
"I want them to wake up and not feel like they're going to work every day. I want them to be excited to check their email, to jump on calls, and work with our clients."
That's CEO Abby White's goal for each employee that works for her at Gro HR Consulting, a human resource outsourcer for small to medium-sized businesses all over the United States. "I want every single employee to be highly utilized, highly valued, and highly appreciated."
A little less than two years old as a company, Gro HR is built on handling and managing the pitfalls of human resources for small businesses so they can focus their efforts in other areas. But Ms. White thinks Gro HR's success is rooted in treating her own 13 employees well first.
"My favorite part about what I do here is being able to give my employees opportunities to continuously learn, whether it's going to a training or teaching them myself and having them shadow something that I'm doing," said Ms. White.
Employees at Gro HR are encouraged to take different classes (and are provided reimbursement) to obtain new certifications. They also have access to LinkedIn Learning, so employees can learn anything they want — even if it's not HR-related.
"If they want to learn how to knit, they can learn how to knit on LinkedIn Learning," said Ms. White. "Whatever they need to be capable of being the best in their role, even if it's just motivation for the day. That's what I try to provide for them — the atmosphere to have what they need."
All employees work fully remote, even before the pandemic, and enjoy an extensive list of benefits. Workers at Gro HR have access to unlimited PTO, an entire benefits suite, and a flexible work environment that gives them the freedom to take an afternoon off for a dental appointment or family obligation.
"We have a lot of people who are parents or taking care of their parents," Ms. White said, "so just having that ability to work [flexibly] to make sure employees have a successful work-life balance is probably the biggest thing that we've found to be the most beneficial."
Ms. White worked in human relations for 10 years before starting Gro HR, but helping small businesses always made sense. She often helped her family and friends with their businesses outside of her 9-to-5 working hours. This experience proved eye-opening.
"I started to realize that I was not loving what I was doing every day," she explained. "Who I wanted to serve was small businesses, and I realized the only way I could really do that was to essentially be a consultant."
Now that she found her passion, she sees this as just the beginning of a long road ahead.
She hopes to triple the company's size in the next year and a half in what she calls a "pretty aggressive strategic plan."
"That is the plan anyway, and I would rather shoot for the moon than set some mediocre goals," she said. "Our goal really is to help as many small businesses as we possibly can in the next 18 months. I want us to be an industry shaker. I want us to show small businesses that they do have resources for HR that are affordable options and that it's not necessary for them to know all things HR. Hopefully, small businesses will think of our name, not just in the Corridor but also in the Midwest."