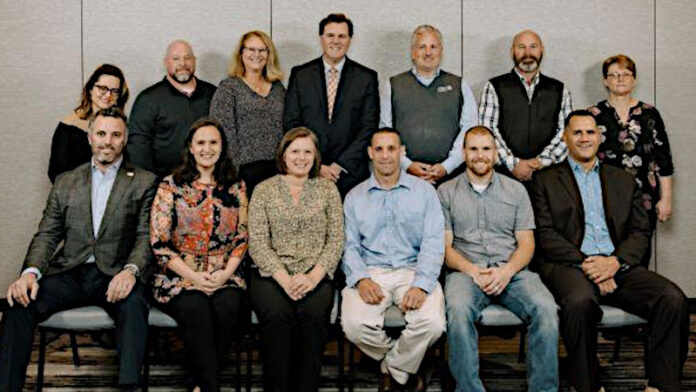 The Greater Iowa City Area Home Builders Association (HBA) has announced its 2023 board of directors.
Board members include president Kevin McCreedy of McCreedy-Ruth Construction, past president Melissa Schooley of First Interstate Bank, first vice president Andy Hodge of Hodge Construction, second vice president Jennie Wunderlich of PSC Distribution/Studio H2O, treasurer Mark Koch of Hills Bank and secretary Kelly Manning, Sobaski Abbey Carpet & Floor.
Mr. McCreedy is a co-owner of McCreedy-Ruth Construction. He has been an Iowa City Area HBA member since 2003. He chaired the Remodelers Council in 2021 and 2022 and was named Builder of the Year in 2020 and Remodeler of the Year in 2018.
Mr. McCreedy joined the organization's board of directors in 2019 and currently sits on the Home Builders Association of Iowa Board of Directors. He served in the Iowa Army National Guard for 6 years and graduated from Kirkwood Community College with a degree in construction technology.
Greater Iowa City HBA directors for 2023 are GT Karr of Sueppel's Siding & Remodeling, Art Floss of CBI Bank & Trust, Jason Walton of Navigate Homes, Jerry Waddilove of Merit Construction, Mike Pugh of Pugh Hagan Prahm, PLC and Rory Triplett of Relion Insurance Solutions.
Representatives include Heather Kuenster of Kuenster Heating & Air on the Remodelers Council, Sandy Steil of Steil Consulting on Professional Women in Building, Aaron McGlynn of Cabinet Works as a state and national director, Tim Ruth, McCreedy-Ruth Construction on the Area 10 NAC and HBA Of Iowa City executive officer Karyl Bohnsack.