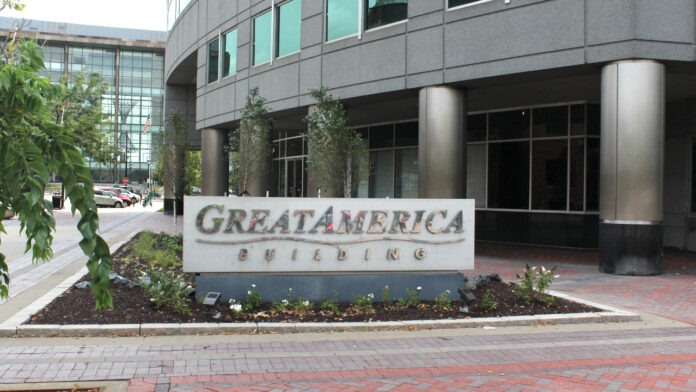 The Cannata Report presented GreatAmerica Financial Services, based in Cedar Rapids, with its 2022 Frank Award for Best Leasing Company during its 37th annual awards & charities gala at The Madison Hotel in Morristown, New Jersey Nov. 10.
The Frank Award winners were chosen by office equipment dealers who responded to The Cannata Report's 37th annual survey. Winners were chosen in 12 distinct categories, and this is the 13th win for GreatAmerica in the 14 years there has been a leasing category.
The survey garnered responses from 380 participants this year, according to The Cannata Report. The Best Leasing Company award recognizes the leasing company that provides an outstanding mix of lease options, competitive rates, superior service and effective dealer communication.
"GreatAmerica has a stronghold in the independent dealer channel, evidenced by its lengthy winning streak for the Frank Award for Best Leasing Company," said CJ Cannata, president and CEO of The Cannata Report. "Respondents in our annual dealer survey indicate GreatAmerica is a forward-thinking engaged partner who demonstrates a solid commitment to the success of its clients. Many respondents note that GreatAmerica is a supportive partner at the beginning and the end of a lease, which dealers see as a game changer."
"The Frank Award is incredibly meaningful to the team members at GreatAmerica whom I represent," added Jennie Fisher, senior vice president and general manager of the Office Equipment Group at GreatAmerica. "We understand that the solution providers are putting their confidence in us to continue to deliver on our promises, and we want them to hear us loud and clear, we are honored and appreciate you."
The 2022 Frank Award categories and winners are as follows:
Best Production Print Manufacturer: Ricoh USA
Best A4 Manufacturer: Kyocera Document Solutions America
Best in Class: Sharp Imaging and Information Company of America
Best Diversification Partner (new this year): ConnectWise
Best Marketing Strategy: Sharp Imaging and Information Company of America
Best ECM/Document Management Software Provider: DocuWare
Best Print Management Software Provider: ACDI and PaperCut
Best IT and Security Services Provider: ConnectWise
Best Technical Service Provider: Ricoh USA
Best Leasing Company: GreatAmerica Financial Services
Best Female Executive: Laura Blackmer, President, Dealer Sales, Konica Minolta Business Solutions, U.S.A.
Best Male Executive: Mike Marusic, President and CEO, Sharp Imaging and Information Company of America
Best Manufacturer: Sharp Imaging and Information Company of America
According to The Cannata Report, the event's theme was Shake It Up, and raised $180,000 to create the Marie Cusumano Endowed Scholarship at Hackensack Meridian School of Medicine. To date, The Cannata Report's Annual Awards & Charities Gala has raised $1.3 million for endeavors funded by Hackensack Meridian Health Foundation and has collectively raised nearly $3 million for a host of charitable organizations nationwide.
GreatAmerica is the largest independent, family-owned national commercial equipment finance company in the U.S. and is dedicated to helping manufacturers, vendors, and dealers be more successful and keep their customers for a lifetime. A $2.5 billion company with life-to-date finance originations of $14 Billion, GreatAmerica was established in Cedar Rapids in 1992 and has a staff of over 600 employees with offices in Iowa, Georgia, Minnesota, and Illinois.