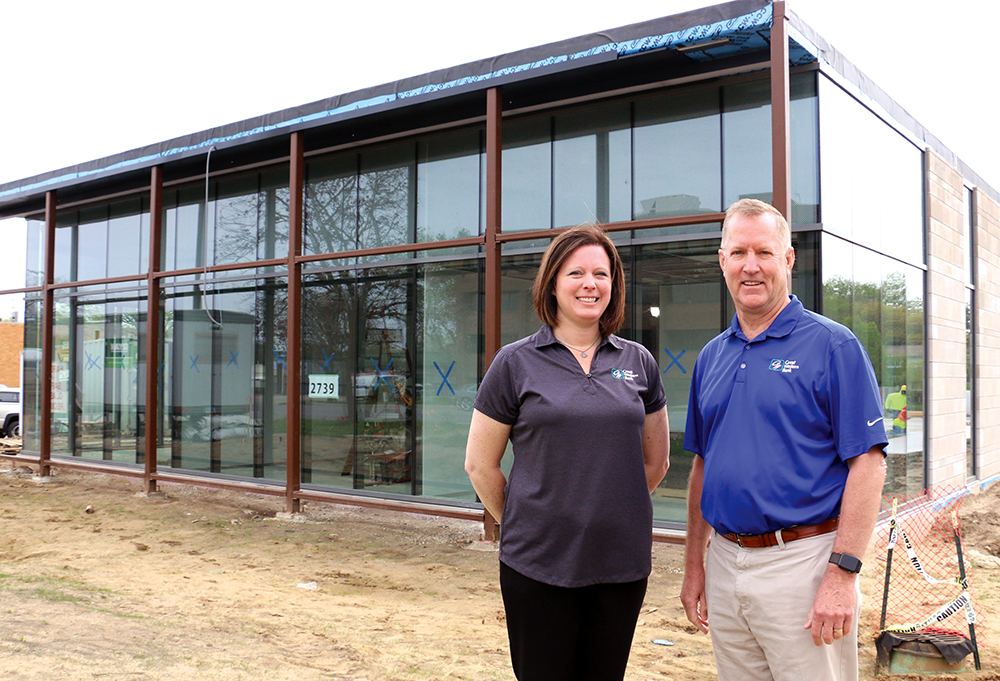 Melissa Schooley and Dave Parmley stand in front of Great Western Bank's newest branch, set to open this July along First Avenue in Cedar Rapids. PHOTO ADAM MOORE
By Dave DeWitte
dave@corridorbusiness.com

Although still a relative newcomer to the Corridor banking scene, Great Western Bank is making its presence felt with a rapidly growing loan portfolio and its first Cedar Rapids branch set to open this summer.
Just eight years after arriving in the Eastern Iowa market, with its leadership in North Liberty, Great Western Bank recently surpassed $500 million in Eastern Iowa assets. In the six months that ended March 31, market assets grew 16 percent and deposits 40 percent.
Bank-wide, assets have grown to more than $12 billion, triggering an additional layer of regulatory oversight under Dodd-Frank intended to ensure the financial soundness of banks with $10 billion-plus in assets.
Eastern Iowa Market President Melissa Schooley says that even though the publicly traded bank is known for ag lending, its local focus has been on commercial real estate and commercial and industrial financing. She said Great Western fills an overlooked niche for businesses with lending needs that are outgrowing the resources of smaller community banks.
"We're kind of a stepping stone between a community bank and a national bank," Ms. Schooley said. "We feel a lot like a community bank, but we're larger and we can handle larger lending needs."
Some of Great Western's growth in the market has been due to timing, as its arrival coincided with a long and gradual economic expansion. But while there is now some concern about how much longer the economy will grow, Ms. Schooley noted that the Corridor market was relatively resilient even during the Great Recession, and that "[loan] demand is still really strong. I haven't seen much of a pullback at all."
Although it's based in Sioux Falls, South Dakota, Great Western Bank recruits veteran bankers from the local markets it enters, looking for that "community-banker mindset."
Dave Parmley, who leads Great Western's Cedar Rapids office, was hired two years ago after a long career with Bankers Trust. Jim Olson, who leads the Burlington market, was president of Two Rivers Bank for 23 years.
Great Western now has six branches in Eastern Iowa, including two in Burlington, one each in Cedar Falls, Mount Pleasant, North Liberty and Waterloo, and a loan production office in the Quad Cities. They have a combined staffing of 41, of which 11 are based in North Liberty.
The new Cedar Rapids branch is expected to open in mid-July in a 7,100-square-foot building at 2739 First Ave. SE. It will be the first new branch Great Western has built in Eastern Iowa, and brings a sleek, contemporary style quite different from its older branches.
Designed by OPN Architects and built by Ryan Companies USA, it features broad expanses of glass, 11 offices and three conference rooms.
Mr. Parmley, who oversaw site selection and design of the branch, made sure it had not only a high-traffic location with good visibility and access, but one somewhat unusual feature. A "floating" conference room just off the lobby will be available for meetings by outside groups, helping to make the bank more of a community focal point.
With the move, the Cedar Rapids staff is expected to grow from its current complement of two lenders, a market president, a branch manager and a portfolio manager to a total of eight to 10 staff members.
Ms. Schooley sees a "mountain of opportunity" in Cedar Rapids, and sees Great Western Bank positioned well for growth in the Quad Cities and Waterloo-Cedar Falls. The most rapid growth so far has been in the North Liberty branch, she said, in part because of the longer amount of time the staff has had to grow roots in the community.
Great Western Bank's move into Eastern Iowa came quickly in the spring of 2012, when the company bought the former Liberty Bank branch at 655 Community Drive and moved in.  Within the same month, Great Western acquired First Federal Savings Bank of Iowa, growing the bank's Eastern Iowa presence to four branches.
Ms. Schooley was one of the first few employees hired, making the move from vice president of commercial lending at Hills Bank. On the strength of her performance Ms. Schooley was promoted to business banking manager two years ago.
A change at the top of Great Western Bank triggered a series of promotions that encompassed Ms. Schooley in late 2018. Regional President Doug Bass, who oversaw a seven-state region in the Midwest, was promoted to president of Great Western in August 2018. Bart Floyd, who first led the Eastern Iowa market for the bank, was promoted to replace Mr. Bass at the regional level, and Ms. Schooley was promoted to replace Mr. Floyd as market president six months ago.
The transition has gone smoothly, Ms. Schooley said, and her responsibilities were eased with the hiring of Doug Green as North Liberty market president just over a month ago.
"We have such a solid team across Eastern Iowa that the needs they place on me are not that much," Ms. Schooley said. "My job is to support them."
The talent wars among banks are intense, a fact Ms. Schooley can personally attest to. She'd been employed at Hills Bank for 11 years and was looking to move up. But with the strength and age of Hills' management bench, there appeared to be little likelihood of a promotion in the foreseeable future, she recalled.
Without much warning, Ms. Schooley found herself with not one but three job offers, including one as a market leader and one to lead a local community bank.
"I thought, maybe it's time to consider something else," Ms. Schooley said. She took the first job offer, to become a commercial lender at Great Western.
The relatively small focus on ag lending in Great Western's Eastern Iowa market has been an unexpected plus during a period when tough agricultural conditions are causing many banks to exercise greater caution in extending ag credit. It wasn't entirely intentional, Ms. Schooley said, but rather a byproduct of the fact that Great Western hadn't recruited a lending officer with a strong ag background.
Bank-wide, Ms. Schooley said ag has become a smaller part of the total lending mix for Great Western.
"Some of that's just a product of the [ag] economy slowing," she said. "Every time there's a glimmer of strength, it goes in the other direction."
Like Great Western's lenders in the ag area, Ms. Schooley is confident it will turn around sooner or later. She's even relatively upbeat about the institution's heightened compliance obligations under Dodd-Frank that were triggered when it reached $10 billion in assets. The additional reporting just requires the bank to get to know its customers a bit better, according to Ms. Schooley, and that will mean more data wranglers in the home office.
"It's a good problem to have, and it creates more jobs," she said.   CBJ