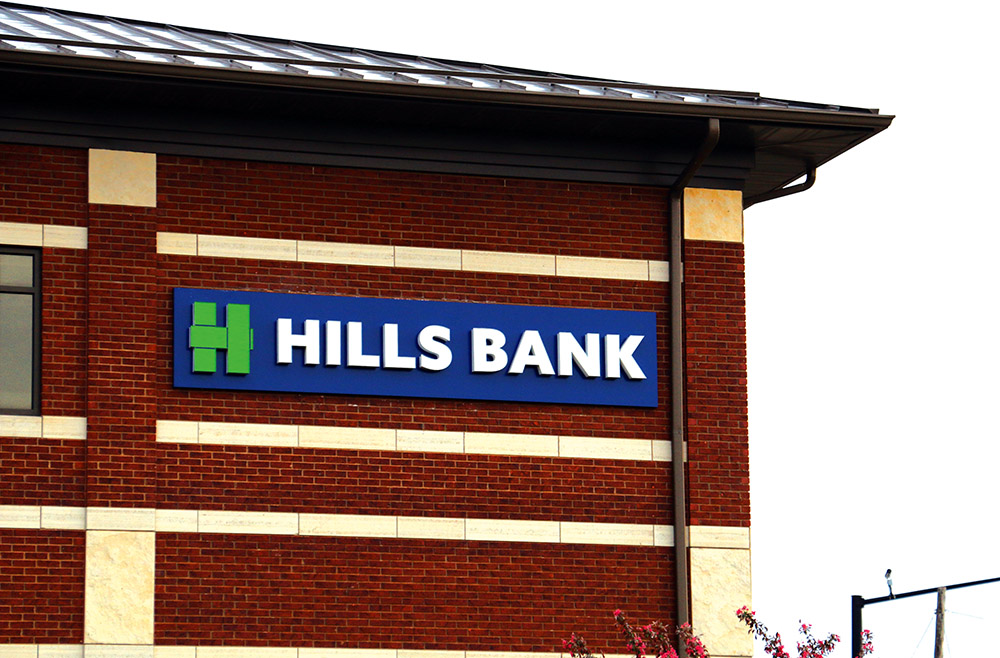 The new Hills Bank logo on display in North Liberty.
By Katharine Carlon
katharine@corridorbusiness.com

Two of the state's largest financial institutions, both headquartered in the Corridor, are getting brand makeovers – one prompted by necessity and the other by a desire to emphasize connection with clients.
After a much-reported and prolonged dust-up with state legislators, the University of Iowa Community Credit Union, the state's largest credit union by assets, with $5.38 billion, will officially become GreenState Credit Union on July 22.
Meanwhile, Hills Bank, the state's third largest bank, with more than $3 billion in assets, quietly rolled out a new look last month. The facelift includes a new logo, tagline and the HERE app, which allows banking clients to check accounts, conduct banking transactions and get advice from a personal banker right from their smartphones.
"When you've been around as long as Hills Bank has, you have to change things up every once and a while," First Vice President, Marketing Director Brenda Myers wrote in a blog post about the bank, founded in 1904. "That's one reason we've given our logo a fresh new look. And our new tagline, 'Connection is here' represents the importance we place on connecting with our customers and our communities each and every day."
Rebrandings have been all over the financial press this year. Hoping to relaunch itself as a bank invested in the customer experience, Bank of America dropped the "Merrill Lynch" name from many of its businesses, updated its more than 20-year-old logo and put customers' hopes and dreams center stage with the slogan, "What would you like the power to do?"
Beleaguered Wells Fargo also started the year with a new brand campaign, "This is Wells Fargo," its second in as many years. That included updates to the bank's logo and trademark stagecoach, and an ad campaign featuring Wells Fargo team members helping customers with everyday financial needs.
Ms. Myers told the CBJ the inspiration for Hills Bank's three-years-in-the-making rebrand was simple: reflecting the institution's traditional values while emphasizing relationships with customers. While the bank has not formally changed its name, the new simplified logo drops the "and Trust Company" to make the brand more easily recognizable. The logo retains Hills' signature blue and green color combination, she said, "but adds an interwoven pattern which emphasizes the importance we place on connecting with customers on their terms."
The "Connection is Here" slogan is meant to reinforce Hills' commitment to serving customers both inside traditional branches and via online and mobile platforms like the new HERE app, which allows customers to conduct nearly all of their banking needs online.
Ms. Myers said HERE is one of the first apps of its kind in the country – an important distinguisher for small and mid-sized banks with the under-40 demographic, according to J.D. Power's 2019 U.S. Retail Banking Satisfaction Survey.
The study found that the "Big 6" banks attain higher satisfaction scores than regional and midsize banks when it comes to digital banking, leaving an opening for smaller banks that recognize its strategic importance. About 53 percent of retail banking customers used mobile banking in 2019, the study found, up from barely a blip a decade ago.
"The HERE app makes it easy for customers to do their banking at their convenience, from wherever they are, and still experience the same personal service they receive if they visit a Hills Bank branch," Ms. Myers said, adding that the recent branding rollout has been a hit with customers and employees.
"Our customers understand that the logo and tagline are a visual identity of who we are, but that it's our people … who make the Hills Bank brand what it truly is."
The change to GreenState
UICCU's decision to rebrand was largely motivated by state legislation barring credit unions from using public university names in their titles, but President and CEO Jeff Disterhoft has called it "a glass half-full kind of situation and an opportunity for us to write a new chapter in our history" as the credit union experiences double-digit annual growth.
"As we grew to serve more Iowans, the name became a bit confusing to some," agreed Chief Marketing Officer Jim Kelly. "They wanted to join, but felt that they needed to be either an employee, student or alumni of the University of Iowa. The new name will remove that barrier of entry."
The legislation, which also impacts the 63-year-old University of Northern Iowa Credit Union, was signed into law by Gov. Kim Reynolds last June. Since then, UICCU has been operating on a tight timeline to complete the estimated $2.5 million rebranding effort, which includes changing out signage, documents, card plastics and other collateral material, as well as the trademark process and communications with members about the name change.
"Virtually everything needs to be changed," Mr. Kelly said. "We have a list of roughly 2,700 tasks that need to be accomplished between now and July 22," when the rebrand launches.
In keeping with its member-focused mission, UICCU did not use consultants as part of its effort to reimagine itself, instead soliciting name ideas from staff, its board and members. The credit union then formed an in-house group to review the ideas and narrow the pool down to 15 choices. Five of those names survived review by trademark attorneys.
The organization conducted testing with an array of Iowans to measure reactions to the finalists, ultimately presenting the UICCU board with those results and the list of names and branding concepts. The board unanimously selected GreenState last October and changed its articles of incorporation to reflect the new name last month after a more thorough trademark vetting.
"The first thing you learn in this process is that just about every name you can imagine is taken," Mr. Kelly said. "You can make up a word, but we all know how that went last time."
A 2007 proposal to change UICCU's name to Optiva Credit Union was rejected by members, although fewer than 1 percent of members participated in that vote. This time around, in keeping with current law, a vote was not required for the change.
While credit union officials sought a name that was not geographically constraining and allowed for growth beyond Iowa's borders, Mr. Kelly said it was important the new name reflected the institution's Hawkeye State roots.
"When the 'GreenState' name submission came in and we heard the inspiration behind it, we knew it would make the list for the naming teams' collective consideration," he said. "The person submitting the idea said that every time they came back home after a long time away, they loved to see the vibrant colors of the Iowa landscape, mostly the rich greens. So the name kept winning with the committee and eventually we decided to submit it to the board."
The new GreenState logo is intended to capture the seasonal colors of Iowa with the multi-color leaves reflecting the spring, summer and fall months, and the gray tree and white backdrop evoking winter.
Mr. Kelly said the credit union is excited about entering a new era, although somewhat trepidatious about such a dramatic change.
"You want a community to love and respect your brand, and your logo and name are facets of that identity," he said. "But in truth, your true 'brand' is made up of the people that work for you and the actions you take to help improve the well-being of your community … It may take a little time to get used to after 80 years of UI Credit Union, but GreenState will be synonymous with superior member service and a strong sense of community. We will arrive and the journey will make us stronger."   CBJ