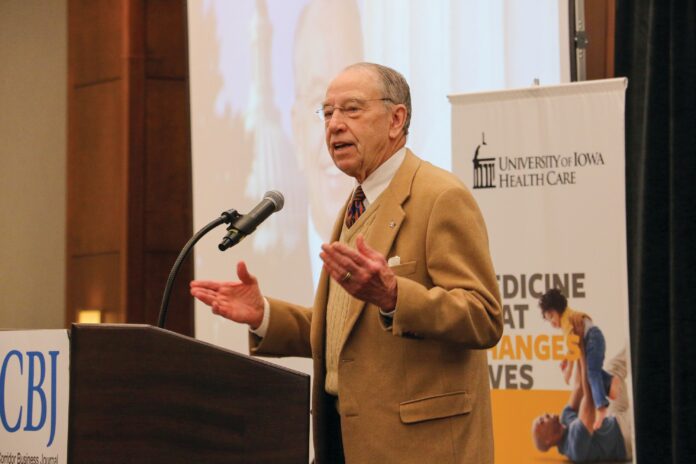 U.S. Sen. Chuck Grassley addresses the arguments for and against the Prescription Drug Pricing Reduction Act, which he co-authored with U.S. Sen. Ron Wyden, of Oregon. PHOTO ADAM MOORE
By Adam Moore
adam@corridorbusiness.com

CORALVILLE – With newfound support from the White House, U.S. Sen. Chuck Grassley is hopeful that the prescription drug pricing bill he has championed for the better part of a year will soon go up for a vote. But first he has to get fellow Republicans and House Speaker Nancy Pelosi onboard.
Speaking at the CBJ's Health Care Summit on Feb. 14, Mr. Grassley offered a broad outline of the Prescription Drug Pricing Reduction Act, which he co-authored with U.S. Sen. Ron Wyden, D-Oregon, and made his case for the bill, which has drawn criticism from fellow Republicans, who view it as governmental price fixing.
"I think it takes a common sense approach by keeping what works and improving what doesn't," Mr. Grassley said. "Probably the only people who disagree with that would be the big pharmaceutical companies."
The bill, passed out of the Senate Finance Committee last year, would require drug makers to refund federal health programs for price increases that outpace inflation – currently around 2%. It would also lower out-of-pocket drug costs for Medicare and Medicaid recipients, allowing them to stretch payments for high-cost and novel drugs over a period of months, and reform the pharmacy benefits management (PBM) industry, which Mr. Grassley singled out as a key driver of drug affordability issues.
"There's too much secrecy in it. Nobody knows there's $250 billion in rebates [to PBMs]," Mr. Grassley said, referring to the practice of drug companies offering payments to PBMs in exchange for including certain drugs in health plan formularies. "Nobody knows how the PBM benefits. Does it benefit the consumer? How much does it benefit the pharmaceutical companies?"
"And if you're talking about rebates, doesn't that signify [drugs] are too expensive in the first place?"
Mr. Grassley emphasized that he does not necessarily take issue with the price of new drugs, noting that drug makers should be able to recoup their costs for research, development and FDA approvals for a new product – now estimated to average $2.6 billion, according to a recent study by the Tufts Center for the Study of Drug Development. But drug makers should also be able to publicly justify those high prices, and should not count on annual price hikes like those seen in the insulin market since the turn of the century.
List prices of insulin, discovered more than a century ago, rose by 15-17% between 2012 and 2016, and tripled from 2002, according to research by the American Diabetes Association.
"If you satisfy their research and development costs, and the costs of administering the drug, shouldn't that be enough?" he argued. "Do they have to increase the price 5%, or 10%, or is the rate of inflation enough?"
Prospects for Mr. Grassley's bill have been looking better in recent weeks. While the senator is still waiting for a revised score on his bill from the Congressional Budget Office following President Donald Trump's new budget, a July CBO study suggested that it would save taxpayers $103 billion a year and have "positive impacts" on health premiums and copays. He said he was heartened to hear Mr. Trump reference the bill by name during January's State of the Union speech, and that Vice President Mike Pence offered further support in TV interviews the next day.
"I've been in meetings in the West Wing where we've talked about this, and the president said pass the bipartisan bill – put it on my desk," Mr. Pence said in a transcript released by Mr. Grassley's office.
While the U.S. Department of Health and Human Services retreated last year on a proposal that would have allowed health plans to exclude "protected class" drugs – those deemed essential to patients, including anticonvulsants and antiretrovirals – from formularies in instances where prices rise more than inflation, HHS Secretary Alex Azar has come out in support of the Grassley-Wyden bill in recent weeks.
Testifying at a Feb. 13 senate hearing on Mr. Trump's proposed budget, Mr. Azar said the bill "leaves plenty of room" for profit margins and innovation, and that he "fundamentally disagrees" that the policy constitutes price controls.
The bill also enjoys buy-in from a wide swath of Americans, with a Politico poll of voters in Arizona, Colorado, Georgia, Iowa and Maine, finding nearly 70% support the act, "even when presented with information that some say the legislation could discourage innovation of new treatments."
That just leaves skeptical Republicans in the Senate, who take issue with the bill's approach to private enterprise, and Ms. Pelosi, who has passed a similar but further-reaching bill in the House that has little chance of surviving the Senate.
Mr. Grassley pushed back on the GOP criticisms specifically, casting it as a philosophical disagreement.
"We're supposed to be conservative," he said. "Is there anything wrong with saving the taxpayers' money? Is there anything wrong with leaving it to private industry to develop drugs and recoup their costs, but not game the system once it's in place?"
"You come to the conclusion that sometimes these arguments are used by people who just don't want to make any changes."
The CBJ Health Care Summit was attended by 230 people and held at the Coralville Marriott. It was presented by MercyCare Business Health Solutions, with support from Delta Dental, Mount Mercy University, the Eastern Iowa Sleep Center and University of Iowa Health Care. CBJ