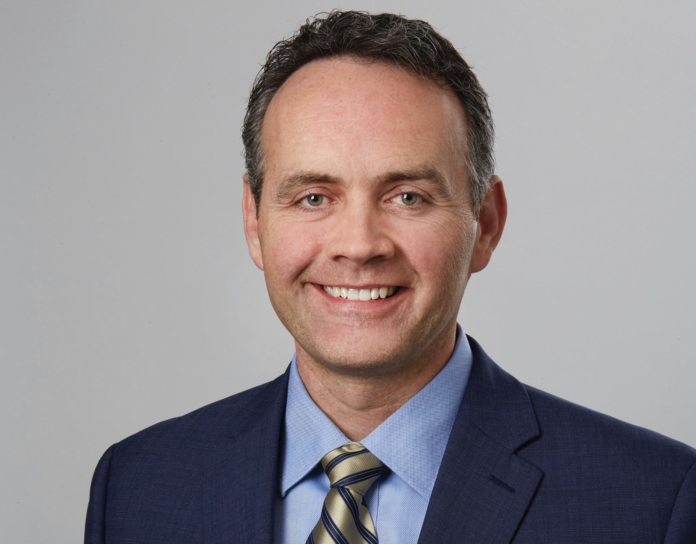 Steve Timm has been named president of Collins Aerospace after leading the company's Avionics unit since May 2019. CREDIT COLLINS
By Adam Moore
adam@corridorbusiness.com

As the megamerger of United Technologies Corp. and Raytheon nears the finish line, a leadership shuffle at UTC subsidiary Collins Aerospace has placed several Iowa executives in key roles.
Collins Aerospace announced on Feb. 7 that Steve Timm has taken over as president of the $26 billion company, formed in the 2018 merger of UTC Aerospace Systems and Rockwell Collins. He succeeds longtime leader Kelly Ortberg, who will now serve as a special advisor to UTC Chairman and CEO Greg Hayes as it closes its merger with Raytheon and begins evaluating new opportunities.
A few days later, Collins revealed that David Nieuwsma has taken Mr. Timm's spot atop the company's Avionics business, which is one of two Collins' units still based in Cedar Rapids, along with Mission Systems.
All three leaders hail from the state of Iowa, or have spent a significant portion of their careers here. Mr. Ortberg is a native of Dubuque, and earned his bachelors degree from the University of Iowa. Mr. Timm graduated from the Mason City area before attending Wartburg College in Waverly, while both he and Mr. Nieuwsma earned MBAs from the UI's Tippie College of Business.
That bodes well for the future of Collins Aerospace in Eastern Iowa, which counts locations in Bellevue, Cedar Rapids, Coralville and Manchester, and is set to become part of the nation's second-largest aerospace and defense contractor, after Boeing.
Mr. Timm brings nearly 25 years of experience in the aerospace industry to his new role. While president of the Avionics unit, he helped secure key wins on Boeing and Airbus' next-generation airliners, and established the foundation for what is now the company's Information Management Services portfolio – an increasingly important business for Collins as its seeks to advance its vision of "smart" and connected aircraft.
"We want to create a connected aircraft ecosystem that will streamline the business of flight while improving safety and efficiency," Mr. Timm told the CBJ in January. He added that the company will continue to invest across "several domains and business areas" in the year to come.
Just last week, Collins announced plans to open a new Landing Systems facility in Fort Worth, Texas; expand its carbon brake manufacturing facilities in Spokane, Washington, and Pueblo, Colorado; and create a new maintenance, repair and overhaul (MRO) Innovation Hub in Singapore designed to "leverage automation, sensing, and machine learning technology to address customer pain points such as inventory management and part availability." The projects will result in an investment of more than $225 million, and create at least 140 new jobs.
"Steve's reputation as a respected leader, combined with his relentless focus on the customer, will help ensure a smooth transition, and play a critical role in the future success of Collins Aerospace," Mr. Hayes said in a release.
David Nieuwsma, a 28-year-veteran of the company, returns to the avionics world from his most recent role leading Collins' Interiors business, established in 2018 after its $6.4 billion acquisition of North Carolina-based B/E Aerospace. Before that, he served as senior vice president of Management Information Services in Annapolis, Maryland for nearly four years. That unit was formed following Rockwell Collins' 2013 acquisition of ARINC for $1.4 billion.
"Having previously worked in commercial avionics during the early portion of my career, as well as previously leading both the Information Management Services (IMS) and Military Avionics & Helicopters portfolios, I'm excited to build upon that experience in leading our Avionics strategic business unit," Mr. Nieuwsma said in a statement to the CBJ. "I'm acutely aware that our Avionics team represents much of the world's top talent, and I can't wait to work together with the team to deliver unparalleled solutions to the aerospace industry and the customers we serve."
Ortberg's journey
The move to special advisor caps a career of big moves for Kelly Ortberg, who rose from program manager to eventually lead Rockwell Collins, and then Collins Aerospace, as CEO.
Mr. Ortberg, named Rockwell's CEO in 2013 following the retirement of Clay Jones, helped orchestrate both the ARINC and B/E Aerospace acquisitions. Those allowed Rockwell Collins to expand its offerings to commercial customers and capitalize on the industry's broader push toward "smart" planes and infrastructure.
He also helped orchestrate a recent deal to sell Collins' military Global Positioning System (GPS) business to BAE Systems for $1.925 billion, done to satisfy antitrust concerns related to the Raytheon merger. Corporate leaders have confirmed that the company's commercial GPS unit will not be sold, and BAE has said it intends to keep the military business based in the Corridor.
UTC leaders cited his skills and experience in merger integrations in its announcement of his promotion.
"Kelly's outstanding work in integrating Rockwell Collins and UTC Aerospace Systems into Collins Aerospace, which he then led and achieved better than anticipated cost and revenue synergies, while creating new offerings that leverage the advantages of both organizations, is a testament to his leadership skills," Mr. Hayes said in a release. "The knowledge and insights he will bring to this role, will help us to successfully navigate the next steps in our journey as Raytheon Technologies, and undoubtedly set us up for a tremendous future."
On a recent earnings call, Mr. Hayes saluted Mr. Ortberg and his team for a "very strong year," adding that "we continue to see a clear line of sight to the $600 million of cost synergies that we started out with, but more importantly over $1 billion of sales synergies."
Mr. Ortberg's skill in evaluating and executing mergers is likely be pressed into service following UTC's merger with Raytheon. Speaking during the conference call, Mr. Hayes hinted that the company would re-evaluate its "fairly substantial portfolio" over the next year, and may choose to divest more businesses.
"We're going to take a look at that portfolio and quite frankly, some of it is investable and some of it is probably not," he said. "I think there'll be places where we might elect not to invest and to cash out and other places where we may want to double down."   CBJ