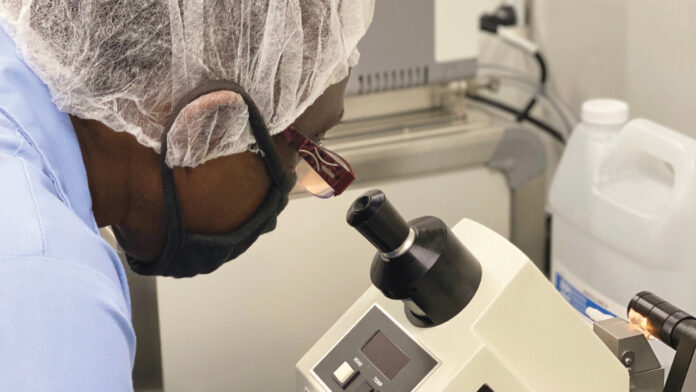 Did you know that Coralville packages vegetable oil that supports the United Nations World Food Programme? Operated by Heartland Goodwill Enterprises — a nonprofit established by Goodwill of the Heartland — the plant employs an integrated team of individuals with and without disabilities. Since the plant opened last August, it has fulfilled 14 contracts totaling more than 4,000 metric tons of oil. 
While most people are familiar with Goodwill's donation stores, retail is only one of several career paths the nonprofit offers. The vegetable oil plant is a significant opportunity to gain experience in food packaging. These readily transferable skills help individuals overcome barriers to employment.
"We place between 600-700 individuals in jobs outside of Goodwill each year. Never underestimate an individual's ability to learn. It's all about matching a job with someone's potential to grow and providing great training," said Jessica Schamberger, vice president of operations.  
The plant is equipped with the latest in automation, including net-weight filling technology. But it still requires oversight by 11 full-time employees, with 75% of the roles held by individuals with disabilities. Responsibilities include unloading oil tankers, troubleshooting equipment, loading pallets, performing quality checks, adding vitamin premix and managing the supply chain.  
"These are technical skills that are attractive to employers like General Mills and PepsiCo Quaker. High-paying, long-term jobs equal stability and independence," explained Ms. Schamberger. "They also provide people with social inclusion – there is a lot of power in having a sense of purpose through work." 
The plant's 63,000 square feet of processing and storage space is uniquely positioned to accept oil from soy processors like Cargill and ADM. Oil is distributed into 4-liter steel cans and then fortified with vitamins A and D. The nutrient-dense product is high in calories and fat, making it ideal for international food aid. The USDA contracts Goodwill through a set-aside program that helps small businesses and nonprofits secure federal clients.
Employment is also coordinated through the AbilityOne program, which was established in 1938 to create jobs for people with significant disabilities. The national program supports more than 46,000 individuals, including around 3,000 veterans. In fiscal year 2019, it supplied nearly $4 billion in products and services. Heartland Goodwill Enterprises is just one of 500 participating nonprofits.
Jon Olson, plant director, is pleased with the past year's progress. The team has consistently delivered product on time and within quality specifications. They have also implemented a preventative maintenance and continuous improvement program, which currently has an overall equipment effectiveness (OEE) within 65-70%. 
"Looking forward, we are working on expanding the plant, diversifying our customer base and adding more lines," explained Mr. Olson. "Our operation is unique in that we employ people with disabilities in a role that is standard for the food industry. I am confident that our team's dedication and competence will help us succeed in making our food packaging plant a long-term success." 
Ms. Schamberger agrees that the USDA contract is only the beginning. She sees potential to partner with grocery stores needing a private label or restaurants that want a local oil supplier. Companies can also be proud to source an oil product from an organization that supports Iowa's agriculture while creating meaningful employment.      
"Too many people only picture individuals with severe disabilities, focusing on limitations rather than potential. But people are always more capable than you realize," Ms. Schamberger stressed. "Growing the plant's business lines will continue to strengthen the Corridor's job pipeline. And in the current labor market, we need every person available."