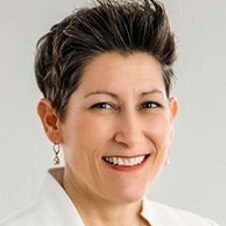 Janet Godwin
Janet Godwin has been named the permanent CEO of ACT Inc., the Iowa City-based nonprofit learning organization. She had been serving as interim chief executive officer since the May departure of Marten Roorda.
Ms. Godwin, a 2018 CBJ Woman of Influence, is a 30-year veteran of ACT who began her career with the nonprofit in 1990. After starting in an entry level role in test development, she worked her way up the ranks to positions in information technology and client engagement, as well as senior-level positions including vice president of operations, chief of staff and chief operating officer, the post that she has held for nearly six years. She has also served on a number of volunteer boards, including the Iowa City school board, which she currently leads as president.
"I'm honored and excited to lead ACT through its transformation to support all students at every stage of their learning journey," Ms. Godwin said in a statement. "Now more than ever, ACT has a responsibility to fight for fairness in education and to provide learning, navigation and assessment services that will help learners and educators alike make informed decisions on their paths to success."
ACT's Board Chair Dan Domenech praised Ms. Godwin's "clear vision, strong leadership and deep-seated passion for the ACT mission," which includes providing opportunities "for learners to find success in college and career."
Look for more on this story in Monday's print and digital editions of the CBJ.