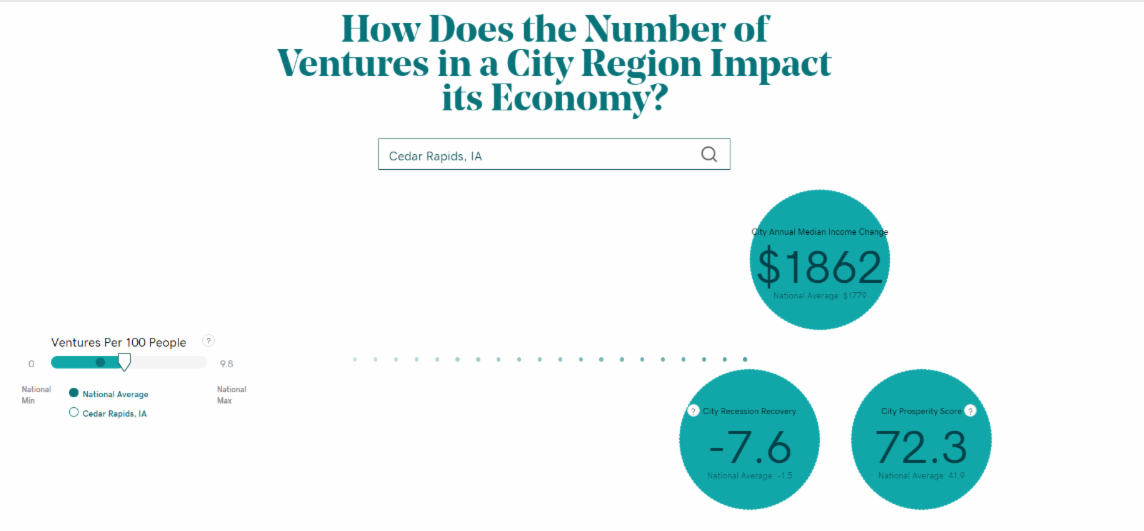 Research conducted by the University of Iowa and Arizona State University measures the impact of entrepreneurs and microbusinesses on the economy – and could be used to track recovery from the coronavirus crisis. CREDIT GODADDY
By CBJ News Staff
news@corridorbusiness.com
A new multi-year research project conducted by social scientists at the University of Iowa and Arizona State University in partnership with GoDaddy could help shed valuable light on how entrepreneurs and microbusinesses recover from the COVID-19 crisis.
On Tuesday, GoDaddy introduced Venture Forward, a new data set illuminating the impact of 20 million ventures – businesses, services, nonprofits, causes and ideas – with discrete domain names and active websites across the nation's more than 900 metropolitan and micropolitan areas, 3,100 counties and 30,000 zip codes.
The project, profiled by the New York Times this week and led by Karen Mossberger of ASU and the UI's Caroline Tolbert and Scott LaCombe, aims to demonstrate and quantify the positive impact of ventures overlooked by policy makers and ignored in national debates because they are too small or too new to show up in traditional methods of capturing economic data.
Venture Forward will be available to the public and regularly updated, according to GoDaddy, so that anyone can access it and contribute to conversations on such issues as COVID-19 stimulus measures, financial inequality, immigration policy, and job skills training.
"An extraordinary movement has emerged as everyday entrepreneurs are powering the economy in new and unexpected ways, and it's critically important to better understand their impact," GoDaddy CEO Aman Bhutani said in a news release. "Venture Forward helps bring into focus the benefits of building a more inclusive economy that enables people to pursue their passions. We know these entrepreneurs are being negatively impacted by COVID-19 and today, and in the months ahead, we'll be with them every step of the way."
To measure the economic impact of these ventures, researchers focused on the number of ventures per 100 people, or "venture density," within counties, cities, regions and zip codes. Among the key findings:
Ventures make communities more prosperous. In 2017, the average annual increase in household median income across the nation's counties was $1,700. Adding one highly active venture per 100 people would increase that number by 19% or $331, taking it up to $2,031.
Ventures are as diverse – found in red states and blue states, run by women and men, full-time business owners, students, retirees, and part-time workers. They're rural and urban, from different income and education levels, and all ethnicities.
Ventures are prevalent in regions that recovered most fully from the great recession of 2008. Counties in the top 10% of recovery have more ventures per 100 people than the national average, and twice as many as those that recovered the least. They also experienced a greater increase in prosperity between 2007 and 2016.
Similar to the 2008 recession, researchers say ventures could play a significant role in how communities rebound following the economic turmoil caused by COVID-19.