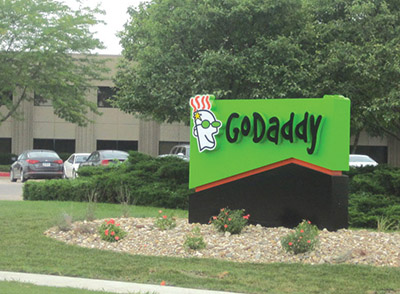 GoDaddy's Hiawatha campus, shown in 2015.
By Dave DeWitte
dave@corridorbusiness.com
GoDaddy, the domain name registrar and web hosting giant, plans to create a permanent Cedar Rapids office and will continue adding jobs with an even larger expansion in Hiawatha.
GoDaddy moved about 130 customer care employees in August 2015 from Hiawatha into leased space in the Armstrong Centre at 222 Third Ave. SE in Cedar Rapids as a measure to free space during the expansion project. Now, GoDaddy plans to move 125 engineering and development staffers to Cedar Rapids, and backfill the space at its Hiawatha campus with customer care jobs.
The company has not said where the permanent office will be, although the current office is likely to be one of its options.
"Because we have had such wonderful success in Hiawatha, we want to be able to accommodate additional customer care jobs while moving our engineering and development team to another site just a few miles away in Cedar Rapids," GoDaddy Director of Global Real Estate Calvin Crowder wrote in a letter to the Iowa Economic Development Authority (IEDA).
The IEDA was to consider this morning approving a GoDaddy request to amend its original incentive award for the Hiawatha expansion because the project budget was increased by $2 million. The increase makes GoDaddy eligible for an additional $96,089 in sales and use tax refunds, according to an IEDA staff memo.
GoDaddy's expansion in Hiawatha is creating 209 new customer care jobs, according to Mr. Crowder's memo, while helping retain 491 customer care jobs. With the 125 engineering jobs moving to Cedar Rapids, GoDaddy projects having a total of 825 total jobs in the metro area.
At the Hiawatha City Council's March 2 meeting, Mr. Crowder confirmed that additional costs to expand GoDaddy's Parsons Drive campus will be about $1.7 million. He said that after evaluating the space and adding some special features, GoDaddy raised the capital budget from approximately $6 million to $9 million, of which hard construction costs will be closer to about $7.6 million.
Hiawatha is expected to amend its tax increment financing award to GoDaddy to reflect the increase.