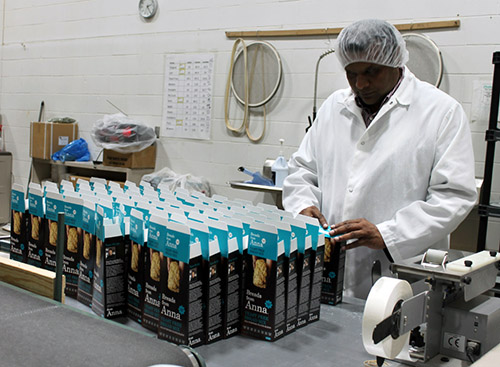 Shah Chaudary, the new owner of Breads from Anna, helps assemble boxes at the company's facility at 3007 Sierra Court, Iowa City. "If I am going to lead this team, I need to know how it works," he said.
By Angela Holmes
angela@corridorbusiness.com
IOWA CITY—Shah Chaudary was so impressed with the taste of Breads from Anna that he bought the company.
"It's a great brand, a great product," he said. "I tasted the bread and I was sold. I was in love with the product."
The Iowa City-based company was launched in 2004 by Anna Sobaski, a foodie who suffers from celiac disease and Type 1 diabetes. Both diseases cause sensitivities to gluten and other food allergens prevalent in staples like bread, pizza crust and pancakes.
After leading the company to regional and national retail distribution and three straight years of record sales growth, Ms. Sobaski decided to put the business on the market last year.
"We had three buyers, and we weighed all the different possible directions each buyer could take the business," she said. "We felt that the Chaudarys with Wholesome Treats could take the business in the right direction and maintain what I felt were some really important aspects of what we offer."
Mr. Chaudary and his business partners formed Wholesome Treats Inc. specifically to buy Breads from Anna, although they plan to expand that business and acquire more companies. He brings experience in food service, operations and sales, including positions in procurement management and consulting.
Although he, his wife and their two children live in Chicago, the Chaudary family plans to move to Iowa City. Wholesome Treats will be based in the Breads from Anna location at 3007 Sierra Court.
Anna's staff of four full-time and four to five part-time employees will remain with the company. Ms. Sobaski will also continue as brand manager, a role in which she will develop new products, represent the brand, and assist with sales and customer service.
"One of our considerations was to keep the jobs here," Mr. Shah said of buying the company and keeping it in Iowa City.
He also stressed that 99 percent of the ingredients are from the United States, mostly from the Midwest. "It is very important to the economy to use U.S. products," he said.
Although neither Mr. Chaudary nor his family members have celiac disease, he uses Breads from Anna baking mixes at home because "it is healthy and tastes fantastic."
The gluten-free market "has exploded" in the past decade, Ms. Sobaski said, as more people are being diagnosed with celiac disease and other food sensitivities. The products are no longer targeted just toward consumers with medical conditions that require a special diet, she added.
"Now in grocery stores, it's considered mainstream," she said. "Most stores have a gluten-free section, both in the grocery aisle and in the freezer. It's no longer what would be considered strictly health food item or natural or niche."
Breads from Anna baking mixes are available locally at Hy-Vee, Lucky's Market, Fareway, Bread Garden Market and New Pioneer Co-op. Mama's Deli & Catering in Iowa City also uses Anna's mixes.
Mr. Chaudary plans to grow the company within the food service industry by selling to restaurants, bakeries and hotels.
Ms. Sobaski is not surprised that the small company she started 12 years ago is now positioned to succeed nationally and globally.
"I had a lot of confidence it would grow," she said. "I knew that the need was there for what I was offering, and I knew there were a lot of people across the globe who were in need of the kind of products I was selling."
It's that enthusiasm, combined with the quality product, that attracted Mr. Chaudary to the company.
"I love working with passionate people," he said. "You don't find that very often."