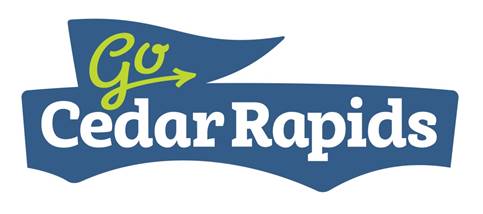 By Dave DeWitte
dave@corridorbusiness.com
The Cedar Rapids Convention & Visitors Bureau has dropped its former name, adopting 'GO Cedar Rapids' as its name and slogan for the future.
The rebranding initiative was unveiled May 3 by GO Cedar Rapids CEO Aaron McCreight, following an in-depth study of the tourism market by Young Strategies of Charlotte, North Carolina, and Destination Services of Saint Charles, Missouri.
"GO Cedar Rapids is a rallying cry for you – for our location – to get behind to cheer and boast," Mr. McCreight said during a 'relaunch' event for the organization at Black Sheep Social Club, a new restaurant downtown. He also unveiled the GO Cedar Rapids logo, the new website GOCedarRapids.com, and plans for a staffed kiosk at the NewBo Farmers Market, one of the city's biggest visitor attractions.
The logo incorporates a shape of a bridge in medium blue with the word "GO" above in electric green cursive letters, followed by an arrow. Mr. McCreight said the bridge symbolizes the organization's role of moving and connecting people to wonderful attractions and amenities.
The Young travel market study found that visitors are a powerful contributor to the Cedar Rapids economy, spending on average $400,000 per day on restaurants and hotel rooms alone. A big surprise was the amount of true leisure travel spending – about 25 percent – which is on the high side for a market like Cedar Rapids.
The findings also confirmed that residents of the Cedar Rapids metro area have an overwhelmingly positive view of their community and where it's headed. It's also a big VFR (visiting friends and relatives) travel market, Mr. McCreight said.
The nonprofit worked with de Novo Alternative Marketing of Cedar Rapids in the rebranding effort to generate a more positive and exciting image for the organization. Mr. McCreight said the words "convention and visitors bureau" don't mean anything to the average visitor, who typically isn't a convention planner.
"Who wants to deal with a "bureau?" he mused.
Mr. McCreight, who was hired a year ago from the CVB in Casper, Wyoming, believes there's a strong momentum that will help bring visitors to Cedar Rapids with the rapid growth in housing and commercial development. He said recent developments include an important sporting event booking that cannot yet be announced, the two-year renewal of a convention deal with Sweet Adelines International, and plans for the organization's largest summer travel advertising campaign in its history.
The organization recently hired Scott Tallman for the new position of director of community events, which will focus on building new visitor events and strengthening existing ones. That effort will be assisted by the kiosk at the NewBo Market, which will share information about local events. It will also have two tablet computers that will display listings on the organization's new website, which was developed by Tempest Interactive to be rapidly updated with the latest event information.
GO Cedar Rapids Board Chairman Bill Neppl said the changes are "all about opportunity." Spurred by a leadership change a few years ago, the organization reconfigured its board and started working on strategic planning for community events.
"Momentum" was the word Cedar Rapids Mayor Ron Corbett emphasized to describe the city.
"A few years ago, I challenged people to fall in love with Cedar Rapids," Mr. Corbett said. "That pride has built into a lot of momentum for our community."
Mr. McCreight said the GO Cedar Rapids brand will show up in various slogans, such as "GO Cedar Rapids Trails" and "GO Cedar Rapids Museums." He urged more than 100 attendees to "tell our story," adding that there are only nine GO Cedar Rapids staff.
"GO Cedar Rapids looks forward to inspiring you all to become tourism advocates," he said.