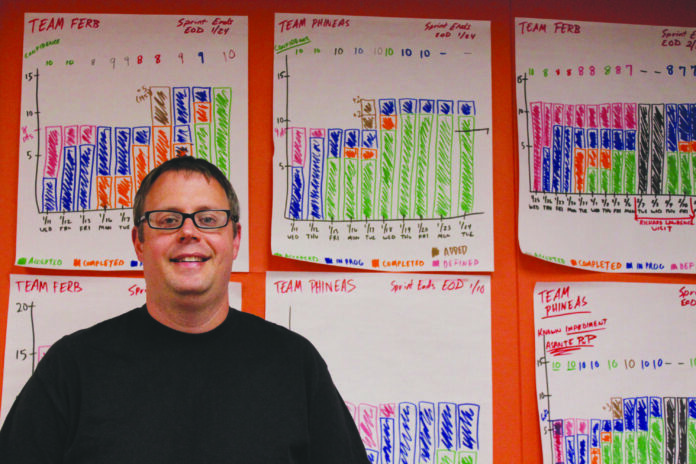 CEO says reducing layers of management is key
By Sarah Binder
CEDAR RAPIDS–Geonetric has grown from two employees in 1999 to more than 70 today, but it still has many of the hallmarks of a startup: you can usually spot a dog or two in the office, there are Post-its all over the walls and free food in the fridge, and employees are free to come and go as they need to.
But, they believe flexibility goes deeper than casual attire, or the number of vacation days or 401k plan offered.
The Cedar Rapids-based company, which provides website, intranet and online services for the healthcare industry, was recently honored with the 2012 Alfred P. Sloan Award for Excellence in Workplace Effectiveness and Flexibility. Geonetric was one of three companies in Iowa to get a nod for the national honor. The award is part of the When Work Works project administered by the Families and Work Institute and the Society for Human
Resource Management.
For Geonetric's vice president of finance Chris Hartman, flexibility is the ability to coach middle-school football in the afternoon.
"We're valued-based on what we do, not necessarily how long we did it," he said.
For senior application developer Usharani Kachegere, it means she can work remotely while spending time with her family in India and introducing her children to their culture. By combining sabbatical, vacation and telecommuting time, she is able to spend a full eight weeks with her family every other year.
"I think the flexibility that [CEO Eric Engelmann] gives us and the trust he puts in us motivates us to do our personal best," she said.
For marketing coordinator Nicole Knoll, it was time to help her father recover from surgery, while still getting her job done.
"I know that it really helped his healing process to have someone he knew there," she said.
"Your life doesn't stop when you reach the front door," said human resources manager Anne Ohrt.
She said they try to look at each individual holistically, to determine the best situation for them.
"It's really listening to your workforce and their needs," she said.
Still, creating a truly flexible office has taken work.
"Some people might tell you my job is more rewarding because I got a raise last year…it is very hard to say to an employee, you get flexibility in your benefits package," Ms. Ohrt said, commenting on the intangible nature of workplace culture.
Mr. Engelmann said it's like weight loss: it takes constant work not to slip back into bad habits. For example, creating a culture where people feel free to experiment and take risks means trying to avoid placing blame after a mistake.
"How do you have a culture where you encourage people to take some risks if you're going to punish people for failing?" he said.
He described a meeting where an employee took responsibility for an underwhelming project, saying that their own bad attitude had been a factor. Mr. Engelmann said he believes in most companies, employees couldn't be that honest because they'd be afraid of punishment.
As the company has grown, he said he's made an effort not to add additional layers of  management.
"You've changed your expectation from, do great work for customers, to, brown-nose your way up a tree," he said of hierarchical organizations.
"Examine why you believe the things you do," he said, adding that he wonders if any management staff is really necessary if you have motivated employees.
For example, Geonetric's developers use a technique called "scrum" that allows them to be self-managed. A brief, daily meeting gives a progress report, and post-its on the wall track each task from idea to in-progress to done. At the end of each two-week sprint, they have a meeting to discuss what went well and what didn't. If someone is out of the office, a co-worker will pick up their tasks.
While these techniques are traditionally used for developers, Geonetric has started to apply
them to the whole staff.
While Mr. Engelmann's beliefs on management and office policies such as trusting all employees with sensitive company information have an impact on the office dynamic, he said the culture is truly bubbling up from his employees.
"These are professionals, they're adults, and I'm going to treat them that way," he said. "I feel like people who respect their employees give them flexibility."
Want to learn more about workplace flexibility?
Ms. Ohrt and Mr. Engelmann recommend these reads:
• The 2012 National Survey of Employers from the Families and Work Institute and the Society for Human Resources Management, available here.
• "The Leaders Guide to Radical Management" by Stephen Denning
• "Abolishing Performance Apprasials" by Tom Coens and Mary Jenkins
• "The Lean Startup" by Eric Ries