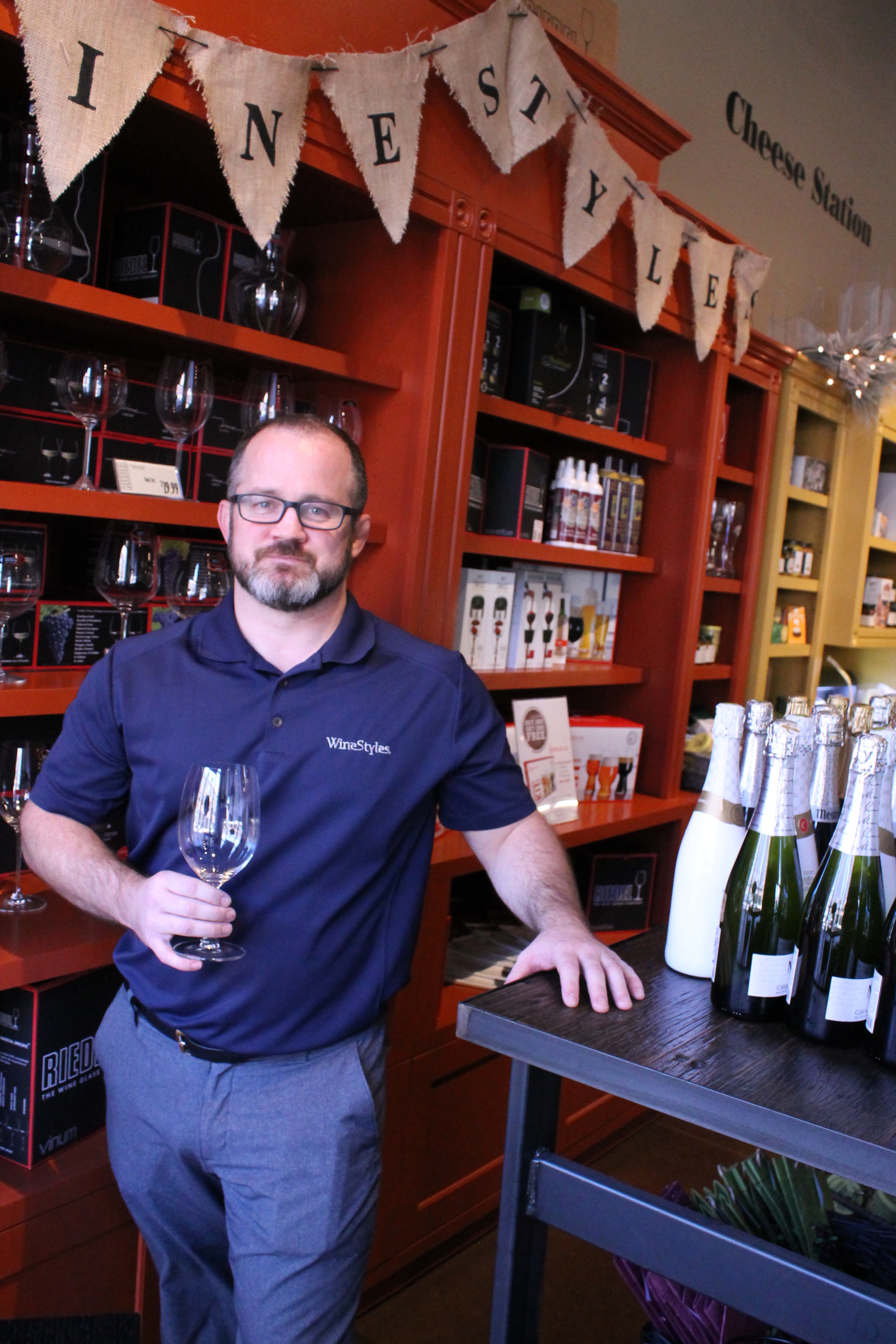 Jeff McGinness says WineStyles in Coralville's Iowa River Landing has made wine buying more fun and easier, including a flavor based wine grouping system and events that make learning about wine a social experience. PHOTO DAVE DEWITTE
By Dave DeWitte
dave@corridorbusiness.com
Editor's note: This is the second part of the CBJ's four-part series on The Future of Retail. The first part is available in the Feb. 6 edition or at bit.ly/RetailFutures.
As the old bastions of brick-and-mortar retailing shrink their footprints and brace for survival, two Corridor runners are stepping into the starting blocks of their first retail venture.
Jim Dwyer and Clifton Smith opened the Iowa Running Company in Cedar Rapids' New Bohemia District in March. It's a small space with a big runner's heart.
"You're not selling a shoe, you're selling a lifestyle of running," explained Mr. Dwyer, 38.
The store's staff are running shoe experts who lend their expertise to runners on everything from where to find the next race to how to stay hydrated. With warmer weather approaching, Mr. Dwyer and Mr. Smith plan to engage runners with regular training runs, clinics and even "free beer Fridays" – runs ending at the shop for a cold one.
Mr. Dwyer literally grew up in a running shoe shop. His parents, Joe and Jean Dwyer, owned and operated the local, independent Running Wild athletic shoe chain for about 17 years before closing in 2016. Mr. Smith worked for both Running Wild and a Boulder, Colorado running store.
Authenticity is at the heart of what the two owners hope to accomplish in retailing. They believe runners tend to trust the advice of other enthusiasts.
"A strong running store, at the end of the day, is just about being brutally honest with people – saying, 'Hey, if I had your feet, knowing what I know about running shoes, I'd look at this,'" Mr. Dwyer said. "More often than not, they appreciate that brutal honesty."
Just a few blocks away, four cyclists started up Goldfinch Cyclery at 208 12th Ave. SW. Since opening Goldfinch in 2015, Andy Brimeyer, Chad McNamara, Logan Orcutt and Thaddeus Walters have focused on building a sense of community among cyclists.
Sixty women recently converged on the shop for an installment of Goldfinch Cyclery's "Birds of a Feather" workshop series. The event was a free workshop to help women identify the right kind of bicycle saddle for their body type and help minimize uncomfortable pressure.
Women cyclists had a chance to measure the width of their "sit bones" and try different models of saddles to identify those that felt beset, with input from women in the cycling industry.
"Our shop staff is comprised entirely of males, so our female customers may not have felt as comfortable talking about issues like saddle discomfort," said Mr. Orcutt.
The series, like the store's weekly Thursday night group rides, was designed to build a sense of community among cyclists and support for the sport, rather than just sell merchandise or services. It's Goldfinch's spin on the approach Iowa Running Company is taking with its weekly runs.
"[Mr. Dwyer and Mr. Smith] are friends, and we've had many conversations about their business and what they can do to succeed, and things we can do together," Mr. Orcutt said.
Rebuilding the model
While smaller retailers are finding success, a wave of closings has enveloped much of the mainstream retail sector.
Sears Holdings, the owner of Sears and Kmart stores, last month disclosed substantial doubt about its ability to stay in business after losing more than $10 billion since 2011 and closing more than 600 stores in a one-year period. Sports retailer Gander Mountain and discount retailers Gordman's and Payless ShoeSource have meanwhile filed for Chapter 11 bankruptcy. Gander Mountain said it hopes to find a buyer that can turn around its operations and plans to close 32 stores; Gordman's new owner, Stage Stores, plans to liquidate about half of its 106 stores open.
The list of once-dominant chains closing stores includes Walmart, JCPenney, Macy's, The Limited, Radio Shack, Staples, The Gap, Aeropostale, The Finish Line and Pier One. Although each faces somewhat different circumstances, the most common threat to their business model is the rise of online retail. With its lower-cost business model and shopping convenience, online retailers are crimping retail price margins and reducing store traffic.
It's against this backdrop that Deanna Trumbull is recruiting new retailers for Iowa River Landing, the city of Coralville's mixed-use development off Interstate 80.
"A lot of what we're looking for in Iowa River Landings is an experience-related atmosphere," Ms. Trumbull said. "[With] Backpocket Brewing, one of the first tenants we had in the project, you can go there and see the beer made. It enhances the experience."
Authentic, original and memorable customer experiences have proven to be one of the most potent weapons available to conventional retailers, as Jeff McGinness has shown at WineStyles, the Des Moines-based wine and beer chain with Corridor operations in Cedar Rapids and Coralville.
Mr. McGinness, an attorney, joined his brother Bryan and his sister-in-law Andrea after they bought the business in July 2014.
"You can buy wine, beer or cheese anywhere – it's kind of a commodity," Mr. McGinness said. "We don't sell a commodity. We sell a wine-buying experience."
Mr. McGinness describes WineStyles as a "wine club" – a hybrid combination of wine store and wine bar. He said the main objective is to demystify the wine-buying experience.
Each location has a wine club, a cheese club and a beer club. They host monthly wine spotlight programs, Thursday night wine tastings and Friday night beer tastings. Having beer in the mix helps to bring in the male spouses or partners of the predominantly female wine-buyer demographic, Mr. McGinness explained.
WineStyles has done well, with an additional store coming to Ankeny, with more planned in Waukee and Davenport.
"It's not a highfalutin' New York City wine bar or a wine warehouse," Mr. McGinness said. "Even during the recession, the stores in the system fared pretty well and had growth. I think the reason the industry is doing well is that people are coming in and having fun."
Tim Stolba of Cedar Rapids is creating some retail magic of his own at the aptly named Iowa Magic Shop. He opened the store in a former wood shop outside his home at 4729 Mount Vernon Road SE in Cedar Rapids in June 2016. He had just ended a 30-year career as an auto mechanic, but wanted another way to share his lifelong passion for magic.
As a high school student, Mr. Stolba worked at Zezo Magic Castle, a magic store chain at Lindale Mall. The chain no longer exists, and neither do most other mainstream magic retailers.
"The internet has killed the magic business, because everybody can go online and get it instantly," Mr. Stolba said. "I can't compete with the prices of online stores."
One example of the authenticity Mr. Stolba strives to exemplify is teaching customers the magic tricks they've purchased before they leave the store. He said online buyers can try to learn the tricks using the web videos from online sellers, but they are slickly produced to make the tricks look fun and easy, and sometimes leave out important steps.
At the Iowa Magic Shop, "they learn how the trick works before they leave," Mr. Stolba said. "They have to purchase it first, but they go away knowing how to perform it."
"I want people to be comfortable to come in here and just learn," he added, petting a green-cheeked parakeet named Harry Houdini that observes his actions from a perch on his shoulder. "People used to read books and now they watch YouTube. Anyone's welcome to come out here and read my magic book stock anytime."
Beating the price gap
Price competition from online retailers isn't always an unbeatable foe.
Mr. Dwyer said Iowa Running Company deals mainly in brands that offer retail price protection. That means a customer won't find a popular shoe like the ASICS GEL-Kayano any cheaper in one store than the $159 retail price it charges everywhere else.
In fact, Mr. Dwyer said he expects some of his suppliers to be able to offer online fulfillment to his customers who order through his stores – a service that could keep some customers coming back to the Iowa Running Co. website even after they've moved away.
WineStyles is able to stay in the price game by offering discounts to club members and good values on the wines they're getting, Mr. McGinness said.
"Outside the big-box stores, we're probably the biggest wine retailer in Iowa," he said. As a chain, "we can exercise our buying power. We can go to a supplier and say, 'We want 5,000 cases of that wine – what's your deal as opposed to buying just one case?'"
That said, Mr. McGinness believes WineStyles has more to offer than what's least expensive. The store uses a merchandise grouping system to make it easy for customers to find wines of the varieties they like – and those they might like – without knowing a lot about wines. Its weekly gatherings have also become a meeting place to share wine knowledge and meet new acquaintances.
"We know all of our regulars on a first-name basis," he said. "You get couples who've become friends just through coming to the events here."