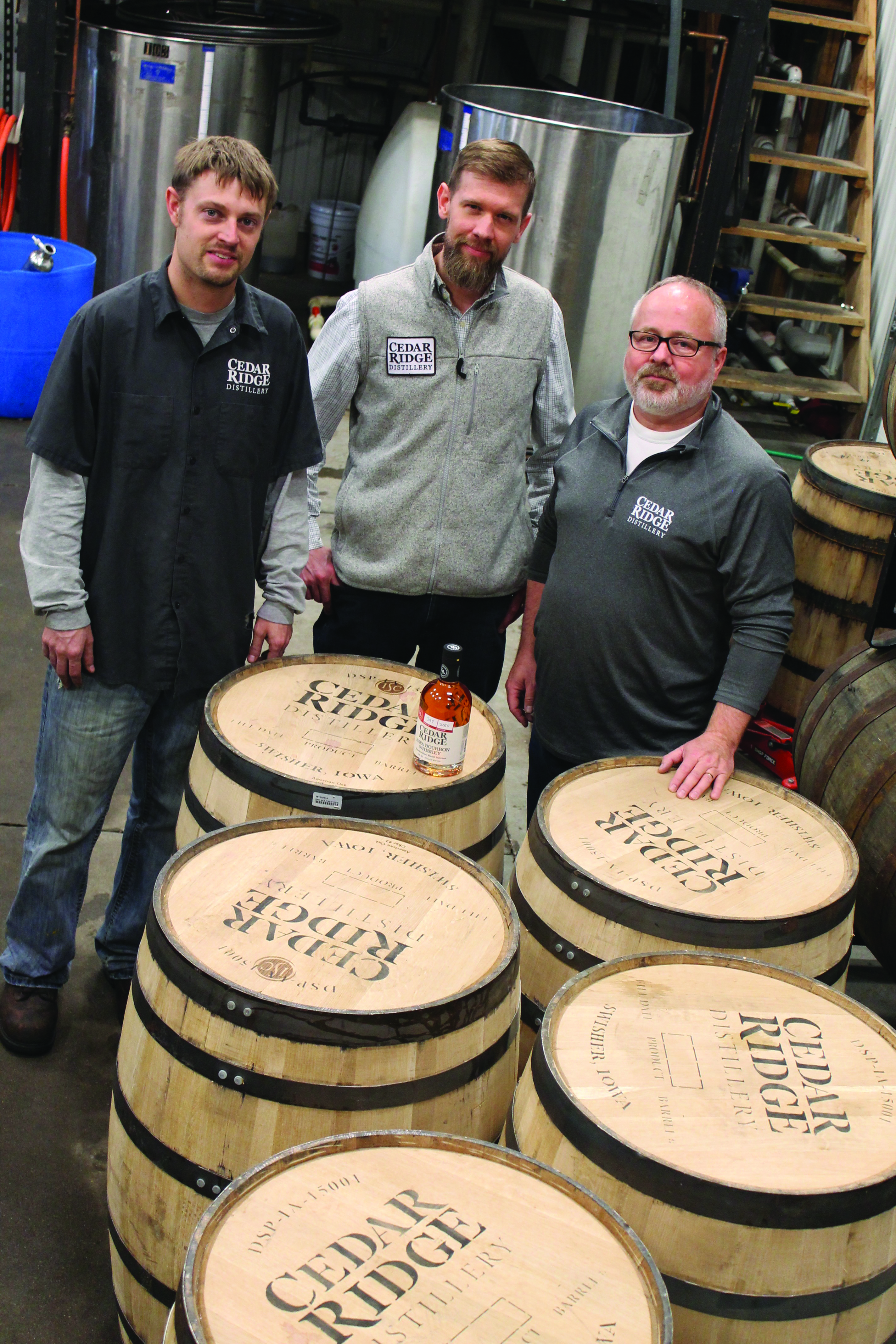 Head Distiller Kolin Brighton (left), General Manager Jamie Siefken (center) and Owner Jeff Quint lead the Cedar Ridge Winery & Distillery team that recently won the American Distilling Institute's top award for microdistilleries. PHOTO DAVE DEWITTE
By Dave DeWitte
dave@corridorbusiness.com
Being named Distillery of the Year by the American Distilling Institute (ADI) doesn't just honor Cedar Ridge Winery & Distillery, founder and proprietor Jeff Quint says — it helps place Iowa's blossoming distilling industry on the map.
Cedar Ridge was selected from more than 1,500 craft distilleries to receive the institute's Bubble Cap Award as 2017 Distiller of the Year on April 4 at the ADI's Craft Spirits Conference in Baltimore. That honor culminated in some significant category wins for the 12-year-old distillery/winery hybrid in northern Johnson County.
The company produces more craft whiskey and bourbon in-state than all of the 13 other Iowa distilleries put together, and has the third-selling super-premium whiskey within Iowa. But it's hard for a small distiller to gain a national reputation, and Iowa's distilling industry is still in its early stages.
"It's a great leap forward in terms of credibility on a national scale," Mr. Quint said. "We didn't get the respect that a Kentucky or Tennessee-based distiller gets, but we're closer to where the grain used to make the product comes from. I think the industry is starting to realize that this business is a natural for Iowa, and legislators are starting to see what distilleries are trying to accomplish for the state."
Unlike some states with more distilling, Iowa doesn't, for instance, allow distilleries to sell by the drink on premises. Mr. Quint is hopeful that will change this year with the signing of House File 607, which was passed by the Iowa House March 28.
If the bill becomes law, Iowa distilleries will be allowed to sell the spirits they make by the glass in their tasting rooms. They will also be allowed to sell individual customers up to a standard 12-bottle case per day instead of the current two-bottle limit. Mr. Quint, who has long lobbied for the change, said Cedar Ridge will renovate its tasting room if it passes to create a more conventional serving area for single-pour and mixed drinks.
Cedar Ridge is a true craft distillery, making its whiskey in small batches from corn, toasted rye and malted barley. It was a modern pioneer of the industry in the state, starting out with a small still inside a liquor retailer in Cedar Rapids, then moving to the Quint family's vineyards near Swisher.
"Before we got licensed, we Iowans were importing 100 percent of the spirits we consumed," Mr. Quint said.
The output of Cedar Ridge Distillery is about half bourbon, with the remainder mixed almost evenly between single-malt, rye whiskey and wheat whiskey.
Accolades for the company's products have begun to add up in reviews and judgings. At the ADI Craft Spirits Conference ceremony, Cedar Ridge won two bronze medals in addition to the Distiller of the Year title: one for its Reserve Iowa Bourbon, and the other for its Malted Rye.
In 2016, Cedar Ridge Single Malt Whiskey was named Best American Craft Whiskey at the New York World Wine and Spirits Competition, bringing it national exposure – and a tight supply back home.
"We're running 17 hours a day and we're probably going to start doing mashing on Saturdays," Mr. Quint said. A craft distiller can only boost production incrementally, he explained, and can sacrifice quality by selling its output too soon. The distillery has about 1,500 53-gallon oak barrels on premises for aging its products, and is filling barrels at the rate of about four per day.
"We're in the second year of a three-year process to take four of our whiskeys coast-to-coast," Mr. Quint said. "It's gone very well, and we literally spend time discussing what to sell and what not to sell."
Capacity enhancements under way will enable Cedar Ridge to double production by the middle of 2018. Mr. Quint said balancing production with sales is a delicate consideration, because whiskey is best when aged at least three to five years.
"To get to three years, you've got to say 'no' to some sales," Mr. Quint said. At the same time, he added that Cedar Ridge can't cut back its sales too sharply without the risk of retailers running short and reallocating shelf space to other brands.
Cedar Ridge is one of a relatively small number of distillery/winery hybrids in the industry.
"We used to worry that having a winery and distillery was a distraction to both, but as we get more innovative with our products, we're seeing more synergies between the two," he said. One example is its Double Oak Reserve, a blended red wine aged in oak bourbon casks that has been a strong seller.
Besides offering opportunities for innovation, Mr. Quint said having the distillery and winery in the same location yields many efficiencies, such as the ability to use the same bottling line and labeling systems.
ADI is a membership organization for craft distillers and vendors, and the publisher of Distiller magazine. The competition includes craft spirits makers from around the world, with products tasted 'blind' and judged by a panel of distillers, journalists, bar owners, bartenders, retailers, wholesalers, distributors and importers.