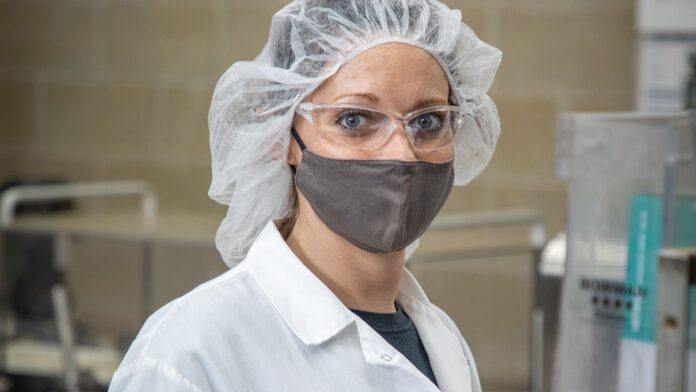 Alisia Weaver is unsure where she would be without her job at Frontier Co-op.
With a felony record for a nonviolent crime, Weaver, 36, just needed someone to give her the chance to prove what she already knew: She is a hardworking person, willing to take on challenges.
She was given that opportunity through an apprenticeship at Frontier.
In the quick time span since she started in the program in September 2020, Weaver was hired by Frontier in November, and was recently promoted to an operator position at the Norway, Iowa-based company, which offers herbs, spices and other products for natural living.
"It was a huge barrier," Weaver said of having a criminal record. "I've been qualified for jobs, but my background check was always an issue. It's been a struggle."
She has gone from living with a relative to renting a house for herself and her infant son, who is in Frontier's daycare when Weaver is at work.
"I never would have imagined the way I feel now," she said, after finishing a shift recently. "I'm happy; I like my job. It gives me a sense of self-worth."
Benefits Both Ways
While Ms. Weaver and fellow participants benefit from the apprenticeship program and others under Frontier's Breaking Down Barriers to Employment initiatives, CEO Tony Bedard said the company also wins.
"We get good employees to meet our workforce needs," Bedard said of Frontier, which has nearly 700 employees at its four Iowa locations, as well as home-based remote workers. "This is not a charitable act. This is a business-driven, self-serving program."
He pointed to Michael Willoughby, who served time at the Anamosa State Penitentiary, and who now owns a house, his own vehicles and most importantly, has a future, after being the first Frontier apprentice hired as a full-time employee through the Second Chance hiring program.
"We had to think of innovative ways to recruit," Bedard said of the apprentice program, tied to the Second Chance hiring initiative. "Our diversity has changed dramatically, and it's been good. We get a broader look at the world and its challenges. Those are all things that make us better equipped to run our business and keep up with how the world is changing."
Transportation available
Megan Schulte, Frontier's vice president of human resources who oversees the Breaking Down Barriers to Employment program, said refugees, homeless individuals and others with barriers to employment gain job skills and can add to their resumes through the program.
Of 271 people who have participated since 2018, 49 have been hired at Frontier, while others have gone to work elsewhere.
"We always have open positions for them," Schulte said, adding that a transportation partnership with Willis Dady Homeless Services in Cedar Rapids also has been important for employees — many of whom commute from the Cedar Rapids area — as well as one-on-one case management through Willis Dady.
Emily Zimmon, Willis Dady development director, said riders pay $5 per ride out of their paycheck, with Frontier matching the $5 payment.
"Most individuals do not have the money needed to cover their transportation to work while waiting for a paycheck," Zimmon said. "It plays into the vicious cycle of poverty, as you cannot get to work to earn a paycheck if you do not have the money to cover the transportation, but you cannot get the money for transportation if you can't earn a paycheck."
Gaining self-sufficiency
Apprentices are referred to the employment program through Willis Dady case managers, as well as other agencies, including the Sixth Judicial District's Anchor Center, Goodwill Light Manufacturing, Creating Futures, Young Parents Network, Waypoint Services and the Catherine McAuley Center.
"We provide an opportunity for someone who is ready, able, and willing to work," Zimmon said. "Too often we have heard from clients that they were not offered the job because they have a gap in their work history, they don't have an address, or many other barriers that come with near and literal homelessness. Those barriers are eliminated for every apprentice as …  they are given an opportunity to show the type of worker they can be and are able to succeed."
She added that a person cannot maintain stable housing without a steady income, and the program allows them to move a step further toward the goal of self-sufficiency.
Alicia Simmons, sustainability manager at Frontier, said the company also benefits through a more diverse workforce.
"Diversity means a lot of things, including life perspective," Simmons said.
She noted that anonymity is important — Weaver and Willoughby offered to tell their stories to benefit others in similar situations — so even supervisors do not typically know who is in the program.
"We truly want them to have a fresh start here," Simmons said. "That's the whole idea of the program."