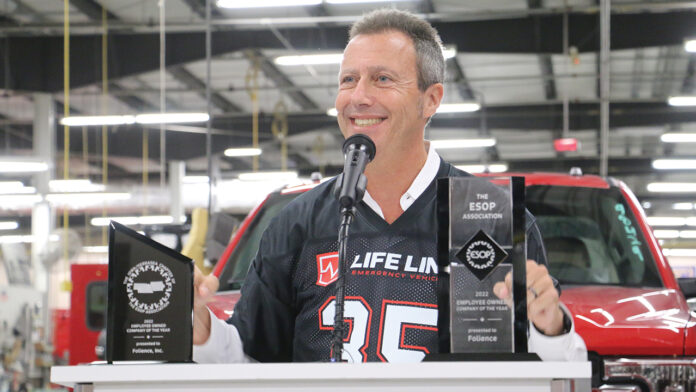 Folience, a Cedar Rapids-based ESOP-owned holding company whose holdings include The Gazette, announced Jan. 26 that president and CEO Daniel Goldstein will depart the company at the end of the calendar year, or when a successor is found.
Mr. Goldstein plans to move closer to family on the East Coast, according to a Folience news release. An executive search for his replacement is already under way.
"Daniel has made a personal decision to transition from Folience, and we thank him for his vision and leadership over the years," said Tom Pientok, chairman of the Folience board of directors. "Daniel creatively developed a strategy to leverage the power of employee-ownership to build something different. His vision uniquely blended the legacy of a well-respected media company with the passion and desire to build a diversified, thriving, employee-owned company."
The Folience board has engaged an external partner to work with them to identify the characteristics and values for a successful candidate, as well as a nationally-renowned search firm known for their expertise in recruiting high caliber senior executives for ESOPs.
Mr. Goldstein will work remotely through the transition, visiting business units and handling other company matters until his departure takes effect.
Mr. Goldstein joined The Gazette Company in April 2016 as chief investment officer, and helped guide the company's eventual transition to Folience, a 14-person ESOP holding company overseeing its business units, including The Gazette, Life Line Emergency Vehicles in Sumner, Cimarron Trailers and TravAlum.
In a news release, Mr. Goldstein says he is very proud of the accomplishments of his team and of all the Folience employee-owners over the past seven years of his leadership, and he knows that what they built will flourish and continue to improve and grow.
"There are so many milestones and achievements across our ESOP, at each of our businesses, and from all of our employee-owners," Mr. Goldstein said. "It was a great honor for Folience to be named the 2022 National Employee Owned Company of the Year. I told my co-owners that it is not an award that makes us great, it is because of our great employee-owners that we won the award."
Folience is a 100% ESOP-owned holding company that invests in profitable businesses with strong management continuity. The company traces its roots to a family-owned company formed in 1884 and its newspaper, the Cedar Rapids Gazette, started the prior year in 1883. By 1986, the family began embracing employee-ownership, and by 2012 the company was 100% employee-owned.
Today, Folience's approximately 500 employees work to uphold employee ownership core values across Folience's three families of business – media, ambulance manufacturing and horse and livestock trailer manufacturing – in addition to Shared Services.