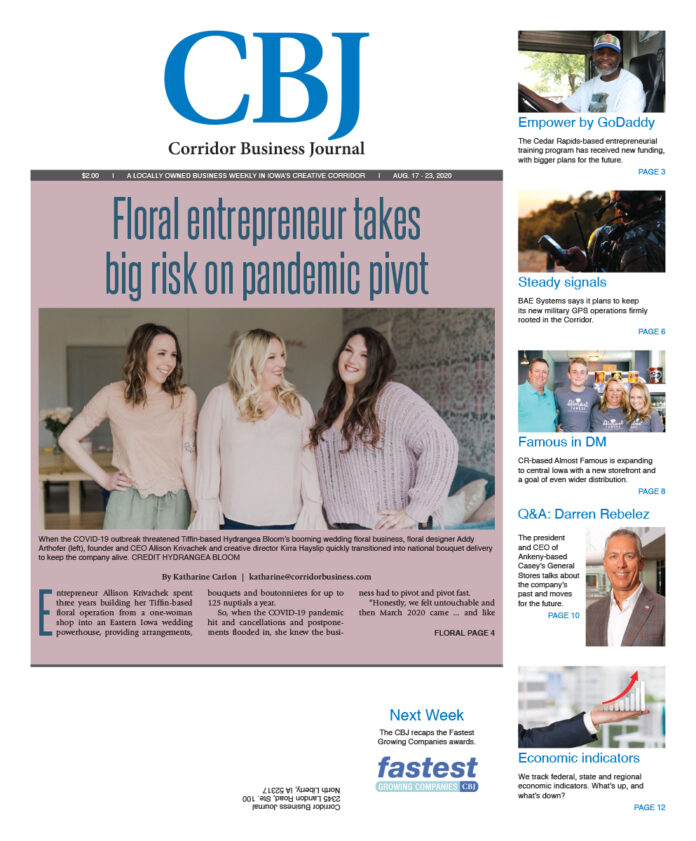 By Katharine Carlon
katharine@corridorbusiness.com
Entrepreneur Allison Krivachek spent three years building her Tiffin-based floral operation from a one-woman shop into an Eastern Iowa wedding powerhouse, providing arrangements, bouquets and boutonnieres for up to 125 nuptials a year.
So, when the COVID-19 pandemic hit and cancellations and postponements flooded in, she knew the business had to pivot and pivot fast.
"Honestly, we felt untouchable and then March 2020 came … and like a freight train we were blindsided and hit hard just like so many people," said Ms. Krivachek, the founder and CEO of Hydrangea Bloom, who within just a few weeks transitioned the company into a national shipper of high-end hand cut floral bouquets, promoting the idea of "Sending Joy."
"In the darkest and the happiest of times lives joy," reads Hydrangea Bloom's revamped website. "We believe that flowers have the power to spread joy, hope, bring unity, and heal."
Since making the shift, Hydrangea Bloom has shipped premium bouquets from New York to California and all points in between. And while the expansion has not fully replaced the business' lost revenue, it is still turning a profit, and all three full-time employees and several part-timers have been able to remain on the job.
"I said I would never do everyday bouquets because weddings were our brand," said Ms. Krivachek. "I now know to never say 'never' because here I am today in love with spreading joy."
Transitioning into the bouquet business is hardly the first risk Ms. Krivachek has taken in her entrepreneurial journey. Though her background was in edtech sales and she had no previous experience in floral arrangement, an experience with mediocre flowers at a friend's wedding convinced her to learn everything she could from some of the region's best floral artists and jump into the industry with both feet.
"Just being around flowers really brought me joy and I saw how happy they made other people," she said. "It was one of those no-brainer instant things."
Ms. Krivachek launched Hydrangea Bloom on Facebook as a one-woman operation in 2017. She quickly began making a name for the business with her upscale "no filler" flower arrangements and attention to detail that includes personally traveling to Alaska each year to hand cut peonies for shipment back to Iowa.
As word of mouth spread, Hydrangea Bloom grew from handling just a few weddings in its first season to 100-125 each year.
The wedding-oriented business was riding high when the pandemic began making domestic headlines, many businesses closed, and Americans learned the term "social distancing." Messages from nervous brides first began trickling in during a family spring break trip to Sarasota, Florida.
"Then, within two weeks, it was just email after email, cancellations and postponements," she said, estimating about 65-70% of Hydrangea Bloom's business was lost almost overnight. "As a business owner I had this moment of panic about losing all this revenue, so I immediately started planning how not just to survive, but to continue to thrive. It was a major shift and a freak-out moment after always having done one thing, but we were able to pivot quickly and efficiently changing our whole system and how we did marketing."
Over just a few weeks, Ms. Krivachek and her staff built a new e-commerce-capable website and researched and tested boxes, water systems and packing systems to find the best shipping solution to keep the bouquets fresh and beautiful while in transit. The business also located shipping partners to work with and developed new branding and a digital marketing campaign.
"Before it was one easy system. Brides would contact us, we had a wedding software system and that was that," she said.
Quickly expanding into a whole new arena was daunting and involved a measure of trial and error, she admitted.
"Our first couple [shipments] were 50-50, so it took a couple of weeks to get it down. And the whole company mindset had to change from working with one client to working with 100 a day."
By April, Finding Joy was up and running, and Hydrangea Bloom had a "fantastic" April and May thanks to Mother's Day and a concerted community effort to buy local. June was a tougher month, Ms. Krivachek said, but July saw sales numbers begin to improve again.
"We will take a several hundred thousand dollar loss this year, but we've been able to keep all of our employees and stay profitable," she said, adding that the business has also expanded into virtual workshops on Zoom and Facebook, including a popular "wine and design" offering. "I'm still so grateful to get to do what I love every day. This [pandemic] is just a season and I know everybody is going through it."
Ms. Krivachek said the difference between Hydrangea Bloom and other florists who deliver bouquets comes down to quality and luxury.
"I love high-end pretty things and I didn't want these to look like store-bought arrangements you'd get at Costco or something," she said. "We get all our flowers from premium farms. I'm not concerned with the cheapest things. I want something unique and beautiful."
While Hydrangea Bloom "will always be wedding florists," the team has no plans to get out of the bouquet line post-pandemic, hoping instead to expand its reach and become a well-known, trusted national delivery brand.
It's a turn the business never expected and would never have pursued if not for the pandemic.
"Business owners get stuck doing things they've always done," Ms. Krivachek said. "But we're in a very different consumer market and it's one of those situations where you need to look at new opportunities and take risks. We've stayed alive because we invested everything we have into changing systems, changing how we work. But it could have been a very different story."   CBJ