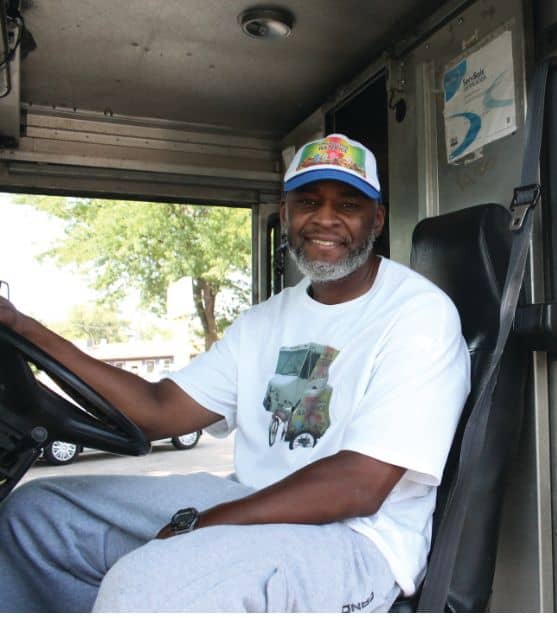 Jermaine Wilson prepares to hit the streets for his Jay's Water Ice business in Cedar Rapids on Aug. 7. PHOTO DAVE DEWITT
By Dave DeWitte
dave@corridorbusiness.com

Although Jermaine Wilson's food truck business has been in a lull during the pandemic, the 48-year-old Black entrepreneur's confidence isn't shaken.
Business is down at Jay's Water Ice because people are tending to eat at home and minimize human contact, but the Empower by GoDaddy program taught Mr. Wilson to expect some lean years at first and the importance of adjusting to changing markets.
"It's them teaching you how to weather the storm and this is part of the storm," said Mr. Wilson, who was selling Italian ice from a three-wheeled pedal cart before he entered the program and now has two food trucks selling Italian ice, hot dogs, nachos and other street foods. He hopes to grow the business into something his 23-year-old son will be able to take over someday. "I can't speak enough about it – it was just such a blessing to be part of."
Like the better-known Iowa Startup Accelerator (ISA) in Cedar Rapids, Empower by GoDaddy is a startup education program that helps fledgling or aspiring entrepreneurs become successful. But that's where the comparison ends. Maurice Davis, who took over as coordinator of Empower by GoDaddy last year, says the difference in goals is dramatic.
"We are the polar opposite of the ISA in the sense that they are high-impact businesses, and they are looking for people who have very big ideas," Mr. Davis said. "I want the people who have very small ideas – the mom-and-pop businesses and corner stores that serve the neighborhood. It is this idea of creating an enterprise and creating a lifestyle business."
Program graduates include a community day care center and a nonprofit football league for at-risk youth.
Empower by GoDaddy generally doesn't even accept tech-related startups, referring them to the ISA for more appropriate programming, Mr. Davis said. It will, however, work with e-commerce startups because the steps to setting up an online business require limited knowledge of technology, and revolve around sites like Shopify. The Empower program also works with some nonprofit startups, although it sometimes stipulates that they first try to work within an existing nonprofit if it appears they will duplicate services.
The program was launched in 2017 as an outreach initiative of GoDaddy, the web hosting and services company that has major operations in Hiawatha, with the nonprofit Jane Boyd Community House serving as the host organization. It began by focusing on "under-resourced" entrepreneurs in Wellington Heights, one of the city's lower income and highly diverse neighborhoods, eventually helping more than 100 entrepreneurs from around the city.
A hallmark of the program is a system of supports to help lower-income entrepreneurs overcome barriers such as a lack of transportation and child care that could otherwise prove insurmountable. It's been able to provide those supports through a rich network of partnerships including Horizons: A Family Service Alliance, and mainstream business support organizations like the SBA's Kirkwood Small Business Development Center.
The Jane Boyd Community House announced last month that Empower by GoDaddy has received a $100,000 Ewing Marion Kauffman Heartland Challenge Grant. Mr. Davis said the grant will enable the program to step up its virtual class technology, expand from two to three cohorts per year and open its program to entrepreneurs from Corridor communities beyond Cedar Rapids.
Going virtual has added challenges for Empower by GoDaddy because technology is one of the hurdles that lower-income entrepreneurs often have to overcome. Some don't have computers and a small percentage lack broadband connections.
The program itself has been able to go virtual during the pandemic, although the technology and execution falls short of what organizers would like to offer.
"We are virtual now, but it's put together with duct tape and hot glue," Mr. Davis said. "It will be nice to go full virtual and have the equipment and system we need to do that right. I'll be able to purchase Chromebooks or laptops that I can let the entrepreneurs borrow if they need them."
Having three, instead of two, cohorts per year was important to make the program available when entrepreneurs need it and going Corridor-wide has long been an objective.
"With the two cohorts per year we've been having, it leaves an odd window," Mr. Davis said. "One of the things we constantly struggle with is if my class starts May 1 and you apply May 15, we don't have another class for you for about six months."
The COVID-19 pandemic has at least temporarily awakened more people to the possibilities of entrepreneurship, according to Mr. Davis. He described two different dynamics that have spurred interest – the first being the $600 per week in supplemental employment benefits that many workers laid off during the pandemic received from the federal government through the end of July.
"The people in my [program's] demographic were typically making as much or more than they did before on unemployment and had the chance to step back and say, 'What do I really want out of life?'" Mr. Wilson explained. "That's not a luxury you usually have when you're just trying to survive and make things work out."
At the same time, he observed that the pandemic caused a realization that "no matter how much I like my job, it's not stable. There are economic factors that can force me out of my job even when I think I'm good."
Mr. Davis took over day-to-day leadership of the program last year, bringing a broad background that includes a financial management degree, and certifications as a Lean Six Sigma Black Belt, Scrum Master and Certified Product Owner. Raised in an entrepreneurial family, his mother worked in business consulting, and he's not joking when he says his customer service training began at age eight.
Since then, Mr. Davis has gained more experience as an insurance sales supervisor, retail manager and wealth advisor.
One of his goals has been to leverage technology to strengthen the program. Eventually, Mr. Davis envisions a hybrid combination of virtual and classroom instruction for entrepreneurs, with much of the virtual instruction being prerecorded to utilize resources more efficiently.
Getting the most out of every program dollar is critical, because Empower by GoDaddy is itself a startup that is still striving for sustainable growth.
"It makes you look at every dollar and think, how can I multiply it?" said Mr. Wilson.
While it's great to finally be eligible for some sizable grants, Mr. Davis is also on the hunt for volunteer manpower on projects like porting the Empower program website over to the WordPress platform so he can create an online directory of entrepreneurs' businesses.
Another emphasis Mr. Davis brings to the program is helping entrepreneurs "build a balance sheet of social capital" by making it a point of demonstrating the value they can provide in relationships like community volunteering, nonprofit work and helping other businesses where they can see a need.
It's often an underestimated part of business success, Mr. Davis said, and one that many of his entrepreneurs have yet to master.
"My marketing team even coined a term for it – 'Meet people before you need people,'" he said.
While the Empower by GoDaddy program is intended to spur entrepreneurship, Mr. Davis notes that a significant number of participants don't move forward with their plans or ideas. That can also be a good thing, he says, because it allows them to find out before investing a lot of time or money whether they really have the skills, resources and dedication to make a go of it.
Mr. Wilson, of Jay's Water Ice, still hasn't given up his day job in lawn care, but has larger plans than the food truck, which seem more achievable since he completed the Empower by GoDaddy program. He makes 18-hour drives to Philadelphia to visit family and pick up new shipments of Italian ice, a guilt-free dessert without cholesterol or unhealthy fats. He'd eventually like to set up a wholesale business selling Italian ice regionally.
For now, Mr. Wilson says he has the foundation he needs to grow as an independent business, and countless young customers to keep his spirits high when business is slow.
"The children see me and their faces light up, and that's what makes me feel good about this," he said. "I love going to work."   CBJ