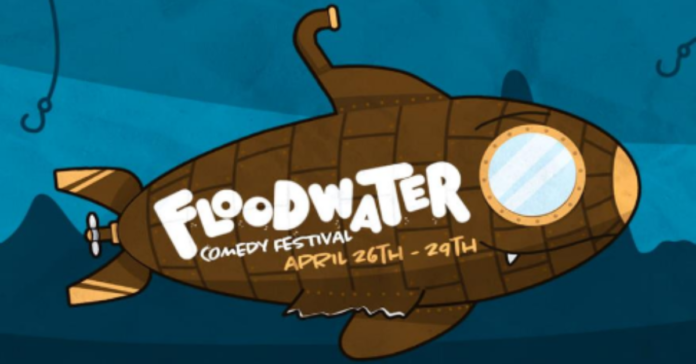 After a three-year hiatus due to the COVID-19 pandemic, Floodwater Comedy Festival is returning to downtown Iowa City at eight different venues, marking its seventh year of showcasing comedians from across the country.
The festival will feature more than 70 standup comedians and improv groups, according to a press release.
"We're super excited to be bringing back Floodwater after three years," said Logan Pratt, marketing director and executive producer for Floodwater. "We hope to recapture the same energy that there was for comedy and improv in Iowa City before the pandemic, and we have a lot of super talented comedians and improv teams coming in that we are very excited to have on."
Kicking off April 26, the three-day event includes Chicago comedians Sarah Perry and Jamie Shriner, Chicago improv troupe Devil's Daughter and Heather Land at the Englert Theatre on April 29.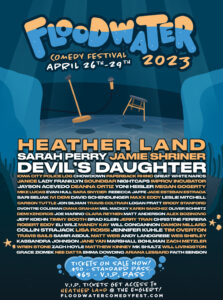 The festival will feature more than 20 shows at eight venues in Iowa City, including Gabe's, Joystick Comedy Bar, Willow Creek Theatre Company, Sanctuary Pub, ReUnion Brewery, The Green House, Studio-13 and the Englert Theatre.
Proceeds for the event will go toward CommUnity and the National Alliance on Mental Health Johnson County chapter. Since 2018, $5,000 raised from the event has been donated to charity.
Carson Tuttle and Travis Coltrain, winners of Little Village's 2021 and 2022 Best Standup Comedians in the Corridor, will perform at the festival as well as students from the University of Iowa.
"Floodwater Comedy Festival isn't just about comedy— it's about community," said Travis Coltrain, Floodwater's community engagement director and executive producer. "Floodwater brings all of downtown Iowa City to life with a unique atmosphere of love, representation and laughs for one amazing weekend."
A full festival lineup and schedule can be found on Floodwater's website.
Standard passes are available for $50 while a VIP pass can be bought for $65. Tickets for individual shows are available for $5.
Floodwater Comedy Festival is a nonprofit whose mission is to help showcase marginalized groups in comedy while also giving back to the community. It is a 501(c)(3) and an official endeavor of the James Gang, an Iowa City nonprofit works to foster community-oriented events and experiences that promote creativity and service.